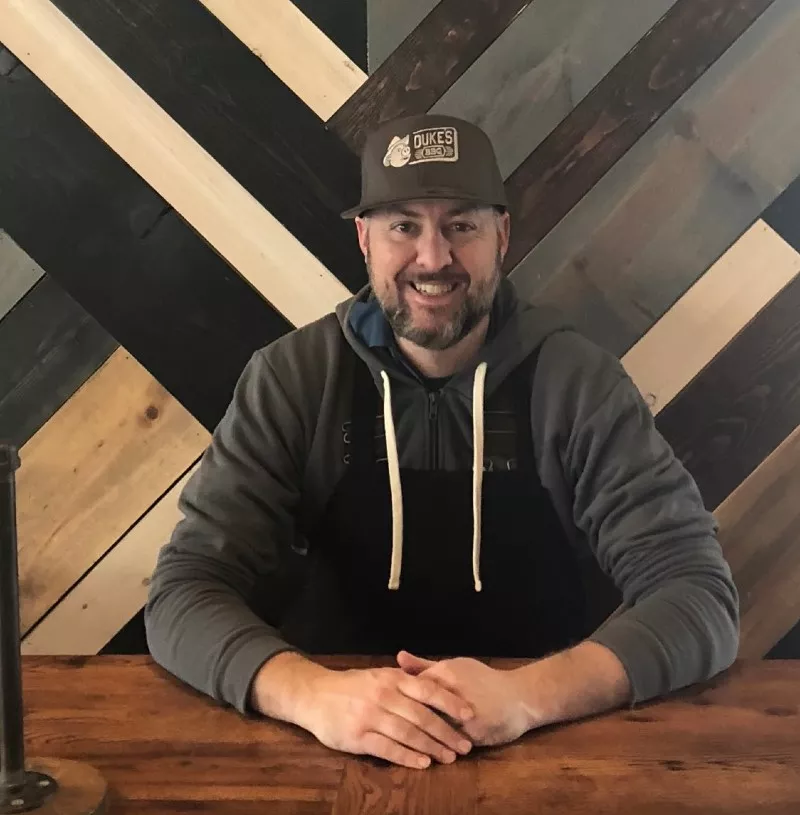 CANDICE COLEMAN
Eric Pierre's restaurant keeps a Wentzville storefront all in the family.
As a kid, Eric Pierre spent much of his time running around his parents' interior decorating store in Wentzville's historic downtown. When he got older, he joked that he would someday turn it into a restaurant. Eventually, his dad took him up on the offer.
"My parents decided to retire and asked me if I wanted to do something with the building," Pierre explains. "I had been looking to open a place with my business partner Peter [Venezia], and my dad said, 'Why not here?' Now, he's my landlord."
Pierre can't help but laugh at how much has changed, and not just for the building that he and Venezia have converted into the popular
Duke's BBQ Shack
(100 Ash Street, Wentzville; 636-856-9227)
. Though hunting and cooking had been a part of his upbringing, his mom and dad were not exactly thrilled with his decision to attend culinary school. Pierre had planned on becoming an auto mechanic following high school, and found a good job working at a repair shop. It didn't take long for him to realize that the field wasn't for him.
"I told my parents that the auto shop was not what I wanted to do — that I wanted to go to culinary school," Pierre recalls. "My dad said, 'If you do that, you are moving out.'"
Undeterred, Pierre enrolled in culinary school at St. Louis Community College- Forest Park, landing a job after graduation at Balaban's in the Central West End. He moved on after about a year, working in various restaurants around town and then in hotels before taking a job as the chef for the Magic House.
Pierre worked at the Kirkwood children's museum for ten years, a gig he describes as a dream job because of both his love for the organization and the great hours. At the Magic House, Pierre ran all of the culinary operations, did catering and even founded and managed the rooftop garden.
"It was like paradise. I was working daytime hours so I could be with my three kids," Pierre says. "I always said that for me to quit, it had to be something I really wanted to do."
Pierre would find that next step by chance, when a friend asked him to cater his wedding at Peter Venezia's lounge and events space, Thaxton Speakeasy. Venezia was so impressed with Pierre's cooking that he approached him about doing more parties at the space. Their working relationship developed into a shared vision to open a restaurant, and they decided to focus on barbecue. Pierre figured it would be simple.
He quickly realized he was dead wrong.
"I thought it would be easy. That was a hard lesson to learn," Pierre says. "Barbecue is a challenge. There is a big difference between cooking one piece of meat and cooking 400 pounds and keeping it consistent. It took a lot of practice."
That practice has paid off, as Duke's has quickly become a mainstay of the Wentzville community. Pierre has to smile when he thinks about carrying on his parents' legacy and putting down roots in his hometown.
"People from my high school are now running businesses all around here, and I'm hiring my friends' kids to work in the restaurant," Pierre says. "It's like a small town. I told Peter that I only wanted to do this if it we didn't have to force things, and it's not like that at all. Everything has fallen into place."
Pierre took a break from the smoker to share his thoughts on the St. Louis food and beverage scene, his green thumb, and his love of anything sweet — unless it's the high-fructose stuff.
What is one thing people don't know about you that you wish they did?
I have a green thumb and consider myself an expert at gardening.
What daily ritual is non-negotiable for you?
Caffeine.
If you could have any superpower, what would it be?
To be able to function with no sleep.
What is the most positive thing in food, wine or cocktails that you've noticed in St. Louis over the past year?
I don't know because I have been working 80-plus hours a week.
Who is your St. Louis food crush?
The Crossing and Jimmy Fiala.
Who's the one person to watch right now in the St. Louis dining scene?
Thu Rein Oo of the Crossing.
Which ingredient is most representative of your personality?
Pecan wood.
If you weren't working in the restaurant business, what would you be doing?
A mechanic.
Name an ingredient never allowed in your restaurant.
High-fructose corn syrup.
What is your after work hangout?
At home in my La-Z-Boy
What's your food or beverage guilty pleasure?
Anything sweet.
What would be your last meal on earth?
King crab legs.
We are always hungry for tips and feedback. Email the author at cheryl.baehr@riverfronttimes.com.