Chelsea Neuing
Lola Jean's Tomato Toast ($8).
Lola Jean's Giveback Coffee
(5400 Nottingham Avenue),
Southampton's pop-up coffee shop for a cause, is now serving a full breakfast and lunch menu.
The cozy cafe is named after the daughter of the owner Russell Ping. Russell is the owner and chef of
Russell's
, which has locations in Chesterfield and south city. Located walking distance from Russell's on Macklind, Lola Jean's sells
Russell's
baked goods and
Kaldi's
coffee, with all profits donated to a monthly charity.
The shop opened last July, selling breakfast pastries and coffee. But last month, it unveiled a new menu featuring over a dozen new breakfast and lunch items. Taking into consideration that people have different dietary needs, Ping took the time to make vegan, vegetarian and gluten-free options.
Chelsea Neuing
Blueberry Pan-Cake ($9)
For breakfast, you can enjoy dishes such as the vegan apple oat crumble, a frittata, a scrambled egg sandwich
and
tomato toast.
For lunch, new items include a black bean baguette, a "Thanksgiving Sandwich" with roasted turkey and "house Miracle Whip" on country white bread, a braised chicken thigh baguette and a Bibb lettuce and herb salad.
The most popular items on the new menu, Ping says, are sourdough blueberry pancakes, served with house sea salt butter and maple syrup, and the breakfast burrito, which comes stuffed with green chiles, braised pork carnitas, chipotle-lime aioli
and
white cheddar.
Customers place orders at the counter before finding a cozy seat in the large room dining area. Pops of yellow and green decor bring a summertime feel as the natural light shines in through two walls of windows facing the street. The whole place feels like a vacation from the winter blues.
After thirteen years of owning
Russell's
, Ping says he wanted to give back to the St. Louis community.
"We hope the new menu is an added incentive for people to come by Lola Jean's, try out some of our new menu items, and, in turn, support the monthly charities we're dedicated to giving back to," he explained in a press release.
January's profits went to the St. Louis Area Food Bank. Previous month's donations have gone to the Habitat for Humanity, the Children's Organ Transplant Association and more. February profits will be donated to the American Heart Association.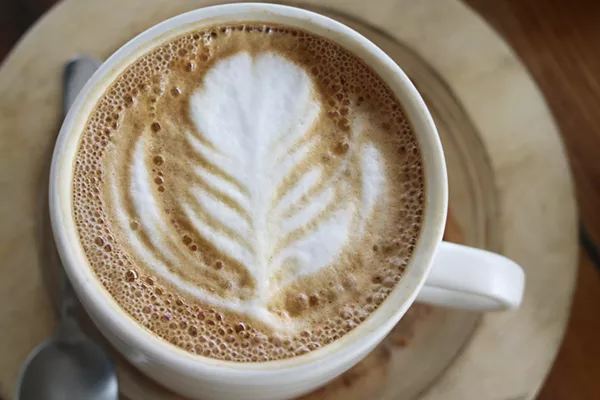 Lola Jean's Giveback Coffee was only supposed to be temporary; Ping had planned on opening a wood-fired pizza place on site called Lola Jean's Pizza. The original plan was to open it in about a year, and then to reopen the coffee shop in garage space on the property. But for now, there are no firm plans to close the coffee concept. Ping is focusing on the shop as it is for now.
Lola Jean's Giveback Coffee is open Tuesday- Sunday from 7 a.m. to 2 p.m. Food is served Wednesday through Sunday.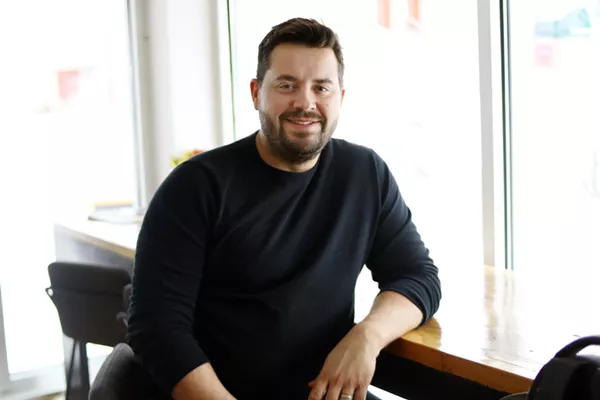 Chelsea Neuling
Chef/owner Russell Ping.