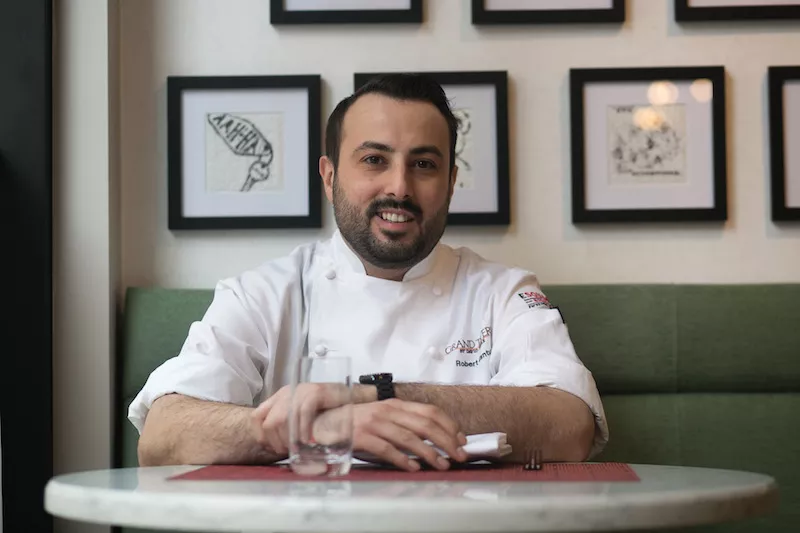 JEN WEST
Robert Cantu made his name in Texas, but his wife's job set him on a different path.
Looking back, there was little chance that Robert Cantu would make his career anywhere other than the restaurant business. Today the executive chef at the new
Grand Tavern by David Burke
(626 North Grand Boulevard, 314-405-3399),
Cantu grew up with a father who worked in restaurants until he switched gears to join the military. He instilled in his son a passion for the industry; Cantu's first job at a Thai restaurant in San Antonio confirmed his knack for cooking.
However, it wasn't until after Cantu left culinary school — and even after he completed his gig at a five-diamond resort in Dallas — that he really found his groove.
"I needed to go home to San Antonio to start paying off my loans, and I got a job at Biga on the Banks," Cantu recalls. "It was a really great concept that allowed me to really hone my creativity because the menu was all created by the cooks. They would give us a protein and ask us what we wanted to do with it, so every day we would have to think of something innovative and creative and not repeat it. It was a challenge, but I couldn't have gotten a better opportunity than that to develop my skills."
It's not just Biga, an acclaimed fine-dining restaurant on San Antonio's Riverwalk. From Barton Creek Resort in Austin to Mansion on Turtle Creek in Dallas, the young chef cooked at some of Texas' most elite properties. He was enjoying great success in his career and was poised to rise up the ranks.
Then he fell in love.
"I met my wife, we got married and she went to med school," Cantu explains. "For the last eight years she has been working to become a pediatrician, so we have gone where she needs to go."
Initially, that took them to Omaha, where Cantu's wife attended medical school. Cantu admits it was difficult to find his niche in the city at first, and he ended up going to the corporate side of the business, working for Fleming's Prime Steakhouse & Wine Bar as executive chef of its Omaha property. To his surprise, he found Fleming's to be receptive to his suggestions on how to improve the menu. Within no time, he was developing recipes for the company that are still in use today.
Cantu and his wife left Omaha so that she could do her residency in New Orleans. Though the city's vibrant food scene provided innumerable options, Cantu decided to continue working for a corporate restaurant, joining Ruth's Chris Steakhouse as a sous chef. However, circumstances at the restaurant put him on the fast track.
"I was there for about a month and the chef quit right before the weekend in the middle of the holidays," Cantu recalls. "I jumped in to cover for him, then eventually threw in my hat for the executive-chef job."
Not only did Cantu get the job, but he was quickly promoted to regional chef, which involved overseeing 26 restaurants. He loved the gig and wanted to stay, but his wife's career took the pair to Kansas City for a year and then to St. Louis for a fellowship with St. Louis Children's Hospital.
Through those transitions, Cantu worked for Harrah's, then the franchise side of Ruth's Chris before landing at the Cheshire Hotel. Though he was enjoying his time there, he could not refuse the offer that came calling one day.
"I was the chef the Cheshire for a little over a year, and then David Burke called me," Cantu says, referring to the renowned celebrity chef. "He asked me to come in and do a tasting with him for Grand Tavern, and the next thing I knew, I had the job."
These days, Cantu is the esteemed chef's right-hand man, helping to execute his vision for a destination that will be the jewel of Grand Center's food-and-beverage scene. Though Burke's touch is certainly evident on the menu, Cantu has been excited by how much the gig has allowed him to use his creativity and put his mark on the restaurant.
"Burke is very down to earth, and we are like-minded in the way we think about food," Cantu explains. "It's been fun to get back to a place where I have more of a say in what things are cooked and how they are presented. It's a great opportunity."
Cantu took a break from Grand Tavern's kitchen to share his thoughts on the St. Louis restaurant scene — it reminds him of New Orleans — his passion for cycling and the one thing he misses most about Texas.
What is one thing people don't know about you that you wish they did?
I love cycling, and I actually compete in races when I have the free time.
What daily ritual is non-negotiable for you?
I have to start my day with a hot cup of espresso. I'm just not right without it.
If you could have any superpower, what would it be?
I would love to be able to teleport, as sometimes I feel like I need to be in several places at once.
What is the most positive thing in food, wine or cocktails that you've noticed in St. Louis over the past year?
I love that
Meredith Barry
, Grand Tavern's beverage manager, has moved to St. Louis. She has already shown her talent with cocktails she has introduced to the city, and she thinks way outside of the box when it come to drinks.
What is something missing in the local food, wine or cocktail scene that you'd like to see?
I grew up in Texas, and I really miss eating authentic barbacoa tacos made from cow head. Every time I go back to Texas I have to get them.
Who is your St. Louis food crush?
Chef Carl McConnell [Stone Soup Cottage] is doing some great things out in Cottleville. I think he has a winning concept with great focus on food quality and service.
Who's the one person to watch right now in the St. Louis dining scene?
I would keep an eye on Rob Connoley with Bulrush. He has got some talent, and I'm excited for its opening.
Which ingredient is most representative of your personality?
I would have to say sunchokes because they are versatile and also hard working.
If you weren't working in the restaurant business, what would you be doing?
I would probably be cycling competitively.
Name an ingredient never allowed in your restaurant.
Liquid smoke in cooking is a big no-no for me.
What is your after work hangout?
I love going home to my wife, kid, and my Frenchie, Blanche.
What's your food or beverage guilty pleasure?
I have been really into whiskey as of late. I'm actually working on an infinity bottle at home.
What would be your last meal on earth?
A porchetta sandwich from the Wayfare in New Orleans.
We are always hungry for tips and feedback. Email the author at cheryl.baehr@riverfronttimes.com.