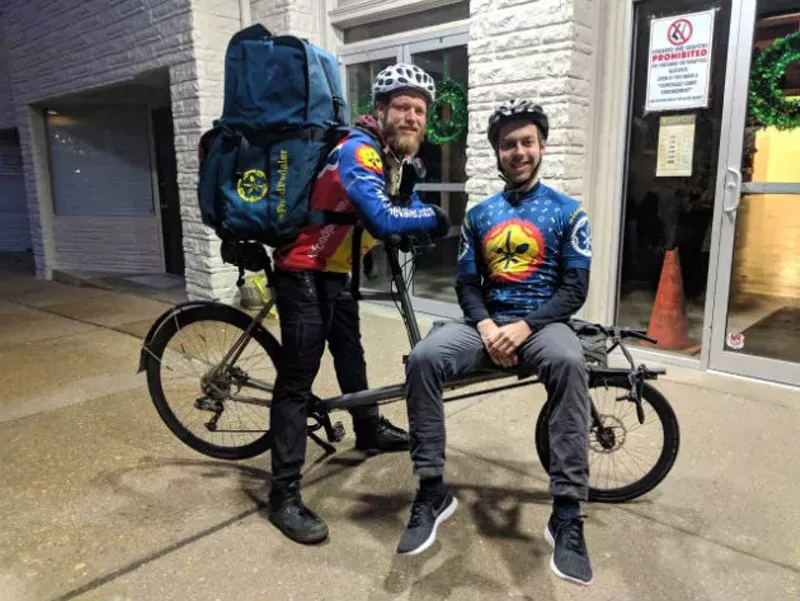 BETH GROLLMES-KIEFER
Tim Kiefer, left, and Alex Ward plan to expand Food Pedaler.
Tim Kiefer has been toying around with the idea of expansion ever since he started his bicycle delivery service,
Food Pedaler
, in 2013. The problem has been how to maintain the hyper-local business model and customer-service focus even while growing the areas it served.
Now, Kiefer believes he has figured out that kink. The bicycle entrepreneur recently announced that Food Pedaler will begin expanding via a hyper-local, neighborhood-based model, beginning downtown. Kiefer hopes to add new neighborhoods to the mix soon.
"We really did grow quickly, and I could've gone the route of other companies and been all over," Kiefer explains. "But I'm just really picky about service. I didn't start Food Pedaler because I want to have a delivery empire. I did it because I genuinely love bicycle delivery and working with restaurants."
Kiefer tapped Alex Ward, a current Food Pedaler rider and entrepreneur in his own right, as the service's first neighborhood owner. Ward will oversee the downtown territory, one in which Food Pedaler already has a presence. Still, Ward hopes to expand the list of restaurants serviced and believes that having a singular focus on the area will allow him to do so.
"As soon as I interviewed with Tim, I knew this was a warm, friendly business I could work for, and I started thinking of ways it could improve," Ward says. "We already had downtown, but I see a ton of expansion that could happen there."
The food-delivery market has rapidly grown in recent years. Companies like Postmates, Uber Eats, GrubHub, and even Amazon have clamored to fill the space, but Kiefer does not see them as a threat. In fact, he believes that comparisons between Food Pedaler and the national brands reflect favorably on his business.
"We have this special recipe, and it is an anomaly compared to what the rest of the industry is doing," Kiefer explains. "It comes down to people who care about what they are doing. The same level of perfectionism that makes me want to ensure that we are getting orders in 30 minutes and delivering fries that are still hot and sushi that is still rolled is the reason we aren't in twenty cities as a corporate behemoth. Our riders actually care about service."
Kiefer and Ward anticipate that their neighborhood-based ownership model will attract prospective entrepreneurs — some of them currently Food Pedaler riders — who want to bring the service to new neighborhoods. That could include places like South Grand, Tower Grove and the Grove.
"The bike has an advantage in those neighborhoods, and we already have some riders who have expressed interest," Kiefer says. "We think the Grove will be a party because it would be the late-night place that we deliver. Plus, we already have a fan base in Cortex and the hospitals around it."
Kiefer is emphatic that the expansion does not mean a change to the hyper-local, customer service-oriented model he has worked so hard to cultivate. Conscious of the complaints generated by other food-delivery services — from both customers and the restaurants they serve — Kiefer understands why getting this right, not rapid growth, is the key to his company's success.
"If your first experience of a restaurant is a two-hour delivery time and cold fries, you have a negative image of that restaurant. Often, we are a person's first impression of a restaurant," Kiefer says. "We understand that. We aren't doing this to gain a monopoly. We do it because we care about service."
We are always hungry for tips and feedback. Email the author at cheryl.baehr@riverfronttimes.com.