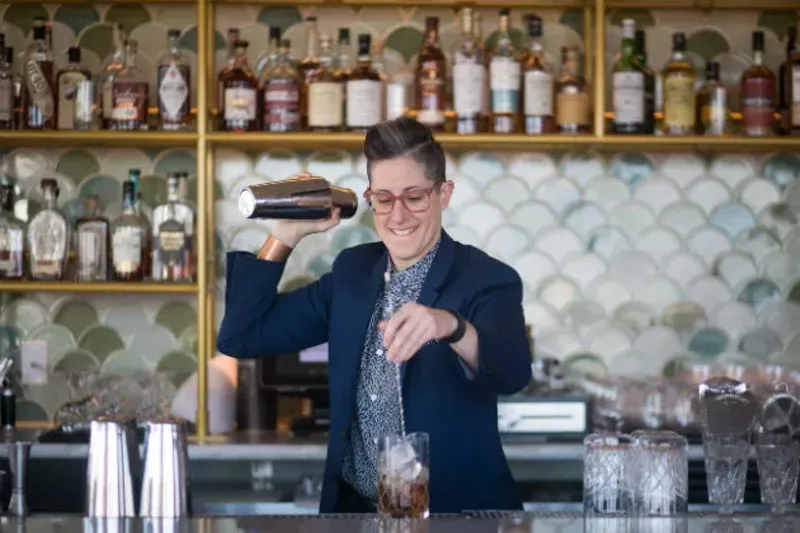 JEN WEST
Meredith Barry comes from a restaurant family, but also heard the siren song of theater before landing in St. Louis.
Meredith Barry might not be in the restaurant industry were it not for her father, a native New Yorker from a family of Italian immigrants who was raised to value hard work. He applied that ethic to his many restaurant jobs — and he made sure he instilled it in his children.
"He put us to work," Barry laughs, recalling the odd jobs her father would make her do when she was a kid. "He would make us paint the walls of the restaurants, make chicken fingers, serve daiquiris out of an Island Oasis machine to the kids we went to school with. It was like Molly Ringwald in
Sixteen Candles
— so embarrassing, but he showed us how to survive in the world. I appreciate that."
Barry, who recently relocated to St. Louis from Chicago to become co-beverage director at
Grand Tavern by David Burke
(626 North Grand Boulevard, 314-405-3399)
, is no stranger to moving for work. Her father's jobs kept the family on the move when she was growing up, with stints living everywhere from Greenville, South Carolina, to Boston. Through it all, the restaurant business was a constant.
Barry found herself gravitating to the industry as well, not only because it was what her father did, but because she began to enjoy it. She opted to study theater and theology in college, but while that path might seem quite removed from the restaurant business, upon reflection, Barry realizes they appealed to the same side of her personality.
"They both are about understanding humans," Barry explains. "The history of cocktails and spirits is the history of human beings. The more you learn about that, the more you can take care of someone in front of you and make their night more enjoyable."
Barry continued to work in the restaurant business, mostly behind the bar, while she was in school. She also had a brief stint working for Nickelodeon as a parade-float coordinator and eventually was a stage manager for its traveling freak show. They were random, even odd, gigs, but that was part of the appeal.
"I'm creative, but I'm also practical. I like to coordinate things," Barry says. "Plus, the jobs were something weird and different, so I thought, 'Sure, I'll go for it.'"
Freak shows and parade-floats may have been in her theater wheelhouse, but Barry could not help but feel that her true calling was in restaurants. After moving to Chicago, she decided to jump back into the industry full time, applying at the flagship location of Hamburger Mary's. Landing the gig felt like a dream come true.
"I was obsessed. I had to be there," Barry says. "It was the place that taught me that this is what I belonged doing. I was able to take a weight off my shoulders and be myself."
Barry worked at Hamburger Mary's for five years, working her way up from hosting and serving to bartending and eventually management. The restaurant appealed to both her knack for the industry and her theatrical side, and she relished the environment.
However, as she began to get more into cocktails, she found herself drawn to more upscale concepts where she could put her creative energy into concocting drinks and developing cocktail menus. As she got more experience, she caught the eye of prominent industry professionals, including the folks at E Squared Hospitality, who persuaded her to move to St. Louis and help them open
Grand Tavern by David Burke
.
As the recently opened restaurant's self-described "cocktails and culture person," Barry is responsible for running the bar and developing drink offerings. The scene could not feel like a better fit; located in the middle of the vibrant Grand Center arts district, Grand Tavern allows Barry to bask in the neighborhood's theatrical vibe. Her cocktail menu even includes nods to the scene.
She says she feels like a part of the theater community, even if her art isn't what you see at the Fox Theater.
"I get to cook on a stage," Barry says of bartending. "I get to create and taste, and when I put something in front of you and see how elated you are, it's an experience that is immediately satisfying. When it comes down to it, bartending is a theatrical show. This is my stage, and I like to dance."
Barry took a break from the bar — and exploring her new city — to share her initial impressions of the St. Louis food-and-beverage scene, why you will never find her in an office job, and the one food that gets her every time.
What is one thing people don't know about you that you wish they did?
My hair color is natural. Everyone always asks me about it!
What daily ritual is non-negotiable for you?
Take a spin around the block with my dog, Bo, for a cup of coffee.
If you could have any superpower, what would it be?
I'm really scared of heights, so I wish I could fly – that would allow me to know that I'm in control of it and conquer my fear.
What is the most positive trend in food, beer, wine or cocktails that you've noticed in St. Louis over the past year?
As someone who recently moved here from Chicago, I still have a lot to explore, but I've noticed that my fellow bartenders are taking classics and amping them up using culinary aspects in cocktails. It's cool to see the blending of cocktails and culinary, and I'm excited to be a part of the movement in that direction.
What is one thing missing or that you'd like to see in the local food and beverage scene?
There definitely seems to be an opportunity for great non-alcoholic cocktails. I don't think that someone should be robbed of the bar experience just because they don't drink alcohol, so I'm excited to play around with more N/A cocktails. I think St. Louis is already moving in this direction, but there's an opportunity to think of a cocktail as an art piece. Bartenders are honing their knife and garnish skills to make cocktails that look beautiful, taste delicious and make sense.
Who is your St. Louis food or drink crush?
I'm still getting to know the people behind the bar, but I've had really great experiences at Yellowbelly and Taste.
Who's the one person to watch right now in the St. Louis food and beverage scene?
Drew Lucido
, who just recently joined our team from Taste. I've been really blown away with his ideas, and I'm really excited to see what he brings to our program.
Which ingredient is most representative of your personality?
I'd have to say Campari. It's sweet, but also a little bitter and complicated. With that said, it's even better when mixed with other ingredients.
If someone asked you to describe the current state of St. Louis' food and beverage climate, what would you say?
I have a unique perspective as an outsider coming in, but I think there's a real opportunity for people to move here and offer more. I don't think that St. Louis gets enough props, and I've been really thrilled with the excitement around cocktails from our guests. Everyone is asking for the cocktail list, and I think that's telling of where things are going. Guests want a cocktail, and they want something different and personal for their own taste. I'm excited to give them that.
If you were not tending bar, what would you be doing?
I would probably be doing some sort of trade with my hands. I could never do an office job. I enjoy any sort of craftsman work. I laid my own brick patio in my backyard and have done some woodworking making benches.
Name an ingredient never allowed behind your bar.
Pre-made sour mix. I only use fresh juices.
What is your after-work hangout?
I moved to the Grove, so I love the Gramophone. They serve food late, and it's so nice to have that close to my house. I got off really late last night and was able to get a portobello mushroom sandwich and a beer at the bar. It was perfect, and they also introduced me to St. Louis' Red Hot Riplets, which I loved.
What's your edible or quaffable guilty pleasure?
I love doughnuts and ice cream. I have no willpower when it comes to that. My dog likes to walk by Vincent Van Doughnut, which gets me every time. They have an old-fashioned cake doughnut that they make with sour cream and serve with a vanilla glaze. It's so simple and so delicious.
What would be your last meal on earth?
I'd like to start off with an Aperol Spritz and then move to a negroni and then great Italian wines. I'd keep with the Italian theme with the food. I'm a vegetarian, but I'd go out in style with a huge spread of Italian olives, meats and cheeses. I'd want everything from soppressata to finocchiona, hard Parmesan to a really stinky delicious taleggio.
We are always hungry for tips and feedback. Email the author at cheryl.baehr@riverfronttimes.com.