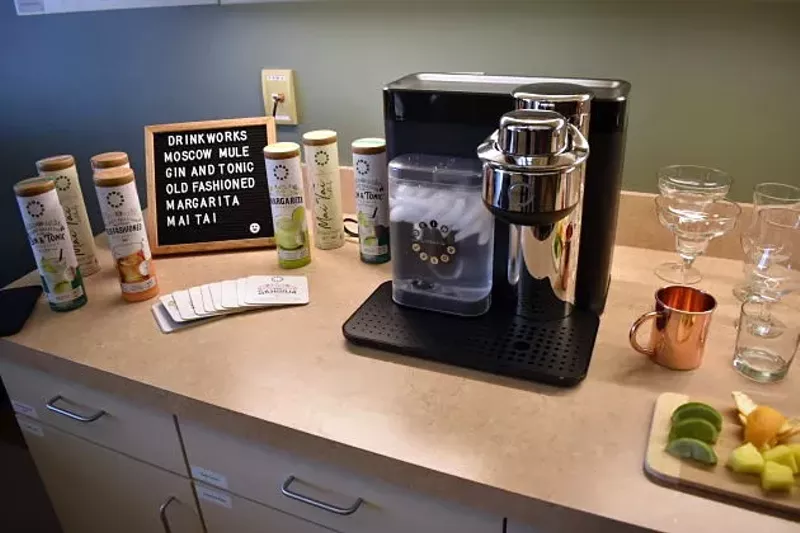 DANIEL HILL
The machine is more or less a Keurig coffeemaker, but for lazy drunks.
If you're like us here at the
RFT
, you probably enjoy a good cocktail, but your mixology abilities start and end with adding whiskey to Coca-Cola and raising your glass to Lemmy before drinking yourself into a stupor.
And while there's nothing wrong with Mr. Kilmister's signature beverage, sometimes you're looking for a bit more. A nice mai tai might hit the spot on a hot day, for instance — but who has all of the ingredients at home? And what the hell
is
"orgeat," anyway?
Now, thanks to a joint venture between Anheuser-Busch and the Keurig Dr. Pepper company (yes, Keurig and Dr. Pepper are now a joint entity), preparing even complicated cocktails is as easy as pushing a button. The Drinkworks Home Bar combines Keurig's ease-of-use with Anheuser-Busch's enthusiasm for intoxicating beverages, making the art of the cocktail so simple even a child could do it (though you should probably stop them, if they're not already too drunk and belligerent).
The Drinkworks system is launching in St. Louis, and St. Louis only, next Monday — though its backers hope to expand soon to other markets.
"If I can characterize it, it's kind of, 'I love cocktails when I go out, but I do not know how to do it, and even if I did I don't have the stuff,'" explains Drinkworks CEO Nathaniel Davis. "So that's kind of the opportunity that we're solving for."
The premise is simple — at least on the consumer end. First you purchase the new drinkmaker machine, not unlike a Keurig coffeemaker, and a selection of cocktail pods. Making a drink is simply a matter of filling a tank with water, inserting a pod and pressing a button — the machine does the rest, mixing the appropriate portions of water and carbonation with the pod's ingredients. It then dispenses the beverage of your choice in a matter of seconds.
DANIEL HILL
Before....
The research and development that got us to this point, however, is far more complex. Drinkworks' pods are filled with liquid, rather than the powder pods employed by coffee machines. To make a cocktail whose only missing ingredient is water, the company tapped engineers from Keurig and mixologists and brewers from Anheuser-Busch.
"Instead of sourcing or picking or distilling whiskey or rum or vodka at the strength you would buy it at the store, we actually take it straight from the still — cask-strength whiskey, barrel-strength rum, uncut gin or vodka — which allows us to operate before the water gets put in, or without putting the water in," Davis explains. "And then we formulate our own triple secs, or we formulate our own ginger beers without the water. And effectively that's how you fit it all in, and then the machine does the rest."
In a sneak peek ahead of next week's launch, we sampled a mai tai, an old-fashioned, a Moscow mule and a simple gin and tonic. All are part of the initial rollout options, and all were quite tasty — as one staffer remarked, "I've known bartenders who've done way worse." Another, who was skeptical heading in, ultimately dubbed the drinks "surprisingly good."
DANIEL HILL
....and after!
"This is the feedback we've mostly been getting," Davis says. "None of this works if the drinks aren't awesome. It's all about the quality of ingredients and really, really excellent mixologists and frankly scientists that figure out how to formulate this stuff without water, and then some clever engineers that know how to put stuff back together."
Naturally, whenever the subject of Keurig comes up, so do questions regarding environmental impact. Drinkworks is ready for those: Unlike Keurig's coffee pods, Davis says, the Drinkworks pods are entirely recyclable.
For its initial run, Drinkworks is offering 24 different beverage pods, which in addition to the ones we tried include a classic margarita, strawberry margarita, cosmopolitan, daiquiri, Long Island iced tea, red sangria, white Russian, white wine peach sangria and lime vodka soda.
There will also be beer pods, which are sold in four-pack "flights" and result in draft beer when processed through the machine. Davis concedes that we as a society have pretty much already perfected the art of at-home beer, but he notes that the beers from the pods are specially brewed and unavailable in any other form.
"And they're not technically beers any more once we pull the water out," Davis says with a chuckle. "The government considers those 'distilled spirits.' When you're at the edge of this kind of innovation it's funny, because you'll see on the label it calls it a 'distilled brew.'
"But when it gets put back together it is golden with a frothy head of foam and tasty," he continues, "so you sort of recognize what it is."
The Drinkworks Home Bar launches exclusively in St. Louis on November 19. It will be available for sale at all St. Louis-area Total Wine & More locations and select Schnucks and Dierbergs grocery stores, as well as online at
drinkworks.com
.
The drinkmaker retails for $299, the cocktails for $3.99 per pod and the beers at $2.25 each.