CHERYL BAEHR
Grand Tavern by David Burke's "Ritz Crabcake Ham and Cheese Sliders."
When the internationally recognized ESquared Hospitality Group approached its frequent collaborator, chef David Burke, about opening a restaurant in St. Louis, he was curious. When he saw the plans for the location, he was sold.
"The location and the building had a lot to do with it," Burke says. "We like to be a part of creating a destination and being a part of something on the fringe. Hopefully in ten or fifteen years we can look back on this as the start of something good in this neighborhood. It's nice to be on the ground floor of that."
The resurgent neighborhood Burke speaks of is none other than the Grand Center Arts District, which is both the crown jewel of the city's arts and culture scene and a part of town where diners have been perpetually underserved. With
Grand Tavern by David Burke
(626 N. Grand Boulevard, 314-561-0033)
, the flagship restaurant in the newly opened Angad Arts Hotel, which opened yesterday, the celebrity chef hopes to be the spark that ignites the neighborhood's dining scene.
When the Angad group was developing its vision for a restaurant within its high-end, arts-centric hotel, they kept coming back to David Burke Tavern in New York as a model. To have Burke himself help them bring that idea to fruition has generated buzz not just for the hotel and restaurant, but for the city itself.
"I think this hotel has the ability to create national buzz and bring a national spotlight on the city," says Burke. "People are going to be a little more curious about St. Louis, thinking, 'Hey, why the hell did he go there? There must be something going on.' They will be questioning whether or not St. Louis is the new hot spot. We're happy to be a part of that."
CHERYL BAEHR
Acclaimed Chef David Burke torches the "Clothesline Bacon"' tableside.
Burke, whose television appearances include
Top Chef Masters
and whose accolades include being named to the "Who's Who of Food and Beverage in America" by the James Beard Foundation, brings his whimsical style to Grand Tavern with such dishes as his famous "Clothesline Bacon," and "Emotional Lobster Dumplings." However, he has also looked to St. Louis for inspiration, with items like the "BBQ Brisket with Mac & Cheese Toast," a dish he describes as a take on the slinger, and "Gooey Butter Donuts."
Grand Tavern will be open for breakfast, lunch and dinner service. The concept is divided into an Art Deco-influenced front lounge and dining area, a soaring main dining room that is outfitted in luxe red velvet (it will open after Thanksgiving), and a rooftop bar that offers sweeping views of the city's skyline.
"This is a destination where you can make a night out of it, not a place where they say, 'Hey, your table is ready. Eat and get out,'" Burke explains. "You can come here, have a few drinks on the rooftop, have dinner, walk around the gallery here, have dinner, listen to someone playing guitar in the lobby, then have more drinks on the roof."
CHERYL BAEHR
The "BBQ Brisket with Mac & Cheese Toast" is Burke's take on the slinger.
However, Burke understands the challenge inherent in being a part of an untested concept in a part of town that's far from a dining destination. "Listen, this is a pioneering hotel, and we will need all the support from the locals we can get, especially for lunch," Burke explains. "We don't just want to be a theater restaurant, but we know people will come if they food is good and the price is right."
Burke has high hopes for the area.
"People here are so proud of St. Louis and they want it to work," Burke observes. "And there should be pride here. When you have a lot of pride in your city, it helps because you will embrace something that is going to help the city. That's what we are trying to do."
Grand Tavern by David Burke is open seven days a week for breakfast, lunch and dinner service. A midday menu is also available, as is Sunday brunch.
Click through for more photos of Grand Tavern by David Burke.
CHERYL BAEHR
The "Cheesecake Lollipop Tree" is a whimsical dessert.
CHERYL BAEHR
Tuna tartare is served with avocado and a soy lime dressing.
CHERYL BAEHR
The "Emotional Lobster Dumplings."
CHERYL BAEHR
The chocolate peanut butter mousse is garnished with a pair of dancing legs as an homage to the Rockettes, who began in St. Louis.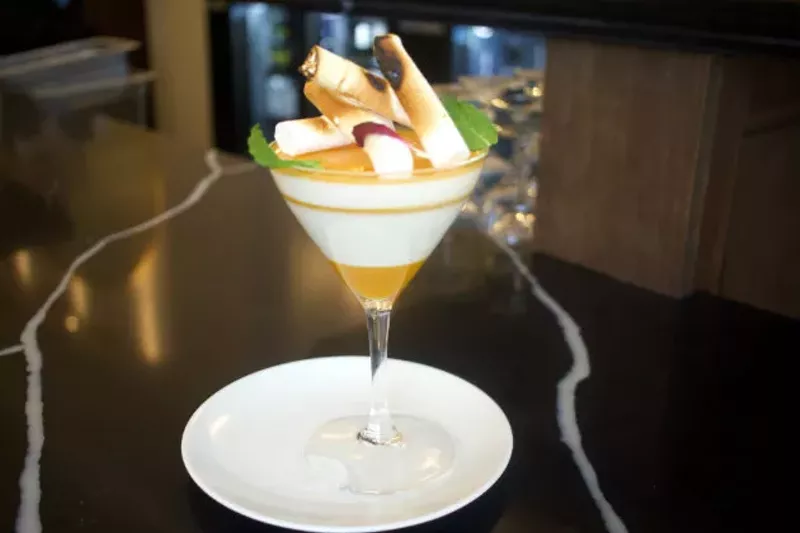 CHERYL BAEHR
Coconut panna cotta is one of Grand Tavern's whimsical desserts.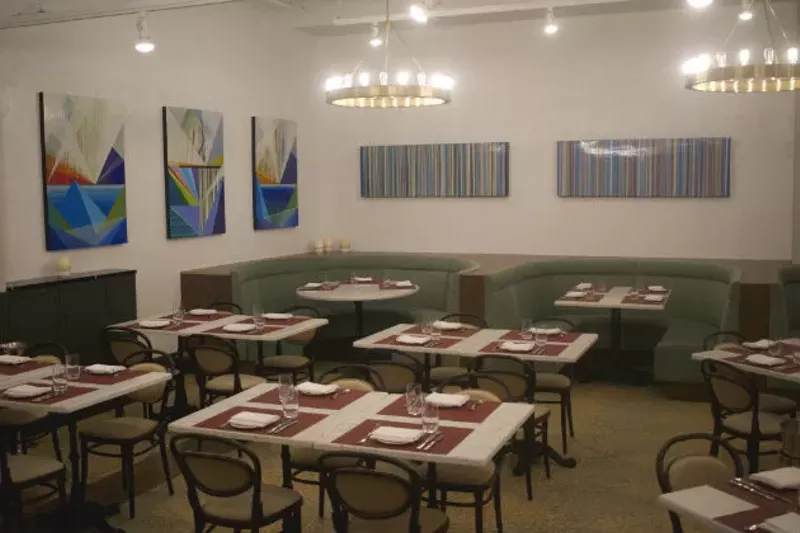 CHERYL BAEHR
The main seating area in Grand Tavern's lounge and dining room.

We are always hungry for tips and feedback. Email the author at cheryl.baehr@riverfronttimes.com.