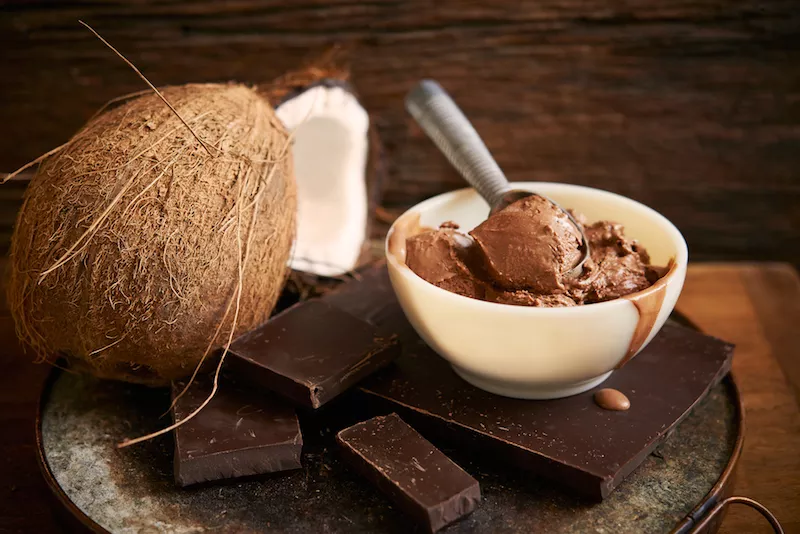 COURTESY OF CLEMENTINE'S CREAMERY
Chocolate coconut fudge .... yum.
Coming as no surprise to anyone who's ever tasted it, the chocolate coconut fudge at
Clementine's Naughty & Nice Creamery
(two locations, including 1637 South 18th Street, 858-6100)
has just been named the best new vegan ice cream in the whole damn country.
That's according to the National Ice Cream Retailers Association, which recently held its national convention in Colorado Springs. Ice cream retailers across the U.S. and Canada submitted more than 200 flavors in hopes of taking the crown.
Clementine's also took the first place "Award of Excellence" for its "Madagascar Vanilla" ...
.... which is indeed very good. But the chocolate coconut fudge, we can report, is in a class by itself. In fact, we know devoted carnivores who swear by the stuff. What kind of vegan ice cream is good enough to attract non-vegans .... much less people who'd never even dream of going vegetarian? It really is terrific.
In a press release, Clementine's owner Tamara Keefe expressed her joy at the double honors. "We are honored and ecstatic to be representing St. Louis at the national convention. At Clementine's, we strive to make the best ice cream in the country, and winning awards like these just encourage us to keep coming up with new and innovative flavors for everyone to enjoy."
Congratulations to the creamery, and hooray on those new flavors. But please don't take that chocolate coconut fudge out of rotation, OK?
We welcome tips and feedback. Email the author at sarah.fenske@riverfronttimes.com