DESI ISAACSON
The Dry Pot chicken is served over the flame.
New to the Loop, across the street from Meshuggah Cafe and Peacock Diner, is
Perfect Taste
(
6310 Delmar Boulevard, University City
), a restaurant serving classic Szechuan dishes. You can get Americanized favorites here, like sesame or orange chicken; they're listed on the last page of a very long menu with more than 100 options. But if you're looking for real-deal, spicy Chinese food, owner Bing Zhu has you covered.
Most meals on the menu are around $8 to $10, though some outliers go up into the $20 range. All the portions are massive, leaving enough for at least one, maybe two leftover meals.
The brightly lit restaurant — previously home to Noodles & Co. — is split into two sections by a divider wall. One side has a few smaller tables and a counter in the back (a holdover from Noodles & Co., presumably now used only for takeout orders). The other side, the majority of the restaurant, offers sit-down dining. There are around 25 tables, and despite only recently (and very softly) opening, Perfect Taste was busy Wednesday when we visited.
The walls are all painted a light shade of blue with minimal decoration, including a few metal flower petals and a small red fixture of a bike. During our
visit
no music was playing in the background, but the spot is busy enough with chatter to not be awkwardly quiet. One TV in the back of the room silently showed Chinese television.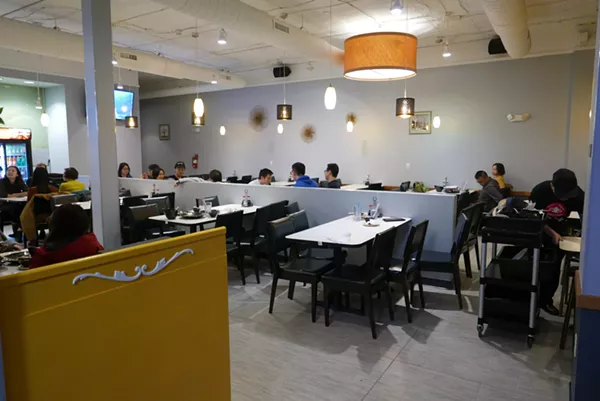 DESI ISAACSON
The interior is brightly lit, and has lots of room to sit.
Don't be fooled by the counter in the back into thinking this is the kind of fast-casual restaurant where you get your food within minutes. Not only is it a full-service restaurant, but most meals here won't be quick.
Not everyone there on our visit appreciated the restaurant's authenticity. Before we even got our food, a man with tattoos covering his shaved head stormed out, mumbling something about his waiter not knowing English. Our server laughed him off — and rightly so. The spot advertises itself as serving traditional Chinese food; it seemed silly to see someone walk out because his experience was going to be closer to what he would get were he actually in China.
We did have to play a bit of
charades
with our waiter, pointing to our water cups when we were empty (which we did often since everything we ordered was spicy) or holding up our napkins when we needed more. But everyone was extremely friendly and happy that we had ordered more traditional dishes.
DESI ISAACSON
The Schoolyard Hot Pot Noodles aren't overwhelmingly hot, but definitely pack a punch.
At first, when we asked for recommendations, our waiter immediately pointed us to the page of American-style options. We shook him off and ordered stuff we had no idea about: dry pot chicken and schoolyard hot pot noodles.
The noodles were spicy, but not so bad we can't handle it. It was the kind of heat that builds on top of itself; it gradually takes over your taste buds. The hot pot chicken comes out on a burner and is full of flavor. The chicken almost tasted sweet at first, then the heat kicks in and surprises you before you realize what's happening.
It was a little frustrating that the noodles came out about ten minutes before the chicken, but portions are large enough to share, so we had no trouble making it work.
Owner Zhu had previously explained that he chose the Loop for his restaurant because
he'd noticed the adventurous diners in the area
— people who seemed to "like traditional stuff, not just American Chinese food." His restaurant joins a growing number of businesses on the Loop catering to international students and Asian ex-pats, including Snow Factory STL, Bing Bing
and
W Karaoke. If you're ready to get beyond sesame chicken, you may want to check it out. Just don't be a dick to your server.
Perfect Taste is open Monday, Wednesday, Thursday 11 a.m. to 9:30 p.m., and Friday through Sunday 11 a.m. to 10 p.m. It is closed Tuesdays.
DESI ISAACSON
The sign might not stand out, but the bright lights from inside will.