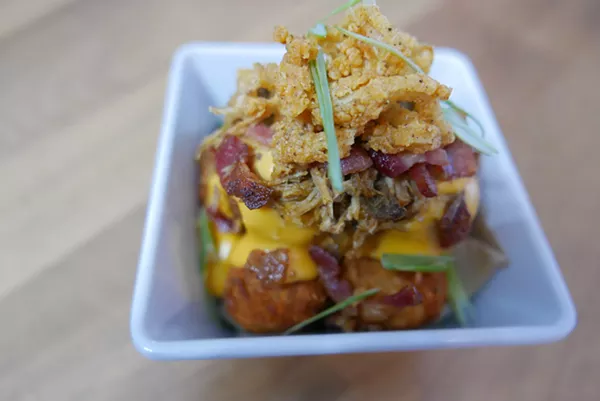 DESI ISAACSON
"The Loaded Pucks" are tater tots covered in beer cheese sauce, pulled pork, bacon, and fried onions.
Two new restaurants are open in Downtown West, and they have the same address.
The Note Bar
and
Vaya Con Dillas
(200 N 13th Street, 314-241-5888
) share not just a roof, but also a kitchen and chef Ryan Hecht.
The two concepts share the space in the Park Pacific building that previously held Alumni St. Louis, which
closed in May
. The Note Bar is a St. Louis Blues-themed sports bar with a shuttle to games, while Vaya Con Dillas serves fast-casual quesadillas and tacos.
Hecht previously worked as a chef at both Alumni St. Louis and Kota WoodFire Grill, which had a three-year run in Grand Center. He says the split concept owes itself to feedback from regulars and others in the neighborhood. Hecht says, "We saw what customers wanted in the area and tailored it to that." They came up with two ideas, a sports bar, and a taco spot. Rather than picking between the two, they decided to roll with both.
DESI ISAACSON
An assortment of tacos found on the menu at Vaya Con Dillas.
Each concept has its own order counter (although the Note Bar's also offers booze, complete with a dozen local beer options). You take a number, and a waiter will bring your food to the table. You can order from either side and sit anywhere you
please
. Have a quesadilla on the bar side or a slider on the Vaya Con Dillas side.
The Note Bar has seven different slider varieties, ranging from beef to salmon to veggie patties (most are $8), as well as five pizza options (around $15 for a large). Vaya Con Dillas has eight taco options (about $3 each) and a bunch of quesadilla options (including design-your-own).
"The idea behind the menu was to get something that hits everybody," says Hecht. Some of his favorite items are on the Vaya Con Dillas menu because it is all homemade from scratch, but he also grew up a die-hard Blues fan and loves the atmosphere on the bar side.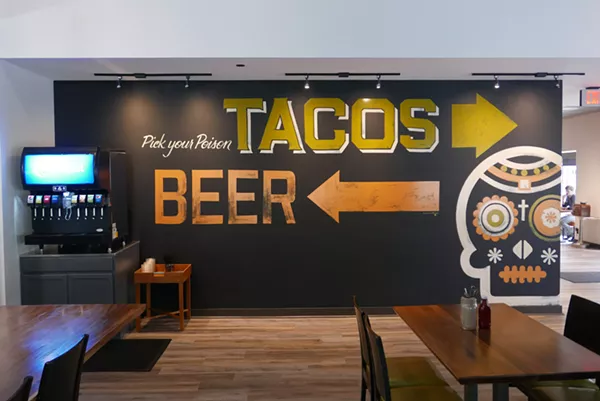 DESI ISAACSON
"Pick your poison" — good advice.
The Vaya Con Dillas side is pretty small compared to the Note Bar. It has a single television and a few tables with burnt orange chairs. It is designed for a quick bite for people on the go. In the main dining area, which sits between the two themed areas, people can relax and enjoy options from either side. "Pick your poison" is painted in large letters on the wall, with an arrow toward the bar that reads "Beer" and an arrow toward Vaya Con Dillas that reads "Tacos." It offers eight to ten tables in which to enjoy the limbo of being between two restaurants.
The dining area quickly morphs into The Note Bar, which has a large, odd bar that seems to be shaped like the Blues logo, high-top tables, TVs, and many, many Blues jerseys on the walls. The dark wood tables and comfy chairs make the bar a clean and pleasant place to hang out and catch a game.
While the spot was still Alumni St. Louis, Hecht noticed a lot of his regulars were Blues season ticket-holders who would come in before games. His goal was to make them more comfortable and to make the bar seem like a viable place for hockey fans to hang out before, during, and after games.
"Alumni looked too nice for hockey fans, and they didn't feel comfortable coming in," Hecht notes. The Note is much nicer than your average sports bar, but the interior makes it clear they want Blues fans hanging out. Hecht says, "People know they can get in and out quickly and not miss any of the game."
DESI ISAACSON
Strawberry and classic margaritas available at the bar along with every other drink you would expect.
And Blues fan will enjoy the menu at the Note Bar. Appetizer names include "Red Wings Suck" (chicken wings) and "Loaded Pucks" (loaded tater tots). Every slider has a different number, each for a different retired Blues number, and each pizza has a number of a Blues enforcer.
When asked if the Note Bar will try to entice Cardinals fans during baseball season, Hecht was hesitant, saying Ballpark Village takes up too much business for it to be worth it. He has, however, begun discussions with the Blues to become an official bar of the team and to work with them on some charity events and other arrangements. The Note Bar also has a shuttle to and from every home game, so you can enjoy your reasonably priced pre-game meal, and then just hop on the shuttle with plenty of time to spare before the puck is dropped.
Vaya Con Dillas is open Tuesday through Saturday from 11 a.m. to 9 p.m The Note Bar is open Tuesday through Thursday 11 a.m. to 10 p.m. and Friday and Saturday 11 a.m. to midnight, as well as being open for two hours before and after every Blues home game no matter what day of the week or how late the action.
Scroll down for more photos.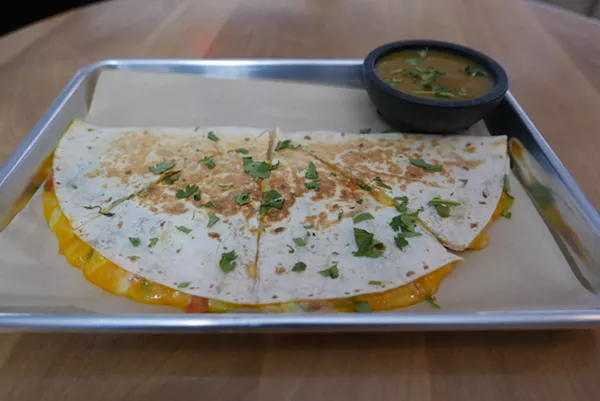 DESI ISAACSON
A classic quesadilla with the cheese melting out to perfection.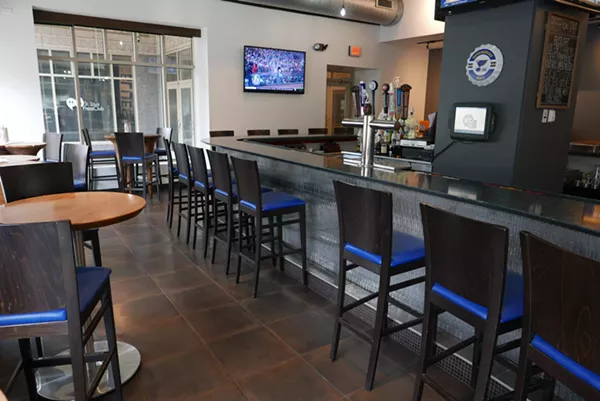 DESI ISAACSON
The Note side of the restaurant feels like an upscale bar.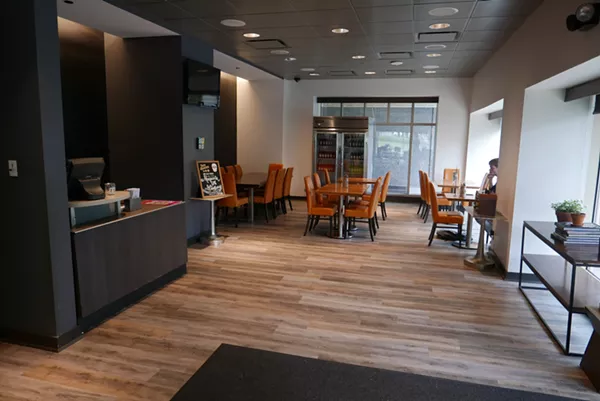 DESI ISAACSON
The small dining area for Vaya Con Dillas.
DESI ISAACSON
The exterior of The Note.