DESI ISAACSON
Owner James Johnson boasts a few dart boards, a jukebox and soon, he hopes, a full liquor license.
The drinks aren't flowing just yet at
Top Flow Bar & Grill
(
4227 Race Course Avenue, 314-899-9558
), but the bar's owner says they will be soon.
The new restaurant on the southern edge of the Grove has been up and running for about three months now, but it's only serving bar food and soft drinks. Owner James Johnson is planning to host a grand opening just as soon as the spot gets its liquor license. His best guess is December.
The space, which is just a block from the corner of Vandeventer and Tower Grove Avenue, used to house Forever Yours. From the outside, the building looks somewhat out of place. It sits on a street corner and curves like it should extend down the block in both directions, but just stops and sits alone.
A sign stuck to the door reads, "No firearms allowed in this property," which we'll acknowledge is a solid rule. Every chair in the place features the same faded red pleather, and the bar is a speckled mixture of black-and-red marble. It really feels like you're right back in Grandma's kitchen. Three TVs sit on a brick wall while one more sits above the bar, perfect for relaxing after work and catching that night's game.
DESI ISAACSON
There are lots of seats at the bar or tables to fit you and your friends.
When we visited there was no one sitting at any of the seven or eight tables, but even with the lack of liquor license the bar was almost full. Everyone there felt like a regular. Most who came in already knew the owner's name, and everyone at the bar was friendly and chatty.
At the end of the bar sits a box full of Mason jars filled with homemade "hot sweet" pickles. The menu has all your bar classics — wings, toasted ravioli, salads (for those of you who are actually healthy), and the Friday special: "Fish & Shrimp Served w/Coleslaw & Spaghetti." It's just $12.99.
An electric jukebox gives anyone control of the speakers for the right price; while we were there it was exclusively old-school rap. The back corner has two electric dart board games to keep you entertained, and, as
the website says
, all food is cooked to order.
Some of Johnson's favorite items on the menu are the Philly Cheesesteak ($8.99) and the cheeseburger ($6.99). Asked what he would tell prospective customers about the new spot, Johnson says, "Come out and support me," with a bright smile and a laugh.
Top Flow Bar & Grill is open every day from 11 a.m. to 9 p.m.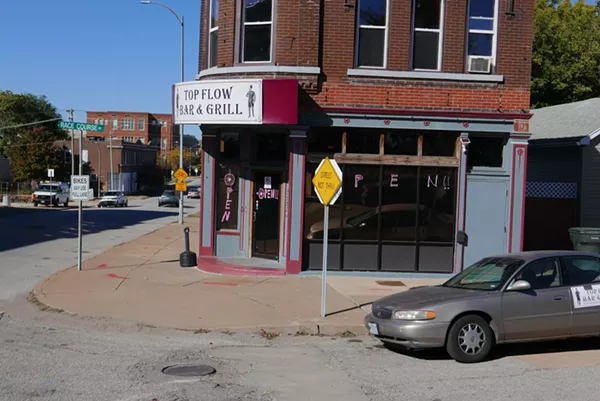 DESI ISAACSON
Top Flow Bar & Grill sits just inside the Grove neighborhood.