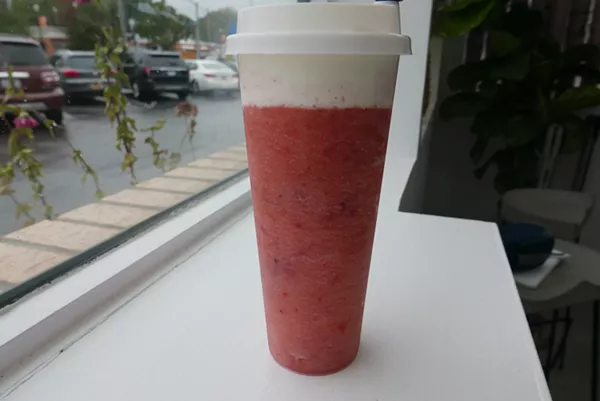 DESI ISAACSON
The layer of cream cheese sits in stark contrast to the strawberry slush.
Cube Tea Studio
(
8041 Olive Boulevard, University City
) is St. Louis' newest spot for Boba tea and the odd, yet exciting, salted cheese tea.
The shop is little more than a cement box adjacent to Olive Supermarket, the Chinese grocer on Olive just east of 170. It might be a little tough to spot at first, but the treasure is worth the search.
There is a bar to order your drinks, a small area to stand and wait (each order takes four to five minutes) and, well, that's it. There are two stools in the back corner and some light pop music playing in the background, but don't plan to
come
relax, chat, or get some work done at this spot. Each tea comes with a sturdy lid, gently recommending that you get your tea and go.
While it might not be a spot to hang out, the product at Cube Tea Studio is worth a trip. The shop offers four different types of tea options: salted cream cheese foam pure tea, seasonal fruit tea, salted cream cheese foam slush tea, and milk tea. A large of each costs about $6.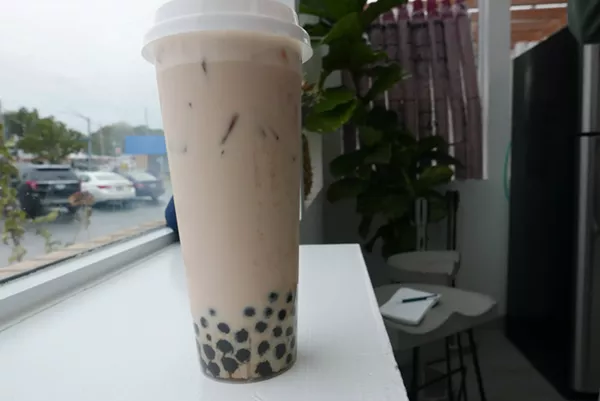 DESI ISAACSON
The Cube Classic Milk Tea is a popular choice.
We tried the cube classic milk tea with boba which was strong and flavorful, but not overpowering. (A friend who considers himself a boba aficionado gave it high marks.) It was sweet but still refreshing, a great mix between a treat and something you could drink often.
But now for the exciting stuff: tea with cheese. While it may sound odd, salted cheese tea started in Asia and has finally arrived in St. Louis. (
Share Sweet
, which opened in Olivette a few months ago, is thought to be the first to offer it locally.) It may sound gross, but the cream cheese topping is more of a foam or frosting for the top of the drink. Usually, it's made with cream cheese, whipped cream, milk, and rock salt. You're at least intrigued at this point, right?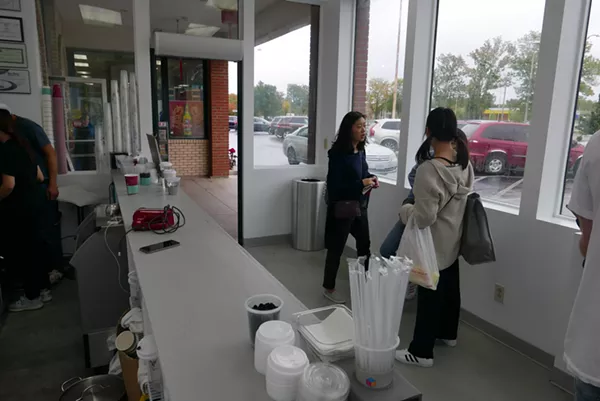 DESI ISAACSON
The interior is a little cramped. Best to grab your drink and go.
We ordered the salted cream cheese strawberry slush tea, and we were not disappointed. The strawberry tea was like a smoothie, very smooth with no chunks of ice, but plenty of large chunks of strawberry. But the cream cheese topping was something to behold. Thick and dessert-like, it's almost like a cream cheese frosting you would find in a cake or pastry. It only made the rest of the tea more enjoyable. Cheese on tea isn't for everyone, but you won't know if it's for you until you try it.
The sturdy caps on each drink make the drinking experience easier. A small hole on one side facilitates drinking from the top (great if you want to get the salted cheese or avoid the boba at the bottom of traditional tea), while a larger hole provides a place for a thick straw on the opposite side — perfect for getting to the boba or avoiding the cheese to get deeper into the tea. Being able to switch back and forth with ease, especially on the go, is a nice feature.
Cube Tea Studio is open daily from noon to 9 p.m.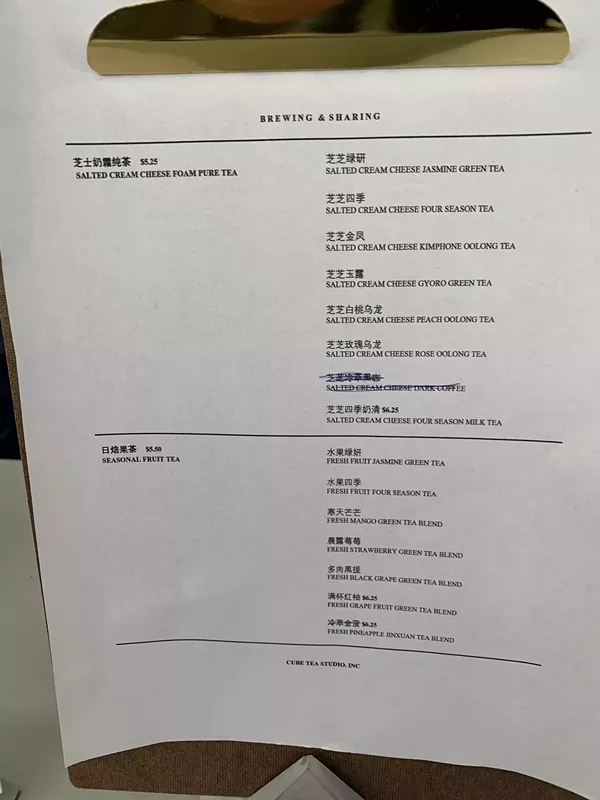 DESI ISAACSON
While the menu might be small, there are plenty of options.
DESI ISAACSON
It might be hard to spot, but Cube Tea Studio sits on the left side when facing the supermarket.