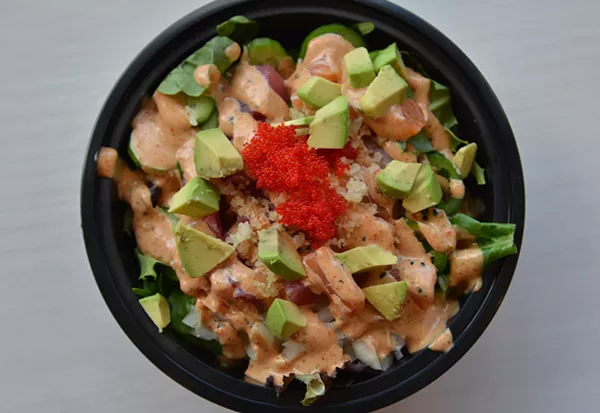 Tom Hellauer
"Maui's Fury" features Scottish salmon and ahi yellowfin tuna. Fresh avocado and other greens and special sushi rice help bring the dish together.
Nadeem Hosseini's first venture into the food industry, as owner of the new restaurant
Poke Munch
(630 North New Ballas Road, Creve Coeur; 314-556-2670)
, came after working in the non-emergency medical transport industry.
"After seeing how debilitating health can be, I wanted to open a restaurant that's clean, healthy and trendy," Hosseini says.
Hosseini first tried poke while visiting Hawaii in 2016 for his brother-in-law's wedding. His appreciation for the diced raw fish dish grew during several business trips.
Like his own family, which spent time in Iran and India before immigrating to the United States, Poke Munch offers a fusion of several flavors. In a single dish, you can eat Scottish salmon, Japanese sushi rice and homemade sauces crafted by Hosseini's mother and chef James Choi.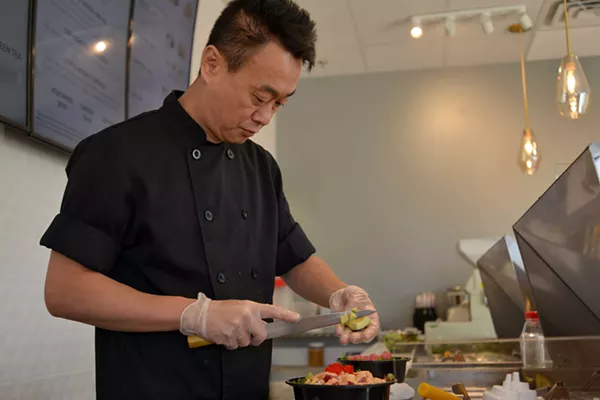 Tom Hellauer
James Choi worked in sushi for 25 years before Hosseini convinced him to move from Chicago to St. Louis to be Poke Munch's chef.
But while the counter-service restaurant opened only a few weeks ago, it's already tweaked the menu to please its St. Louis County customers. (The city of St. Louis has seen three poke spots open in the last year; this appears to be the first in the suburbs.) Hosseini and Choi added cooked meat options, such as tempura-battered chicken tenders and shrimp. The pair cut traditional poke sauces such as shoyu and ponzu, opting for mirin and soy-based sauces.
"We are in the Midwest, some of those [traditional poke] flavors did not sit very well, so we had to cater to our customers," Hosseini says.
There remain plenty of options for the sushi and poke lovers, though. Poke Munch's homemade unagi sauce takes Choi two days to make before it can grace a customer's nori burrito or bowl. And if you're into raw fish, you can still get that. The difference is now your less adventurous friends have options too. (And so do vegans and vegetarians — chef Choi offers a variety of tofu dishes.)
Tom Hellauer
Chef James Choi's signature nori burritos include "Maui's Fury," left, and "the Avocoloco."
Patrons can choose from five signature items—all available in nori burritos or in bowls. More adventurous can build their own bowl or nori burrito, choosing from an array of dozens of colorful, fresh ingredients. Sides such as tofu fries and sweet potato waffle fries are also available.
Craft fountain sodas from Stubborn Soda with no artificial sweeteners or several glass bottled sodas and health drinks pair nicely with meals.
Tom Hellauer
Nanoleaf fish along the counter are sensitive to sound, lighting up to the rhythm of music in a variety of colorful displays.
Under the wavy cedarwood counter made by local carpenter Joseph Bross, colorful fish made of Nanoleaf lead customers through the line while lighting up in rhythm to the eatery's soundtrack. "We play a bit of every music," Hosseini says. When chef Choi is the DJ, he says, that means '80s classics.
Metallic epoxy floors make customers feel like they are walking on water, while fish-scale tiles behind the counter from designer Ted Baker add to the ocean motif. Local surrealist painter Phil Jarvis will be painting a mural over the wall adjacent to the counter shortly and Hosseini is in the market for a large cedar surfboard to add more color to Poke Munch's interior.
Poke Munch is holding its grand opening October 15. It's open daily from 11 a.m. to 8 p.m. Scroll down for more photos.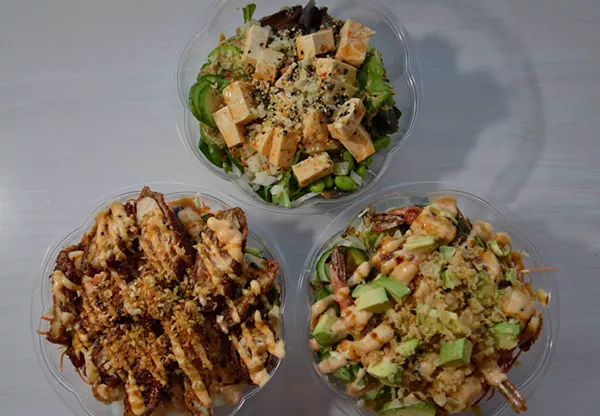 Tom Hellauer
Poke Munch's signature bowls feature a variety of proteins for all diets, including (top) sweet chili tofu on top, soy marinated chicken fingers (bottom left) and tempura-battered shrimp (bottom right).
Tom Hellauer
Hosseini hopes to add a mural soon from local surrealist painter Phil Jarvis and a large cedar surfboard.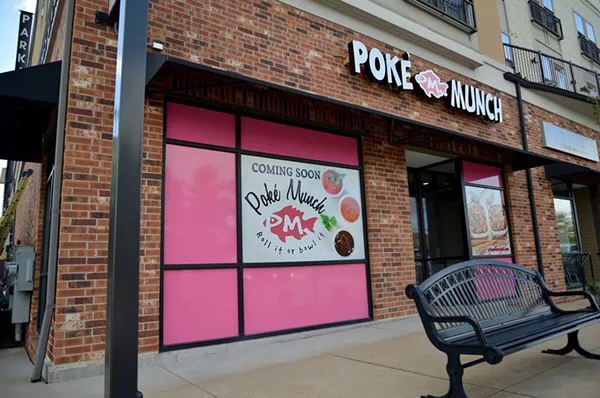 Tom Hellauer
Poke Munch has been in soft opening; its coming soon sign will come down on October 15th's grand opening.