Tom Hellauer
Pink pesto pasta is one of Miss Leon's new creations, with pesto from beets giving the dish its unique coloring.
When Bob Madden, the owner of
50/Fifty Kitchen
(3723 South Kingshighway, 314-875-9623)
, switched to a vegetarian diet for health reasons, he found that not everyone shared his enthusiasm for a meat-free lifestyle. "I have adult children who have never turned down a free meal in their life, but I couldn't get them to come eat with me," Madden says.
So Madden began concocting plans for 50/Fifty, a restaurant based on a premise of inclusivity and providing something for everyone in a true yin-and-yang fashion. The left side of the menu features colorful vegan and vegetarian dishes, while the right side appeals to omnivores.
"It's an approachable way for everyone to come eat together," says Tim Chalcraft, 50/Fifty's event coordinator.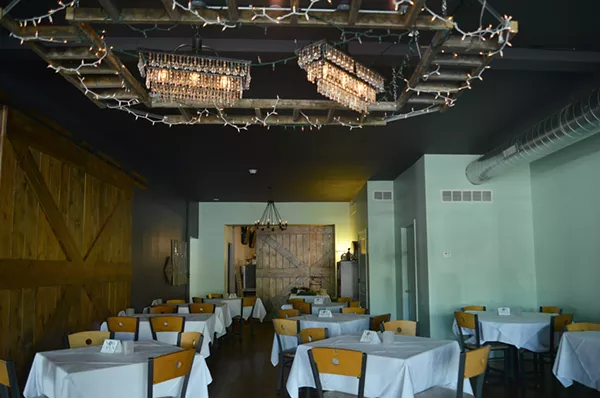 Tom Hellauer
The walls at 50/Fifty are blank to accommodate artists seeking space for a gallery show. Bands, wedding receptions and parties also use the space.
Although his family did not initially share his passion for plants, they are fully on board for Madden's newest venture, which opened in the Northampton neighborhood two months ago. Madden and his wife Liz designed and brought to life the aesthetic for the restaurant and event space, painting and arranging the interior themselves.
Bare walls are tones of light and dark green, with dark navy ceilings drawing attention to bright Edison light fixtures, including one made of former ladders, string lights and crystals. Matching curtains hiding further padding provide acoustic value for the many bands 50/Fifty hosts.
Like all things at 50/Fifty, the live music nearly every night has something for everybody. "One night might have 70-plus-year-old people here and the next night there will be 20-somethings listening to hippie jam bands," Chalcraft says.
Drinks show a similar diversity. Several NA craft beers from local
Wellbeing Brewing
are offered in contrast to
Mark Twain Brewery's
Kolsch, Blonde Ale and Red Ale. Traditional cocktails such as Manhattans are joined by several "mocktails" for non-drinkers. 50/Fifty also boasts an impressive wine list, with a wine passport program in the works.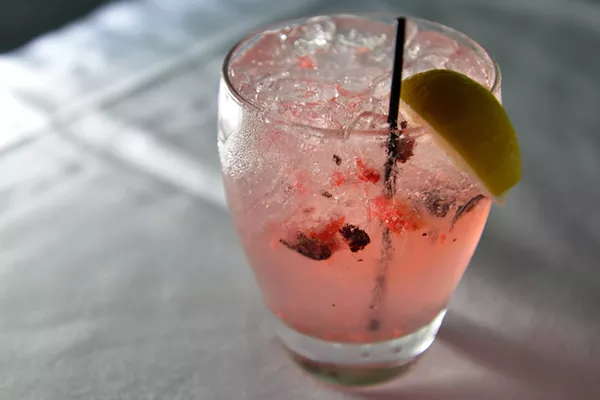 Tom Hellauer
50/Fifty event coordinator Tim Chalcraft has been working with veteran mixologist Jolene Gosha to create cocktails, such as the "Ginberry Smash."
The restaurant's new chef, Miss Leon, is also finding balance in her life. Famous for
her fried-chicken popups
, the chef/drag queen (real name: Leon Augustus Braxton Jr.) also recently switched to a vegetarian diet for health purposes. "My body is a temple, not a playground," Braxton says.
It didn't take long for Braxton to become infatuated with vegetarian fare, experimenting and combining unique ingredients for memorable flavors. "She's the MacGyver of cooking. She has a love and passion for food and life that every restaurant should have," Madden says of his new chef's abilities.
"Who ever thought sweet potatoes, kale, chickpeas and onions would go together?" Braxton asks of her new sweet potato kale salad. Besides Braxton, maybe no one — but for her, open-mindedness and creativity are necessary ingredients in cooking.
Fret not, though, if you are hoping to try some of Miss Leon's famous fried chicken — and remember that 50/Fifty has something for everyone, vegetarian or not. Starting Sunday, October 21, 50/Fifty will have its first of monthly "Soulful Sundays," complete with special menus highlighting Braxton's creations. Offerings include brunch from 10 a.m. to 2 p.m., a fried chicken dinner from 4 to 9 p.m., and live music.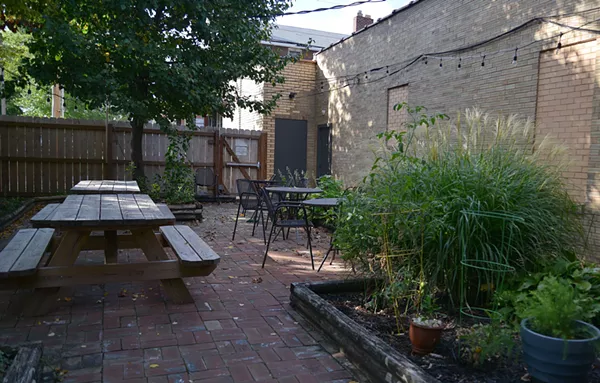 Tom Hellauer
The patio out back seats around 25 at various picnic and cast iron tables.
Tom Hellauer
Tim Chalcraft has worked as a server and bartender and is now helping to create an expansive drink menu.
Tom Hellauer
50/Fifty Kitchen is a live music venue, half-vegetarian restaurant sitting on the corner of Mardel Ave. and Kingshighway Blvd.