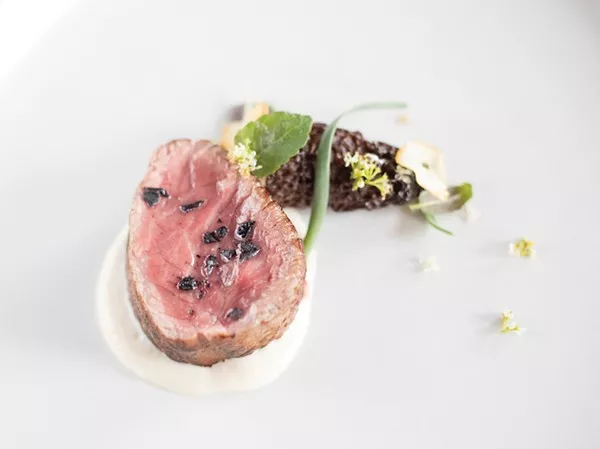 MABEL SUEN
Farewell to Privado.
It's been another action-packed month in the St. Louis restaurant scene. We said goodbye to some favorites, including one of our critic's top restaurants of the year (
Privado
) and two Tower Grove South favorites (Eat Sandwiches and Kim Ngan Vietnamese).
But in exchange, we got a veritable bounty of new spots to visit, from a
D.B. Cooper-themed bar in deep south city
to a
hotly anticipated seafood spot in the Central West End
to a
crab shack pouring on the butter just east of the Loop
.
What did we miss? Let us know in the comments section.
Closings
Eat Sandwiches
,
3148 Morganford Road, Tower Grove South
Flying Saucer Draught Emporium
,
900 Spruce Street, Downtown

Hot Wok Cafe,
14346 South Outer Forty, Chesterfield
Kim Ngan Vietnamese
,
3863 South Grand, Dutchtown
Llywellyn's
,
4747 McPherson Avenue, Central West End

Molly Darcy's,
26 N. Meramec, Clayton
Privado
,
6665 Delmar Boulevard, Delmar Loop
Whitebox Eatery
,
176 Carondelet Plaza, Clayton



See also: The Baked Bear to Open Just East of the Loop
See also: Eat Sandwiches Will Close This Weekend

See also: Kim Ngan Vietnamese to Close Next Month
Openings
58Hundred,
5800 Southwest Avenue, Southwest Garden
Baked Bear,
6140 Delmar Boulevard, Delmar Loop
Chicago Fish Chicken Grill
,
6707 Vernon Avenue, University City
DB Cooper's Safehouse
,
6109 Gravois Avenue, Princeton Heights
Espresso Yourself Coffee & Cafe,
5351 Devonshire, Southampton
The Greek Kitchen
,
343 S. Kirkwood Road, Kirkwood
Indie Eatery
,
7827 Mexico Road, St. Peters
Juniper
,
4101 Laclede Avenue, Central West End
Krab Kingz Seafood
,
5860 Delmar Boulevard, West End

Kyoto Sushi Steakhouse,
441 S Statehouse Rte 157, Edwardsville, IL
Pie Guy Pizza
,
4189 Manchester Avenue, the Grove
The Restaurant at the Seven Gables Inn
,
26 S. Meramec, Clayton
Savage
,
2655 Ann Avenue, Fox Park
Strange Donuts
,
11477 Olive Boulevard, Creve Coeur
Thai Table
,
7403 Manchester Road, Maplewood
Yellowbelly
,
4659 Lindell Boulevard, Central West End

See also: Chicago Fish Grill Opens Just East of the Loop
See also: Krab Kingz Seafood Offers Shellfish Dripping with Butter

See also: D.B. Cooper's Safehouse Brings a Man-Cave Vibe to South City