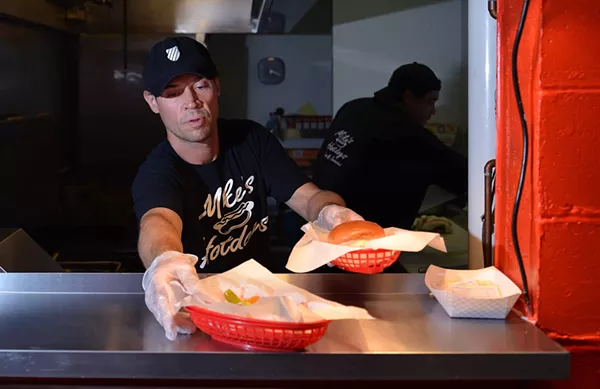 Tom Hellauer
Mike Eagan is a hands-on restaurant owner, frequently working the grill himself.
"It was crazy to me that St. Louis didn't have a hotdog," says Mike Eagan, owner and chef of
Mike's Hot Dogs Soups & Sandwiches
(7293 Olive Boulevard, University City; 314-776-9225)
. After all, there are Chicago dogs, Coney Island dogs, even Sonoran dogs in Arizona. Why not a St. Louis dog?
So Eagan made one at his new counter-service joint, which opened in August in University City. Combining St. Louis staples such as Provel, bacon, caramelized onions and more, Eagan jokes, "Short of putting a ravioli on it, there's not much more I could've done."
Despite the novelty factor, Eagan says his creation fits in nicely with his skillset. "Building flavors and components that go well together is what I've always done, whether I was a chef or anything else," he says.
Tom Hellauer
The St. Louis dog pairs nicely with onion rings and a refreshing cane sugar soda. Expect provel, bacon, caramelized onion, tomato, sport pepper and celery salt on the St. Louis dog. At only $6, the St. Louis dog has become a popular menu item.
At Mike's Hot Dogs, all the ingredients have come together to create what Eagan calls an "old-fashioned fast food" spot. Evoking memories of diners, milkshakes and burgers, the new restaurant's red walls host black-and-white photos of both pop culture stars and old-time St. Louis.
The staff's monochrome uniforms are simple and clean, matching the spacious black chalkboards with bold listings of menu items and black tabletops. The scene is set with a soundtrack featuring BB King, Buddy Guy and other blues legends.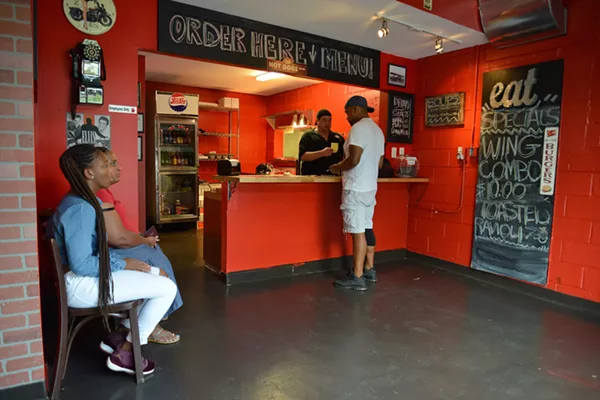 Tom Hellauer
Customers order at the counter, where tickets are relayed to the kitchen. From there, there are two indoor dining rooms and several patio tables outside to occupy in nicer weather.
Eagan has a long history in St. Louis restaurants. He started at Charlie Gitto's as a dishwasher at sixteen. From there Eagan went to Bon Appetit Catering before serving as the chef at Cardwell's for eleven years. He made one last stop at Kirkwood Brewhouse before opening Mike's.
Although hotdogs get star billing in the restaurant's name, burgers, chicken, cod and vegan options are on the menu as well. Chefs sear the edges of the burgers on a sizzling flat top, making them a favorite in Mike's first seven weeks of service. Caramelized onions and pickles adorn one to three Angus patties, conforming to Eagan's cooking philosophy; "Fresh. Simple. Quality."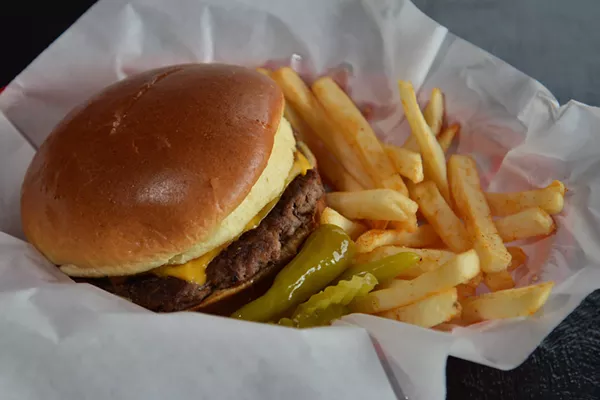 Tom Hellauer
Mike's Hotdogs' fan-favorite burger can incorporate one to three patties depending on your hunger.
This mindset has helped make Mike's a local affair. The hotdogs, sausages and burgers are all pure Angus beef provided by El Rey Cooked Meats of Ferguson. A variety of colorful pure cane sugar sodas lining the counter and refrigerator come from Excel Bottling, a short drive across the River in Breese, Illinois.
The community has taken notice, filing in to try Eagan's creations. University City Councilman Bwayne Smotherson has "been in to eat five or six times," Eagan says, adding that the reception is all he could have hoped for. He's already thinking about expanding.
In fact, after just a few weeks, it became clear to Eagan that he needed to find additional parking beyond the nine spots directly outside. Other changes may be on the way, too: Patrons compliment the kids menu, but ask when an adult menu complete with alcoholic options will be available, leading Eagan to look into adding beers and other spirits. For the time being, though, Mike's affordable options have been a hit in a city not well-known for its dining outside of the Loop.
Mike's is open 11 a.m. to 8 p.m. Monday through Saturday. Scroll down for more photos.
Tom Hellauer
The front room of Mike's can seat 15 to 20 patrons at a time. During the lunch and dinner rush, it can fill up quickly.
Tom Hellauer
A variety of colorful pure cane sugar sodas available at Mike's are all from Excel Bottling of Breese, Illinois.
Tom Hellauer
Mike's sits a the corner of Olive Blvd. and Midland Blvd. in University City.