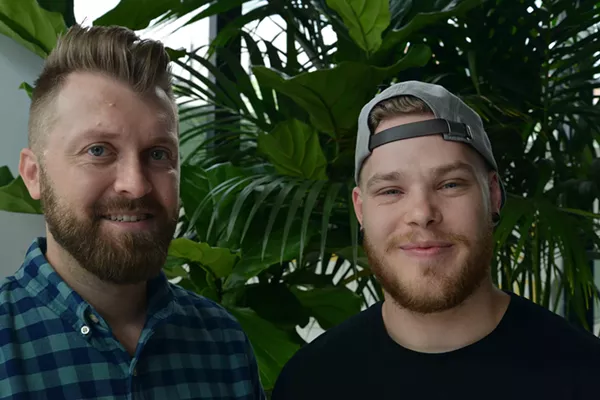 TOM HELLAUER
Yellowbelly creators Travis Howard and Tim Wiggins also own and operate Retreat Gastropub.
Like many a bad decision, Yellowbelly (4643 Lindell Boulevard), the new island-influenced bar and restaurant that opens Friday in the Central West End, started with a little rum. Only in this case, creators Tim Wiggins and Travis Howard are confident the spirit took them down a good path, not a bad one.
Originally, the concept was "pretty beverage-specific, we didn't know how the food mingled with that," Wiggins explains.
The pair also co-own the wildly successful
Retreat Gastropub
(6 N. Sarah Street, 314-261-4497)
, which opened nearly three years ago in the same neighborhood (as at Yellowbelly, Wiggins is also the bar manager). For months, they tested different combinations of liqueurs, syrups, bitters and more to develop Yellowbelly's rum-happy cocktail list. This process helped them craft a menu that counters rum's shortcomings — narrow flavor, a tendency to be paired with sugary mixes and those dang tiny umbrellas. The Yellowbelly team is working hard to present the liquor at its best.
Consider the house rum, containing both whites and darks to help build complementary bitterness and savoriness, counterbalancing one another for a rich taste. "You don't see people making old-fashioneds with five different whiskeys; that's obnoxious," Wiggins says. "But when you add more rums you build flavor."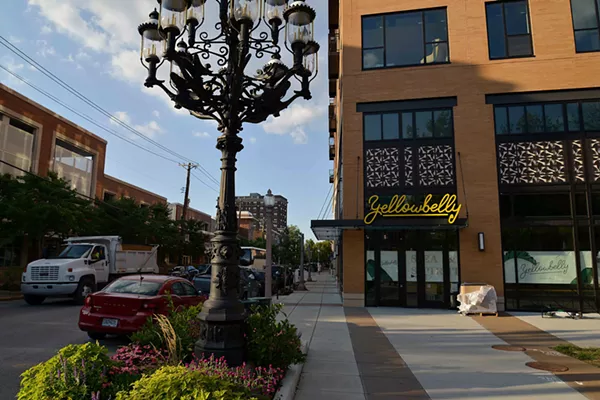 TOM HELLAUER
Yellowbelly sits on the corner of Lindell and Euclid in a vibrant part of Central West End.
While there is some serious chemistry and mixology behind the Yellowbelly bar, there is an enticing simplicity to the drinks as well. This balance between the intricate and minimal comes to define the design of the entire operation.
"The way the bar is set up, it takes maybe three touches to pour a cocktail, but in those three different touches, there's eight hours of prep work going into each different ingredient," Wiggins says. Even the physical menus, which offer both illustrations and concise descriptions, serve to inform of unknown tastes without overwhelming.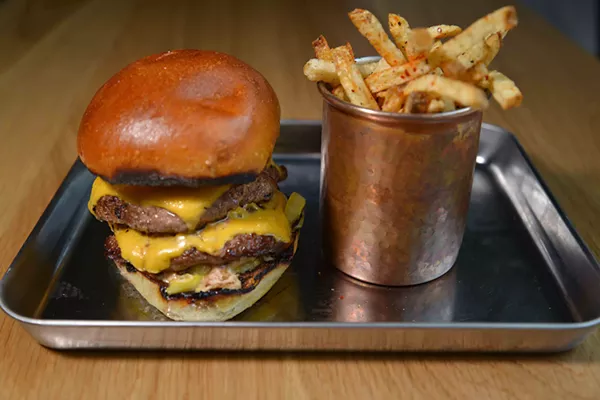 TOM HELLAUER
This double cheeseburger is made from dry aged beef.
The food embodies these themes as well, with
Top Chef
alum Richard Blais designing a menu that offers both island-inspired fare and Midwestern favorites, such as burgers and ribs.
Executive chef Jason Gethin will be tasked with the execution. Gethin, a St. Louis native, spent the past eighteen years in San Diego working with seafood before being brought onto the Yellowbelly team a few weeks ago.
TOM HELLAUER
Chef Jason Gethin's extensive background in seafood helped bring dishes like this tuna to life.
For Gethin, the food, space and cocktails are all interrelated. "I think it's the same," Gethin says. "The food is very simple but it makes people think. With our menu it's approachable, but I think it will definitely open people's eyes."
While Yellowbelly has yet to open (after Friday's soft opening, the grand opening is Monday), Wiggins and Howard can already see its future. "This isn't going to be a dimly lit, exclusive bar. This is going to be a bustling, busy, fast-paced restaurant," Wiggins says. And, he adds, while "St. Louis doesn't need another restaurant, it needs a new experience." If they have it their way, that experience will be heavy on the rum.
TOM HELLAUER
Cheddar biscuits are a savory starter on Yellowbelly's menu.
Editor's note: We changed a few lines of this story after initial publication to explain that Richard Blais designed the whole menu; Jason Gethin will be responsible for executing it. We also removed a mention of umbrellas, since Yellowbelly will not be deploying them. We regret the errors.