IAIN SHAW
The "Ocean" bowl takes its color from the blue spirulina algae.
It's only been a month since
Hello
(1000 S. Newstead Avenue, 618-509-2366)
opened on the fringes of the Grove, but Jordan and Kayla Bauer's juice and smoothie bar is already a hit.
Says Jordan Bauer, "Saturday is insane. There's a line to the door at all times. I feel bad, because people are waiting a long time for their smoothies, but we're trying to keep up with the demand." Weekday lunches have also been busy, probably because Hello's location at the southwest corner of Chouteau Park puts it within easy reach for anyone living, working or studying in the Central West End, Barnes-Jewish Hospital, Cortex or the Grove.
If you do find yourself waiting in line to place your order, take a moment to appreciate Hello's stunning design. Although it's not huge, seating around 40 customers, Hello benefits from high ceilings and large windows that create a bright, open ambiance. Juicers whirr over a soundtrack of upbeat dance music. The space offers lots to look at, from woven rugs to macramé wall hangings. There are a variety of seating options to suit your mood or preference: lounge on the cozy leather sofa, observe the food prep action from the bar stools, or gather with friends around the rattan table in the corner. It all hangs together in a way that feels natural, sunny and uplifting.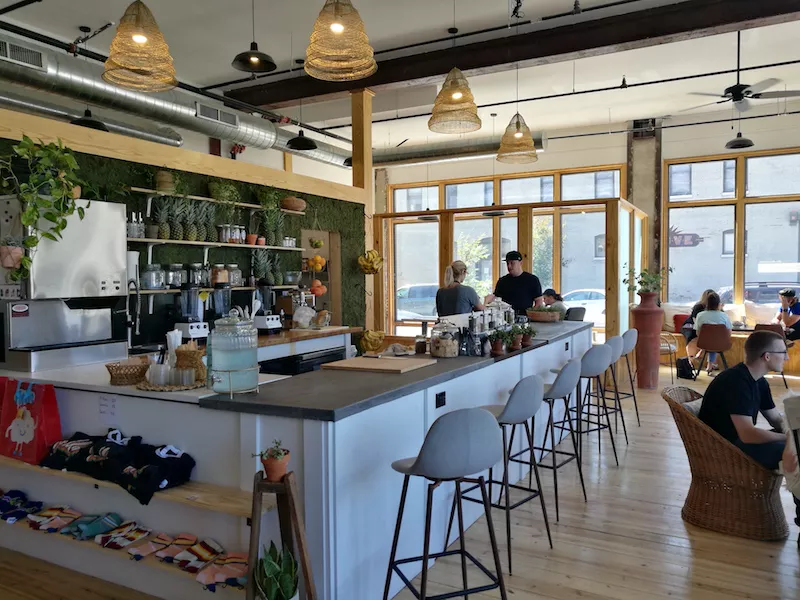 IAIN SHAW
Unlike lesser smoothie bars, Hello offers plentiful seating.
Hello's juice is pressed from fresh, quality produce, the daily selection varying depending on what's in season. A recent example was a blend of fresh grapefruit, orange, lime and ginger, but expect a new cast of players to emerge as summer gives way to fall.
Inspired by a honeymoon trip to Hawaii, the Bauers originally intended for Hello to be primarily a juice bar. However, customer demand prompted a rethink, as Jordan Bauer explains: "The first few days we were open, we realized no one was ordering juice –- everybody was ordering smoothies –- so it was actually a quick change to make the menu more smoothie bowl focused."
The menu lists five smoothie options, with flavors being rotated regularly. Each smoothie is available in a cup ($7.50), ideal if you want to grab and go, but the smoothie bowls ($9.50) are more complex and satisfying, with additional toppings lending extra texture and flavor. The toppings vary but involve ingredients like granola, berries, bananas, chia and hemp seeds, coconut and honey. You can also customize your bowl for flavor or a wellness boost with add-ins including spinach, avocado, activated charcoal, almond butter and collagen.
IAIN SHAW
A cherry cacao bowl, packed with flavor.
One current highlight is the cherry cacao smoothie, which includes cacao, banana, cherry, coconut milk and honey. The bowl version is topped with unblended portions of the above ingredients, as well as granola and a couple of sticks of homemade vegan chocolate. Another, the "Ocean" bowl, is a bright blue blend of blue spirulina (a high-protein, nutrient-packed and anti-oxidant algae), strawberries, kiwi fruit, pineapple, granola and coconut.
A smoothie bowl is basically a meal in itself, but the menu also features a couple of salads ($9) and two types of toast ($5), made to great effect with thick sourdough from Knead Bakehouse. The avocado toast is excellent, served on a wooden cutting board and satisfyingly garnished with extras including chile flakes, salt and pepper and pumpkin seeds. As with the smoothies, you can add extras to the salads or toast for 50 cents to $2 per ingredient.
The Bauers are keen to work with local brands where possible –- in addition to working with Knead Bakehouse, they're currently using honey from Bee Simple City Farm, granola from Made Fare Co. and cold brew from Sump. Jordan Bauer also has plans for wellness-based collaborations beyond the menu: YogaBuzz will be hosting occasional yoga classes, and the Bauers are exploring the possibility of teaming up again with climbing gym Climb So iLL, which was among the hosts of Hello's initial pop-up series. If you need a meeting space, construction is underway on a conference room that will be available for reservation by customers.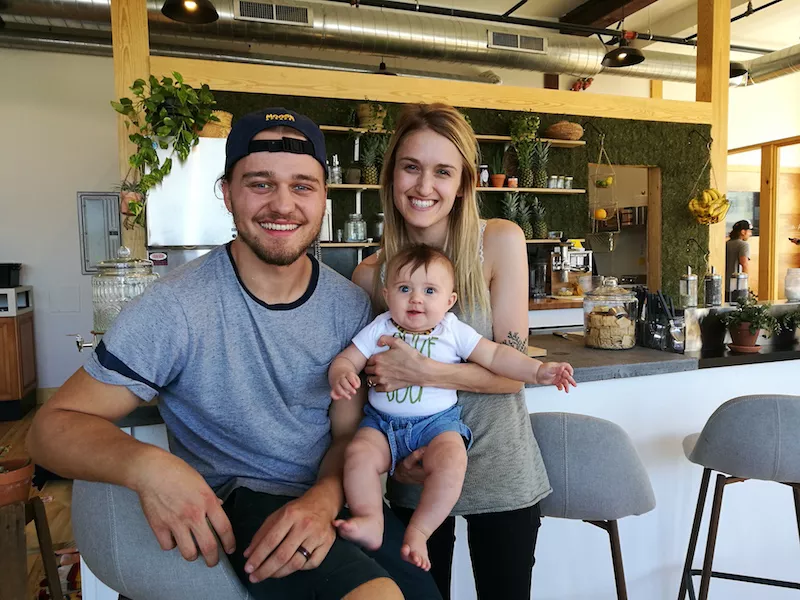 IAIN SHAW
Jordan and Kayla Bauer with their adorable mascot .... err, kid.
Plans for winter are already underway, Jordan Bauer says. "We're experimenting with a lot of bone broths. That's huge right now in the health and wellness culture, so we're going to play around with that. We're talking to a few local butcher shops trying to get some good local grass-fed, GMO-free bones. We're also experimenting with superfood lattes, which is also a pretty new concept for St. Louis. There are coffee alternatives like steamed nut milks with medicinal mushroom powders and superfoods instead of espresso." Which all sounds great, but take advantage of these last weeks of warm weather to enjoy the more tropical flavors currently underpinning Hello's smoothie selection.
Hello is open from 7 a.m. to 6 p.m. Monday to Friday, and 8 a.m. to 4 p.m. on Saturday.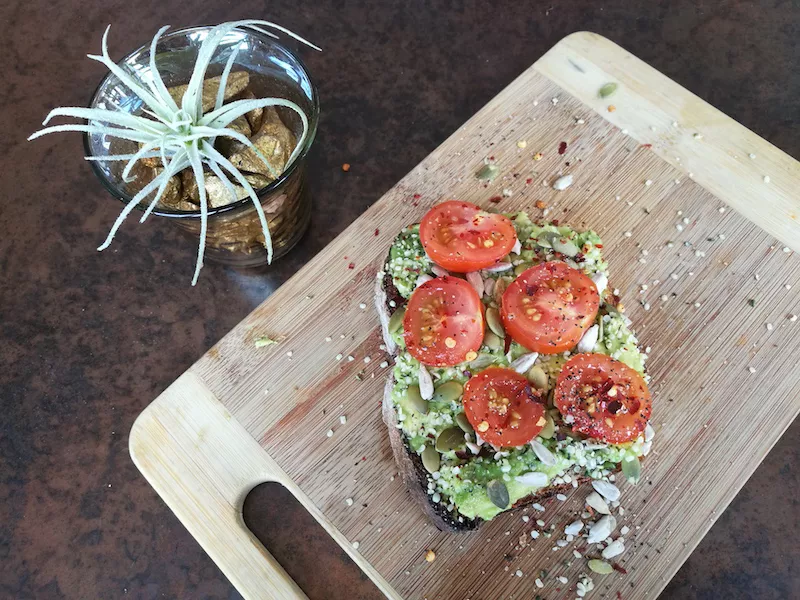 IAIN SHAW
Much more than avocado toast.
IAIN SHAW
Talk about comfy seating!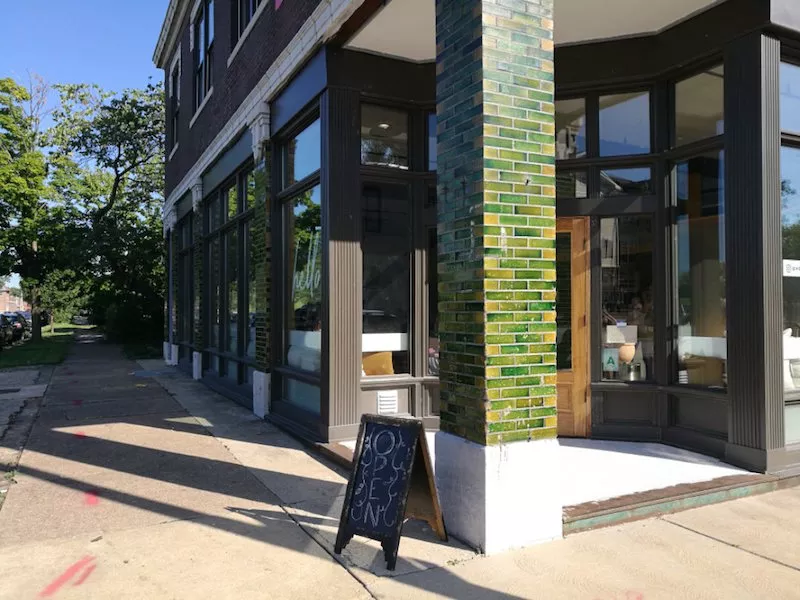 IAIN SHAW
Hello is located on the edge of the Grove, near Cortex.