CHERYL BAEHR
The River Lillie is now open for breakfast and lunch in Hyde Park.
As a non-profit leader, government employee and community mentor, Maggie Hourd-Bryant has dedicated her life to serving the residents of Hyde Park. However, as soon as she saw the "for lease" sign on the building at the corner of Salisbury and Blair, she decided to take on the service role quite literally.
Hourd-Bryant's debut restaurant, the River Lillie (1435 Salisbury Street; 314-833-4335), opened two months ago in north city's Hyde Park neighborhood. A breakfast-and-lunch concept, the River Lillie serves what Hourd-Bryant describes as Southern fusion fare, inspired by the communities along the Mississippi River and its delta. The name comes from her mother, Lillie, whom she describes as the "best cook in the world," though Hourd-Bryant laughs that the name also has a Hollywood connection.
"I knew I wanted to name the restaurant after my mother, but I couldn't think of what else to call it," Hourd-Bryant admits. "But it came to me when I was watching
Guardians of the Galaxy Vol.2
. Kurt Russell is in it and he falls in love with a woman from Missouri and calls her his 'River Lily.' I thought, "Yes, that's it!"
For Hourd-Bryant, the River Lillie is both the realization of the dream and a path that is completely unexpected. Born three miles from the Arkansas border in Missouri's Bootheel, she moved to St. Louis to pursue her Ph.D at Washington University. Originally, she settled in Clayton, then in the city near the Wash U campus. But Hourd-Bryant found herself wondering why she was paying all that money in rent. She bought a house in north city's Fairgrounds Park — and as soon as she moved in, she knew she'd found her home.
But it took a diagnosis of Bell's palsy to steer her away from academia and onto a different path. "I couldn't teach because I couldn't really talk," she recalls. "I wasn't sure what to do, but then I realized that it could've been much worse — I could've had a stroke or a heart attack. I thought to myself, 'Maybe this is a chance to do what I have always wanted to do.'"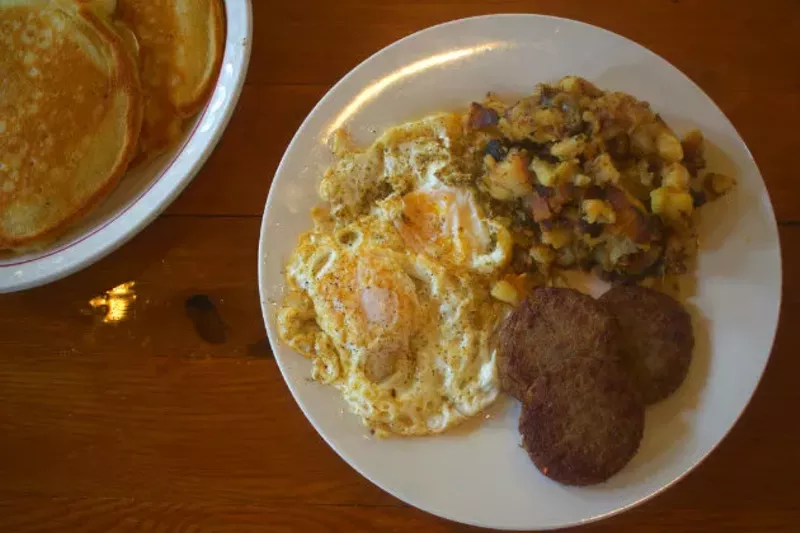 CHERYL BAEHR
The River Lillie specializes in daytime fare, including classic breakfast dishes.
Her dreams of opening a restaurant came true when she signed a lease for the recently renovated storefront that houses River Lillie, one she'd been eyeing for quite some time. Within just a few months of taking over the building, Hourd-Bryant has transformed the space into what she describes as a "community hub," serving daytime fare in a warm, inviting environment. The building's vintage charm includes soaring ceilings, and elegant chairs in maroon and hunter green give the feeling of an upscale tea room. The fact that coffee and tea service comes out on individual glass trays with crystal-like vessels underscores this feel.
Though Hourd-Bryant's mother was the inspiration for the menu, it's brought to life by executive chef Kevin Randolph, a veteran cook who counts Candicci's, Cafe de France, the Pasta House Company and Sweetie Pie's as former employers. From the restaurant's open kitchen, Randolph executes a Southern-inflected menu filled with fried green tomato sliders, blueberry pancakes, salmon croquets and the restaurant's signature shrimp and grits.
"We make almost everything from scratch and have three guiding principles," Hourd-Bryant explains. "We want it to be flavorful, filling and as pure as possible. In our community, we sometimes focus on foods that are not very good for you, so we are trying to change that."
Like the owners of Jerk Soul,
the delightful Caribbean restaurant
that opened a block away not long before the River Lillie, Hourd-Bryant sees her restaurant as part of a revival underway in a part of town that has long been written off by the larger metropolitan area.
"If we can rebuild it, we can reclaim its former glory," she says of the charming Hyde Park neighborhood. "It's not about new developments but about accessing what is already available here — the buildings and the people in the community."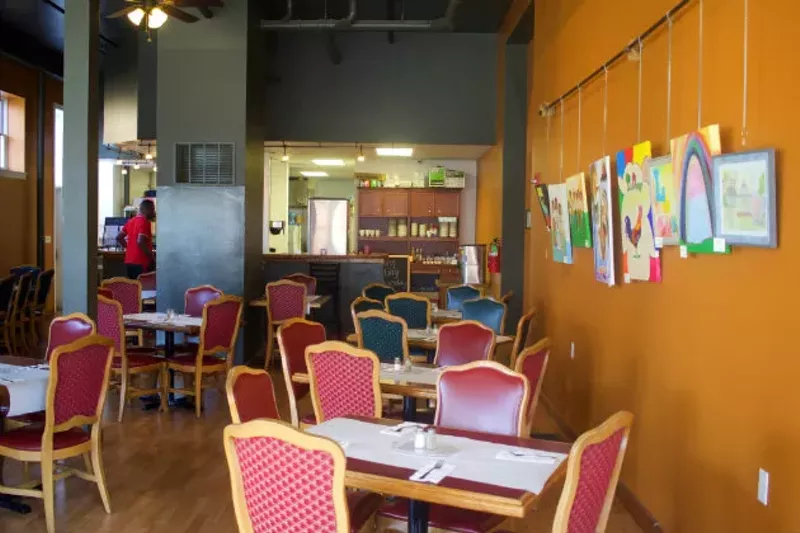 CHERYL BAEHR
Art hangs from the walls.
And as for any negative perceptions of Hyde Park, Hourd-Bryant is not shy about addressing them head-on.
"People always ask me if I feel threatened being here, being on a corner with the door open all day and money in the register," she says. "I don't feel that way at all. I feel at home. And that's what my customers say. They tell me they feel like they are in their grandma's kitchen, eating with her."
The River Lillie is open from 7 a.m. to 2 p.m. Monday through Friday and from 8 a.m. to 2 p.m. on Saturdays.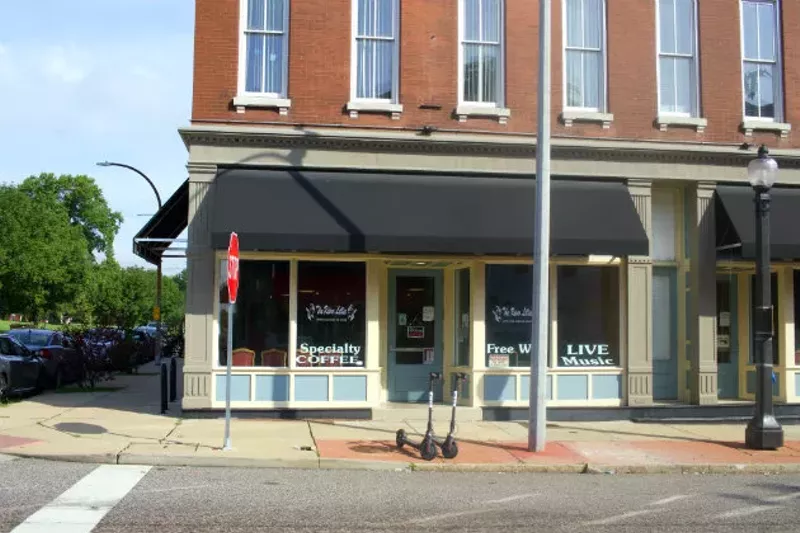 We are always hungry for tips and feedback. Email the author at cheryl.baehr@riverfront times.com.