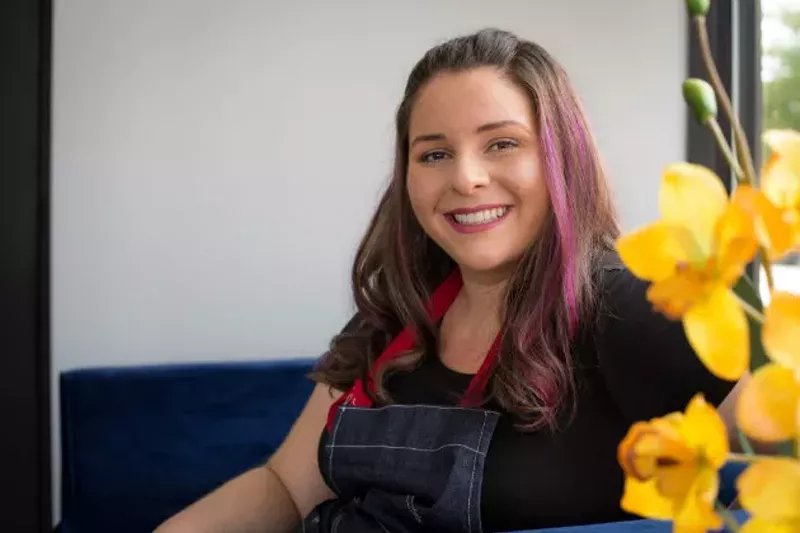 MONICA MILEUR
Senada Grbic wants you to love the Bevo Mill neighborhood as much as she does.
Senada Grbic can't help but smile when she recalls the childhood she spent running around the Bevo Mill neighborhood with her parents, brother and sister.
"Really, the community is the best part of Bevo," Gribc says. "The people are always welcoming, caring, supportive of local businesses. When I think of Bevo, I think of the butcher shop around the corner, the florist who has been there for every happy and sad occasion of my life, the artists who bring a sense of community, the coffee shops where you meet with family and friends. It's where I grew up and is near and dear to my heart."
Having moved to St. Louis from their native Bosnia in the mid-70s and early 80s, respectively, Grbic's father and mother built a life for themselves in and around the Bevo Mill area. When the war broke out in Bosnia in the early 1990s, the formerly German neighborhood in south city welcomed their countrymen and women as refugees, integrating them into the fabric of the community. Coffee shops opened, bakeries fired up their ovens and the area was transformed into what many refer to as "Little Bosnia."
Though the family would go on to open their iconic Bosnian restaurant, Grbic, in neighboring Dutchtown, they still consider the Bevo Mill neighborhood to be home. And these days, it is home for Grbic — Lemmons by Grbic, the restaurant she owns with her brother and sister, is located just down Gravois from the historic windmill that gives the neighborhood its name. Every day, as Senada Grbic uses the same butchers and bakeries her family has been using since she was just a kid, she can't help but feel fortunate to spend her days in such a wonderful place — one that she is eager to share through her picks for her essential Bevo.
"This will let people know what it's like to live there," Grbic promises. "I went through a week of traveling around the neighborhood, and these are the places I visited. I've had a hard time pinpointing favorites because the best thing for me about Bevo is that it's where I grew up. It's family."
Europa Market

(5005 Gravois Avenue, 314-481-9880)

"This is my favorite import shop in the city because they carry products from all across Europe," Grbic says. "It's a one-stop shop for everything you need for a home-cooked meal. Plus, when I need something for my coffee collection, they have all of that there. I've been going since I was a kid. My dad used to let us buy all the chocolate we could fit in our arms!"
Das Bevo

(4749 Gravois Avenue, 314-832-2251)

"It's such an iconic landmark and it's what the neighborhood is named after. It's what all of us associate with it," Grbic explains. "The architecture brings to mind all of these warm, fuzzy memories of my grandma's house. Now that they have redone it, I love going to outside shows on the patio. And now they are doing tours of the windmill — just ask after your dinner, and they will give you a tour of the windmill."
J's Pitaria

(5003 Gravois Avenue, 314-339-5319)

"I love it here. It's such a small, intimate, cozy place and gives you the feeling of being in Bosnia in a pitaria," says Grbic. "It's such a hidden gem. They open at 10 a.m., and we go there and get buttermilk and pita and either eat there or bring it home. I can make pita, but it is so time-consuming that it is nice to go to a place that can do it without me having to do it at home."
Mariscos el Gato

(4561 Gravois Avenue, 314-282-0772)

"I had trouble picking one of the great Mexican places that have been opening up in the neighborhood, but I love Mariscos el Gato," says Grbic. "I like that you are able to get all of that fresh produce and fish. The platters and how they serve it is just amazing. I really appreciate how well they are doing things."
Sana Bakery

(4412 Morganford Road, 314-481-5356)
"We've been getting our bread for Grbic from here since day one," Grbic says. "When I opened Lemmons, I was looking at other bakeries and then thought, 'We have Sana and they do such an amazing job.' They make their bread from scratch every day from traditional Bosnian recipes. It's a small mom-and-pop operation, and they have no big equipment. They also have a tiny grocery store where you can grab coffee. When you walk in, the smell of fresh bread just hits you. It's buttery and yeasty — one of my favorite things ever! When I bring it to work, my car smells like it for the whole day. On Saturdays, they make pita, but you have to get there by 8 a.m. because everyone goes early to get their bread for the weekend. It reminds me of being in Bosnia."

Golden Grain Bakery
(4573 Gravois Avenue, 314-752-3004)
"They do bread as well, but what I love about Golden Grain is that they have a small counter where you can get lunch," Grbic says. "They are the friendliest women. You walk in and they say, 'Hi, honey. What can I get for you today? How hungry are you?' I love to go for a quick lunch and get the chicken sandwich. It's made on a fresh, crispy hoagie Bosnian bun with mayo and cheese. My husband always gets the doner kabob on fresh bread, but really, you can't go wrong here."

Infinity Hair Design
(5216 Gravois Avenue, 314-352-4247)
"There are two sisters who own this place. One of them is a family friend," says Grbic. "I love walking in. There is this glamorous, luxurious feeling to the place. They are so friendly and sweet. You can get a quick touch-up or a full transformation here and they are always so polite and do a great job. It has such a traditional feel."

Sebilj of St. Louis
(5000 Gravois Avenue)
"One of my favorite things about Bevo is seeing Sebilj Park," says Grbic. "The Bosnian community made a replica of a famous water fountain in Sarajevo. It's an iconic landmark, and if you are in Sarajevo, you go there and take a picture. Superstition says that if you drink from the fountain, you will return to Sarajevo. For St. Louis' 250th birthday, the Bosnian community got together and raised money to build it as a gift so the city would know how thankful everyone is that they were welcomed and accepted."

Grbic
(4071 Keokuk Street, 314-772-3100)
"OK, technically it's in Dutchtown, but I had to put it on here because it is so near and dear to my heart," Grbic says. "Even though I am over at Lemmons, I still feel like it is my restaurant home. I love it when I go and dad is sitting there, and we have coffee together. I love looking at all the brick and woodworking that he did. It's home to me."

We are always hungry for tips and feedback. Email the author at cheryl.baehr@riverfronttimes.com.