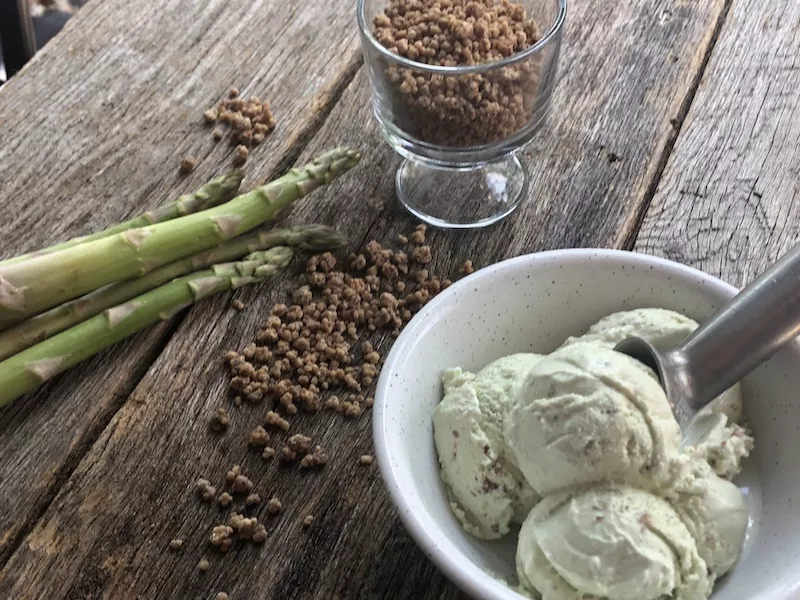 If Good Morning America's Michael Strahan wasn't ready for barbecue ice cream from Clementine's Creamery, just wait 'til he gets a load of the asparagus and quinoa version.
The St. Louis-based ice cream company — formal name: Clementine's Naughty & Nice Creamery (two locations, including 1637 S. 18th Street, 314-858-6100) — has been pushing the area's palate since its 2015 opening, offering such exotic flavors as manchego with truffle and honey and strawberries with balsamic and white pepper.
In recent months, though, owner Tamara Keefe has really been upping the ante. Her barbecue ice cream, which comes complete with chunks of smoked brisket from the Capitalist Pig, gained national attention. And now she's rolling out an asparagus agave quinoa flavor, currently available at both the Lafayette Square and the DeMun location.
The roots of the new flavor, as the creamery explains in a press release, came from both an interest in keeping it truly local and seasonal — and, yeah, a dare, involving Angie Eckert, the proprietor of Metro East farm Eckert's.
"Eckert's had a lot of asparagus leftover this year and challenged Tamara to come up with an ice cream flavor, which she did," the release explains.
Anyone daring enough to give this one a try? Let us know how it goes in the comments. And then let's see if we can get some to Strahan. Poor fellow's head will explode!
We welcome tips and feedback. Email the author at sarah.fenske@riverfronttimes.com