LEXIE MILLER
The restaurant's motto hangs above the kitchen: "damn good food,"
TBD Bar + Social (15 Ludwig Drive, Fairview Heights, Illinois; 618-397-9242), the colorful new bar and eatery that opened last week in the Metro East, has a little bit of everything: an interior that makes you feel like you're in an outdoor patio, a host of games (giant Jenga or Connect 4, anyone?), and even an actual camper once owned by the band America.
The bar is the second location for a concept that originated in San Antonio, Texas.
TBD decided to expand to Illinois because it fits the people, marketing team member Evelyn Schardan says.
"The people work hard and play hard," adds Schardan's colleague Amy Freshwater.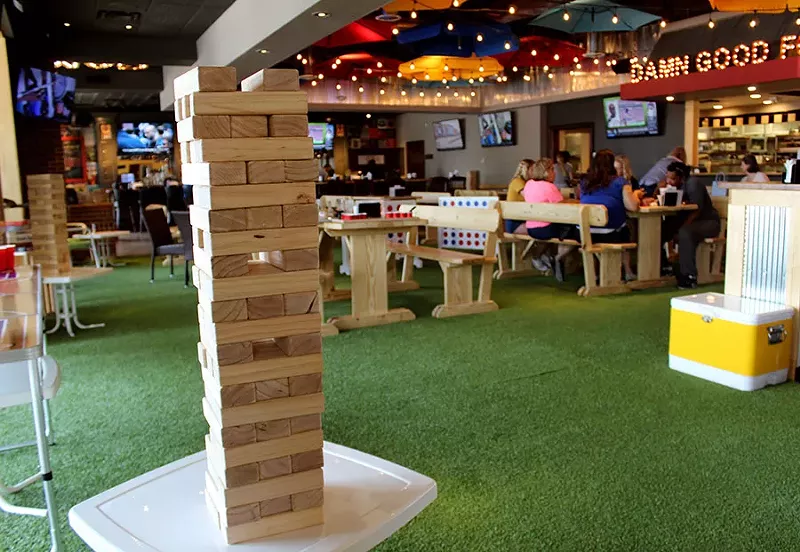 LEXIE MILLER
Really big Jenga? TBD Bar and Social has it. Connnect 4? It's got that too.
And this is the perfect spot to play. There are board games available to play at your table, beer pong, corn hole and the aforementioned supersized party games. TBD is even getting a life-sized Battleship.
Among the biggest hits on the menu since TBD's August 1 opening has been the pork tenderloin sandwich ($12), which Executive Chef Kyra Cole calls "an event" due to its massive size. Also the TBD Nachos ($9) appetizer piled high with chicken or steak chili, queso, cheese, black bean pico, jalapenos, sour cream and lettuce.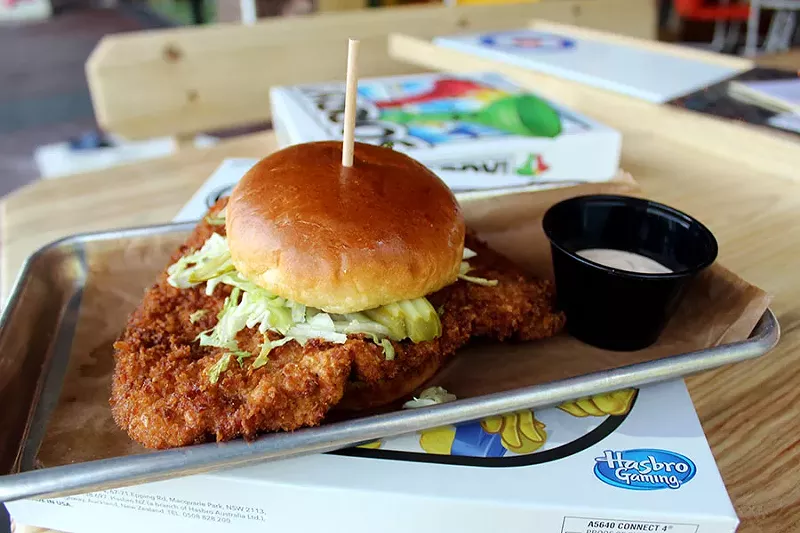 LEXIE MILLER
The pork tenderloin sandwich is topped with lettuce, pickle and chipotle mayo.
For vegetarians, Cole is excited to offer
the famous "Impossible Burger,"
designed by scientists so that plant proteins looks, tastes and feels like meat. (It even bleeds!) At TBD, which is one of only a handful of places to serve it in the St. Louis metro area, the burger is served on a brioche bun with special sauce, cheddar, lettuce and tomato. It costs $12 and comes with fries.
Since TBD aims to be all about adult fun, it has three mixed drinks on tap: spiked lemonade, a Long Island iced tea and a margarita. Each can then be customized with other flavors.
TBD also offers an over-the-top "Ridiculous Bloody Mary" ($9.50) complete with both tequila and vodka. It's topped with a chicken wing and fried mushroom, says Mitchie Kanda, a member of the bar team.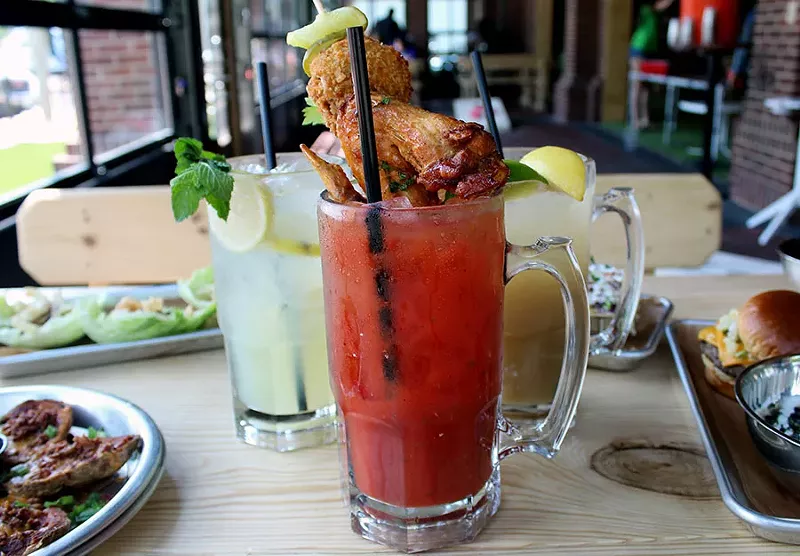 LEXIE MILLER
The "Ridiculous Bloody Mary" topped with a chicken wing, fried mushroom and pickle.
Daily specials run throughout the week including Recovery Sunday, with $8 bloody marys; Taco Tuesday, with $2 and $3 tacos, $6 nachos and $15 margarita pitchers; and Saturday, which offers $5 Long Island iced tea pitchers. The bar will also host live music throughout the month. An events calendar can be found on its
website
.
TBD Bar + Social is open Sunday through Wednesday from 11:30 to midnight and Thursday through Saturday from 11:30 to 2 a.m. It is 21 and up after 9 p.m.
Scroll down for more photos.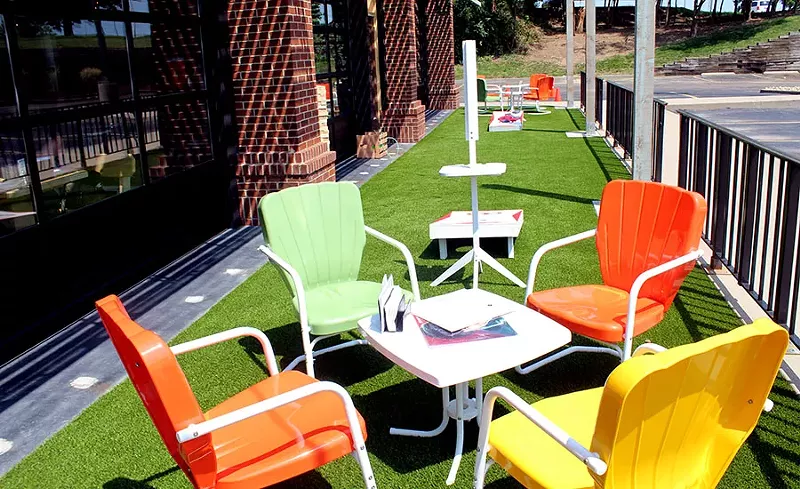 LEXIE MILLER
One of the two outdoor patio areas.
LEXIE MILLER
The "Big Cheese" with American cheese, onions, pickles and their special sauce ($10).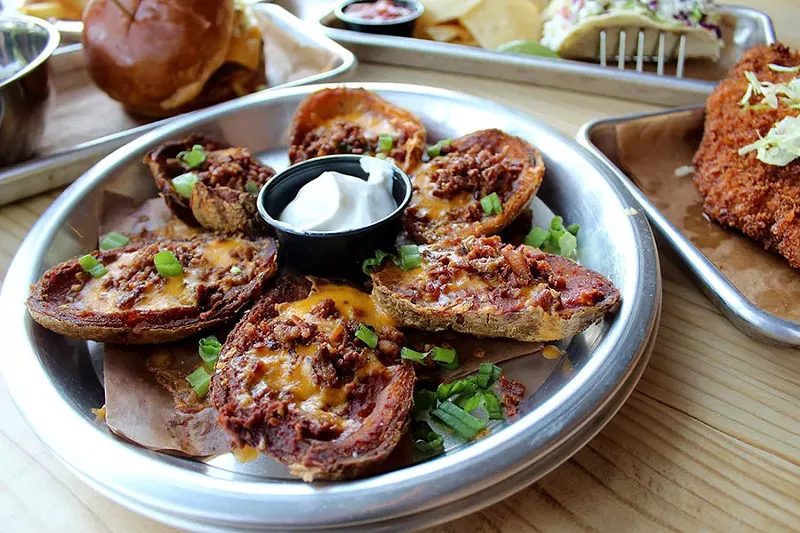 LEXIE MILLER
Potato skins are laden with bacon.
LEXIE MILLER
Menus are on the back of vintage vinyl records. If you donate a used vinyl, you can get $1 off your food.
LEXIE MILLER
The camper sits in the dining room for guests to eat in. It was once owned by the rock band America.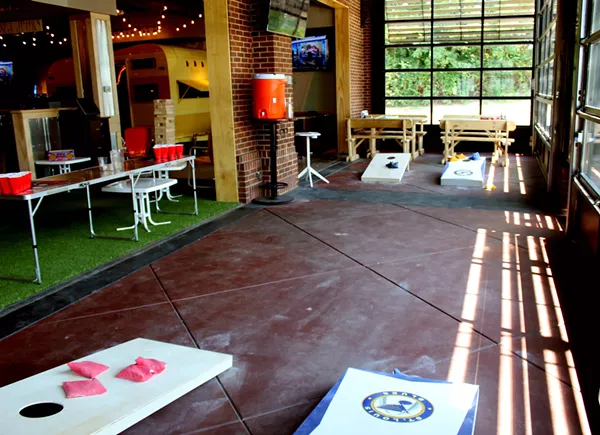 LEXIE MILLER
What could be better than cornhole?