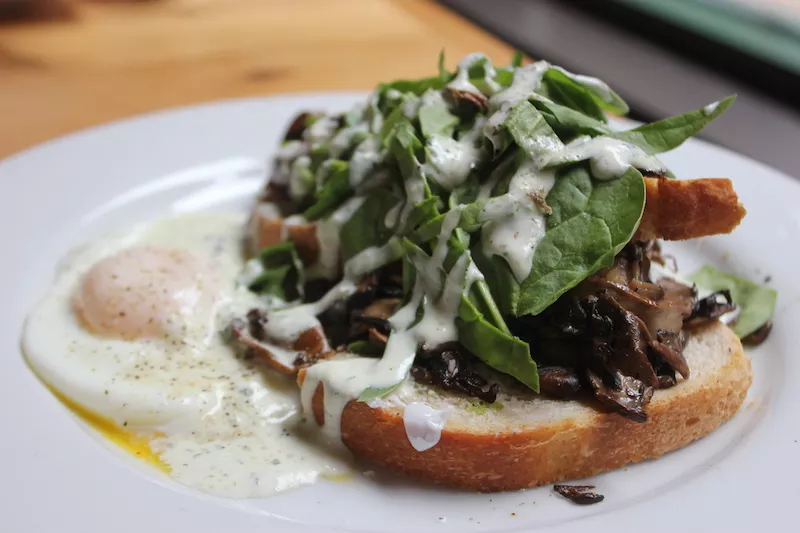 SARAH FENSKE
The "Artisan Toast" is topped with avocado, mushrooms and spinach, with an egg on the side.
If hearing the acronym BLT makes you think of those killer bacon-lettuce-tomato sandwiches at Crown Candy Kitchen, hold onto your hats and wigs — there's a new BLT in town, and it's a got a whole new meaning.
BLT's (626 N. 6th Street, 314-925-8505), the new eatery that opened just one block from the Convention Center downtown, takes its name from what it's serving: breakfast, lunch and tacos. Simple. But even though tacos is the one food that gets name-checked, you don't have to order them while you're here. The fast-casual restaurant has a full roster of foodstuffs, from a riff on avocado toast to the more traditional egg-bacon-pancake platters. Next week, they plan to add happy hour and some evening appetizers from 4 to 9 p.m. as well.
The space, which was previously home to Kitchen Sink's second permutation, is massive — about 9,000 square feet. That gives the restaurant a certain luxuriousness. You don't feel bad setting up with a laptop here or taking up a table for four if you're in a party of two. For now, at least, there's plenty of room for all, including even a small lounge-like area with two couches.
SARAH FENSKE
Customers order at the counter.
The set-up is simple. Order at the counter, and they'll give you one of those numbers on a stick to take back to your table. A runner will bring your food out — and, if you're like us, it will come with good speed. Until that liquor license gets issued, there are Excel fountain drinks, juices and Kaldi's coffee.
As for those tacos, at breakfast, you've got four options, including the chorizo 'n egg ($4), which includes potatoes on a flour tortilla, and the "Sunrise Taco" ($3.50), which offers bacon, eggs and avocado on a corn tortilla.
Owners James Heredia and Joshua Powlishta
have said
they plan to do "St. Louis food with Southwestern flair," but Midwesterners need not worry about the spice level on offer: You'll be just fine with the salsas and chorizo coming out of the kitchen. Those who've spent time in the Southwest and want to kick things up a notch will want to avail themselves of the Chohula on offer.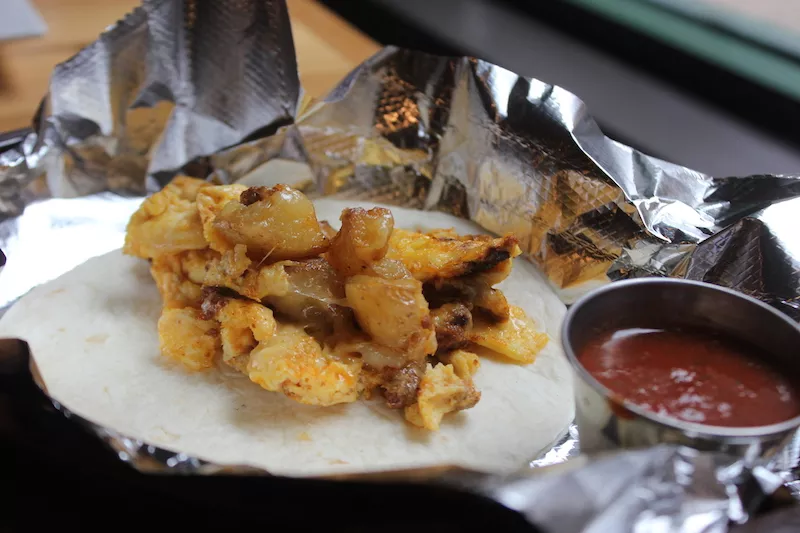 SARAH FENSKE
"Chorizo N Egg" taco.
Powlishta says the partners are excited about adding evening service next week, with a few new menu items and a full liquor license at that time.
Still, they're going for a casual vibe even into the evenings. You can still order a bite at the counter, although the bar will be full-service (bartenders will serve the couch area as well). "I anticipate most people being at the bar," he says. And expect locally made Pearl Vodka to make an appearance, along with premium liquors like Jack Daniel's. "We're trying to do as much St. Louis as we can," Powlishta says.
For now, BLT's is open 7 a.m. to 4 p.m., Monday through Friday, with brunch from 10 a.m. to 3 p.m. on the weekends. Expect to see BLT's begin staying open until 9 p.m. beginning some time next week.
Scroll down for more photos.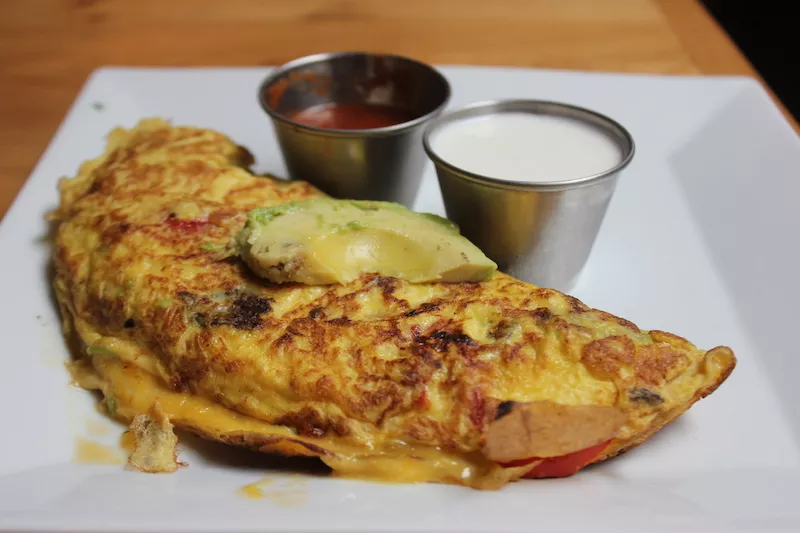 SARAH FENSKE
The veggie omelet.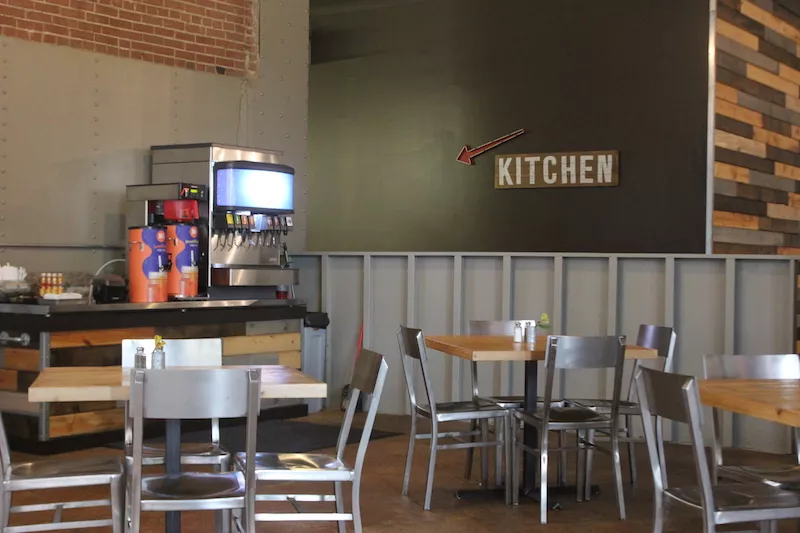 SARAH FENSKE
Sodas, iced tea and coffee are all on offer.
SARAH FENSKE
The restaurant is located in the former Kitchen Sink space on 6th Street, one block past the bustle of Washington Avenue.
We welcome tips and feedback. Email the author at sarah.fenske@riverfronttimes.com