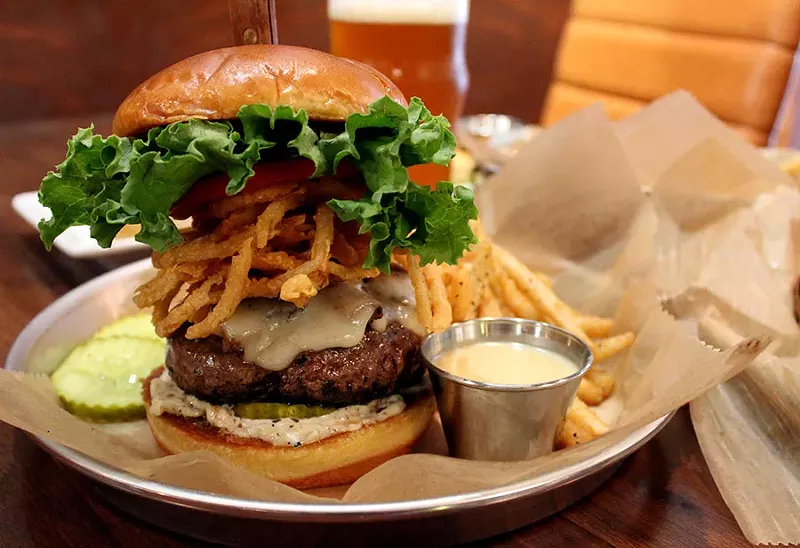 LEXIE MILLER
The Mushroom Swiss Stuffed Burger is a signature cheese-stuffed patty, mushrooms, Swiss cheese, blue cheese and black pepper mayo and fried onions for $12.50
With 80 Missouri craft beers on tap,
HopCat
(
6315 Delmar Boulvard, 314-582-3201
) hopes to become a new staple in the Delmar Loop after its grand opening this Saturday.
Hopcat is a Midwestern chain that opened its first doors in Grand Rapids, Michigan, in 2008. In the past ten years the company has opened sixteen locations, adding St. Louis to their list this weekend.
<!————————StartFragment————————>"The Loop is one of the best entertainment districts in St. Louis, if not America, because there's a great group of bars and an amazing diversity of retail," says Chris Knape, VP of Marketing and Communications. "The neighborhood its self is inclusive and diverse so we have people from all walks of life walking around here, and that's really what we look for for a Hopcat."
LEXIE MILLER
Famous "Crack Fries" come with all sandwiches, wraps and burgers.
Hopcat's focus isn't only on highlighting local craft beers; it also has an extensive menu of American classics and "Crack Fries" so addictive, they've earned a top ten ranking from
Food Network Magazine
.
These famous french fries are beer-battered and sprinkled with black pepper and served with a side of cheese. You can order the fries with cheese for $6 or a loaded, sloppy or Poutine version for $9.
Another item on offer at Hopcat is Detroit-style pizza, so if you're mourning
the upcoming closure of Porano Pasta
, here's a new place to get your pan pizza fix. These cheesy, focaccia-thick squares may be a shock to anyone assuming a square-cut pizza means cracker-thin crust and Provel cheese, but it's become a hot menu item across the country for a reason.
And hey, it pairs really well with Hopcat's signature offering. "All of our food is really designed to go great with craft beer," Knape says.
LEXIE MILLER
The Canadians pizza with bacon, cheese curds and green olives costs $11.
A major initiative of the restaurant's is to reduce waste. Hopcat uses many recyclable and compostable items and hopes to completely reduce the waste going to the landfill to zero. For the time being, about 90 percent of Hopcat restaurants' waste is recycled in some form, Knape says.
Hopcat in the Loop is located in what used to be the Sole and Blues clothing and shoes store in the heart of the Loop. It's been transformed with a bar area, dining room, an upstairs game room and a meeting room for local groups or beer tastings. The company also built an outdoor beer garden behind the building.
Hours are Monday, Tuesday, Wednesday and Friday from 11 a.m. to midnight. Thursday and Saturday the place will stay open late, until 1:30 a.m.; Sunday, it's open early at 10 a.m. and close at midnight.
Scroll down for more photos.
LEXIE MILLER
The "Buffalo Rolls" Shareable is chicken with buffalo sauce and blue cheese in a fried wonton. They cost $10.50.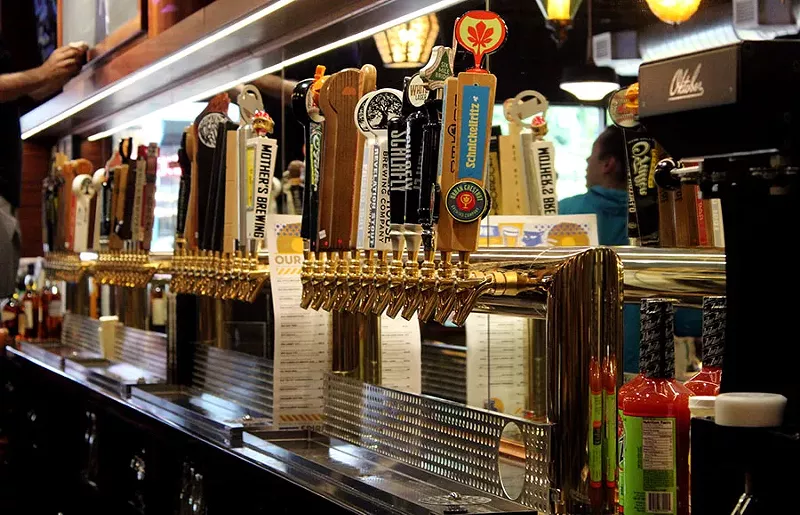 LEXIE MILLER
Hopcat currently has 80 Missouri-brewed beers on tap.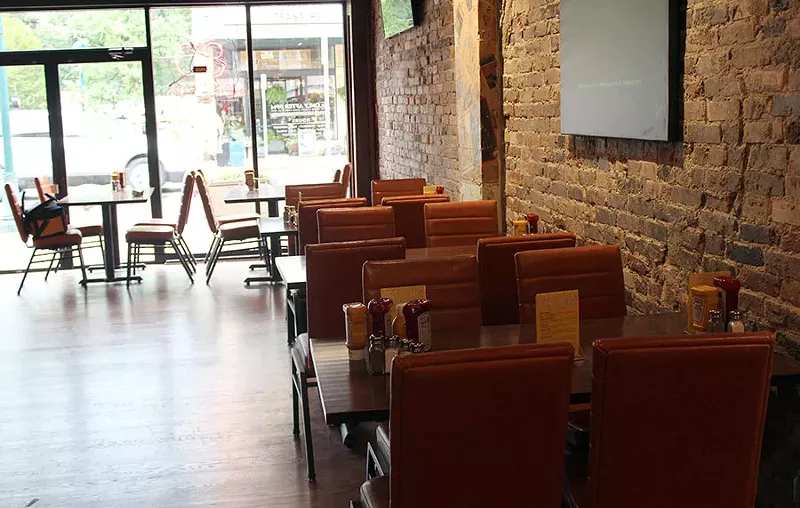 LEXIE MILLER
There are several different dining spaces, a game room on the second floor and a beer garden out back.
LEXIE MILLER
Hopcat is next to Iron Age tattoos on Delmar.