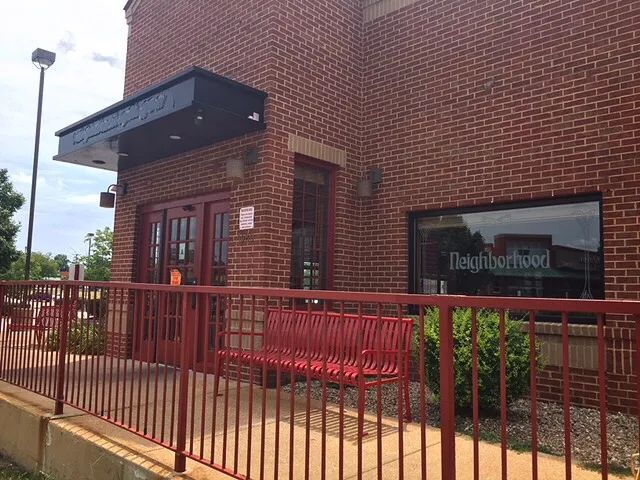 Every month we attempt to chronicle restaurant closings in the metro area, and some make us more sad than others. We still mourn Doughocracy. And the late, great Herbie's in the Central West End. And, dammit, we're still bummed all these years later about Terrene (even as its replacement, the Block, has now closed too).
But what can we say about the recent closure of the Applebee's (4680 Chippewa) at Kingshighway and Chippewa? Should we be sad we no longer have a south-city location for those ridiculous $1 Long Island Ice Tea deals? There are other places, we know, where we can get baby back ribs and chicken tenders.
Applebee's confirmed the closure in an email to us last night, saying it had happened earlier this month. (News reports suggest
it's part of a larger effort, not St. Louis specific
.)
Through a spokeswoman, the company says, "We greatly appreciate our neighbors' patronage and look forward to continuing to serve guests at the nearby Applebee's restaurants in the area." It adds, "All team members were offered positions at nearby restaurants."
Yet can you see
naked men strolling down the street in broad daylight
at the Applebee's on Forest Park Avenue? Can you witness
serious accidents
,
gunmen fleeing White Castle
and little kids walking their new puppies out of PetSmart at the Applebee's on St. Charles Rock Road? Not a chance.
Incidentally, the intersection of Kingshighway and Chippewa was cited in a
2000 RFT story as the "highest profile used-to-be corner" in St. Louis
— back when the city was home to 800,000 souls, the Southtown Plaza held a Famous-Barr department store.
Residents weren't willing to relinquish memory of those glory days. At the time of the 2000 story, Kmart was desperate to build on the site, but residents rallied against it.
"This is the biggest economic decision that has been made in South St. Louis in the last 20 years," one of the neighborhood activists told writer D.J. Wilson. "If we don't develop this wisely and smartly, then we have told the whole St. Louis metropolitan area that the best South St. Louis can do is a Kmart. If that's the best we can do, then the word is out that we're a declining community."
Perhaps the most shocking thing about the story is that Kmart was seeking no subsidy for its development. Someone building something in St. Louis who didn't want a tax break? But residents fiercely opposed it, and after an extensive legal battle, the shopping center ended up being built in 2004 with a Walgreen's instead. And, across the street, an Applebee's.
As of this month, no more. So pour one out for Applebee's. Pour one out for Famous-Barr. Pour one out for the Kmart that never was.
We'll always have chicken tenders. But cheap Long Island Iced Teas and $1 Bahama Mamas? For that, you're going have to drive to the Central West End.
We welcome tips and feedback. Email the author at sarah.fenske@riverfronttimes.com