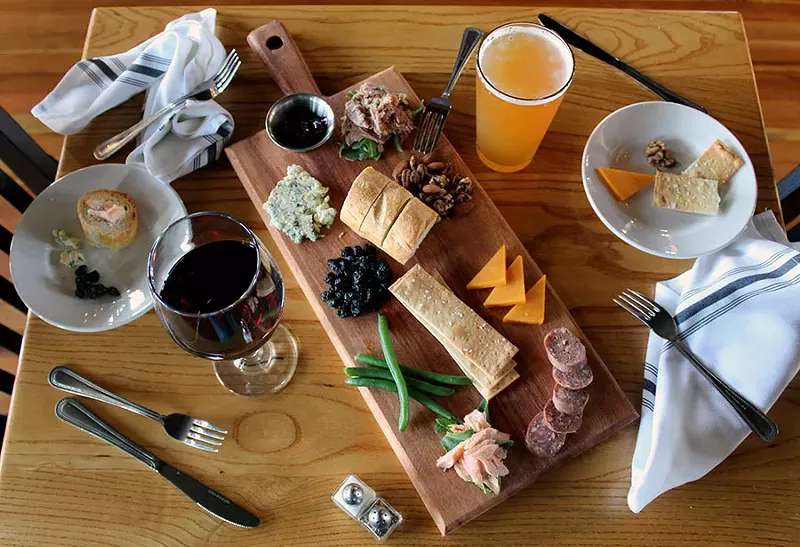 LEXIE MILLER
The Hunter's Board with venison sausage, duck rillettes, smoked trout, cranberries, sharp cheddar, bleu cheese, nuts, pickled veggies, raspberry geranium jam, flatbread and bread.
The Frisco Barroom (8110 Big Bend Boulevard, Webster Groves; 314-455-1090) is the newest addition to Webster Groves and is serving up fresh Americana fare in a unique space.
Owner John Barr worked in the restaurant and bar business as a young man, but took a fifteen-year hiatus before opening Frisco.
Frisco is not your typical neighborhood bar: They bake their own breads, smoke their meats and have many vegetarian and pescatarian dishes.
"I was a vegetarian for years so I understand the struggle," Barr says.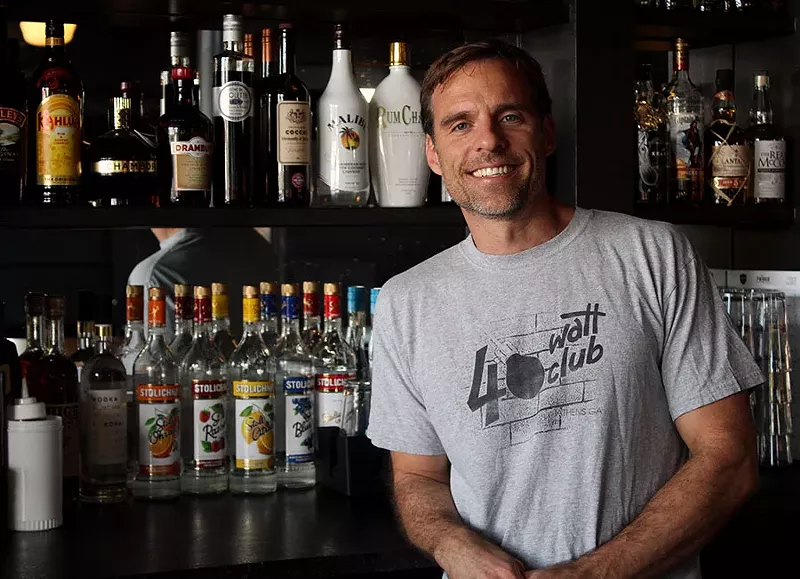 LEXIE MILLER
Owner John Barr left the restaurant business for 15 years before opening The Frisco.
Some of the most popular dishes have been the smoked whitefish dip, an appetizer of smoked whitefish, cream cheese and herbs. Also the variety of meat and cheese boards have been popular, Barr says. A hit sandwich is the turkey brie chutney, which adds arugula to the aforementioned ingredients and utilizes smoked turkey breast.
For vegetarians, unique options include mushroom gravy poutine served over French fries, "Crispy Cauliflower" with buffalo sauce and a vegetarian pasty stuffed with rutabaga, potato, onion and mushrooms.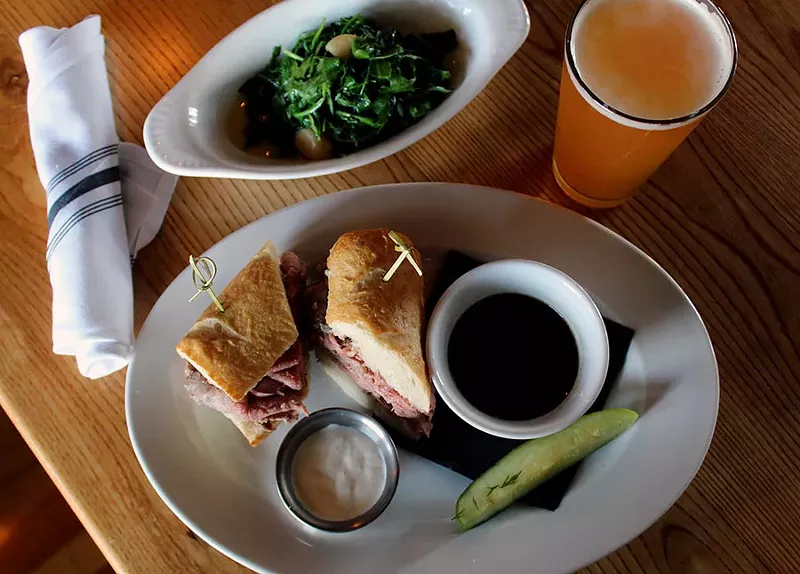 LEXIE MILLER
The French Dip sandwich served with Horseradish cream and a side of sauteed greens.
<!——————————StartFragment——————————>On the drink side of things, the "Shaken Mint Lemonade" spiked with vodka and the gin-based "Civil Alchemy Aviation" have been big summer hits. The extensive cocktail list aims for originality. Barr touts "The Soo," made with bourbon, maple syrup, root beer and lime, as something he hasn't seen anywhere else.
<!——————————EndFragment——————————>The Frisco is located in a gorgeous old building that Barr says he used as inspiration for the restaurant. There are several different areas, which include the bar room, the dining hall and an upstairs area with casual seating.
There is also a beer garden and a rooftop patio.
LEXIE MILLER
The rooftop patio.
Since Frisco has only been open for about two weeks, they are still expanding and changing a lot, Barr says. They plan to add more to the menu, expand seating from the current 160, create a happy hour and begin a lunch menu. (Phew!) The timing on all that is still being determined, Barr says.
"We're working on making everything the best it can be," he says. He adds that most of the menu is not set in stone, either; they want their dishes to be delicious, light and healthy, Barr says.
Frisco Barroom's hours are currently 4 p.m. to 1 a.m. Tuesday through Saturday and Sunday from 4 p.m. to midnight. They are closed on Monday.
Scroll for more photos.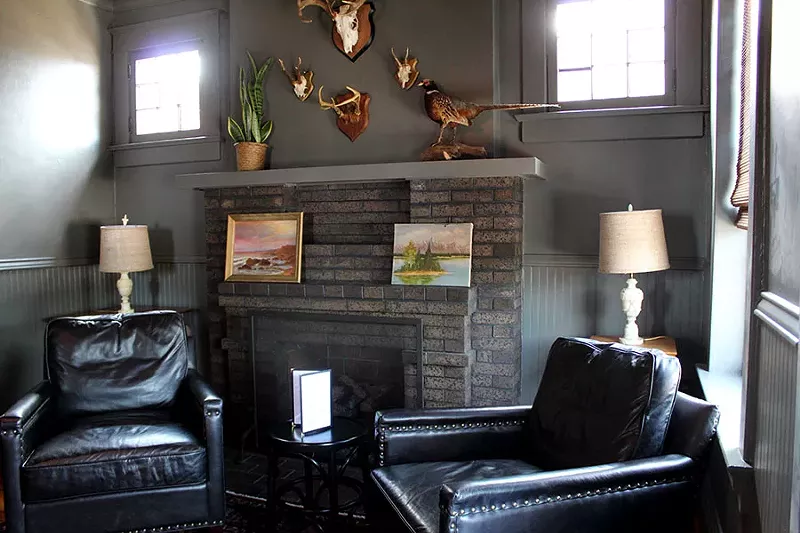 LEXIE MILLER
An upstairs lounge area that is decorated to look like someone's home.
LEXIE MILLER
The barroom on the first floor of the space.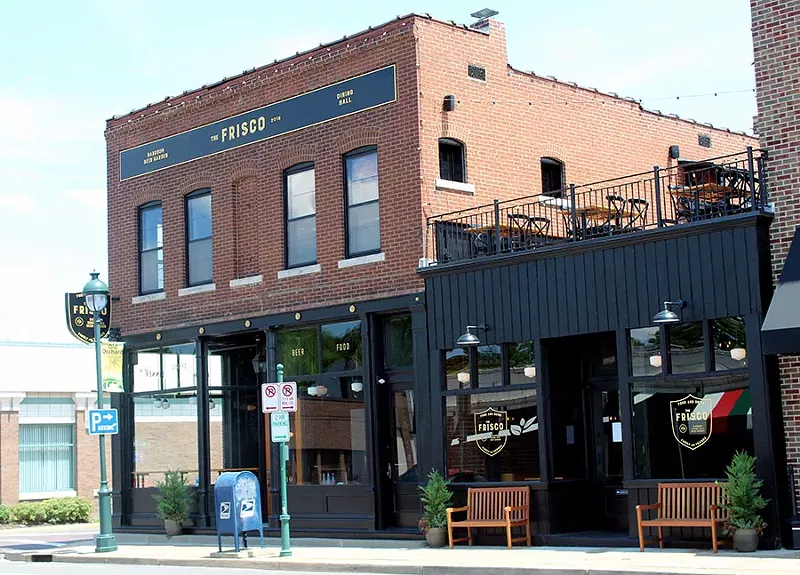 LEXIE MILLER
A big inspiration for the restaurant came from the building, said Barr.