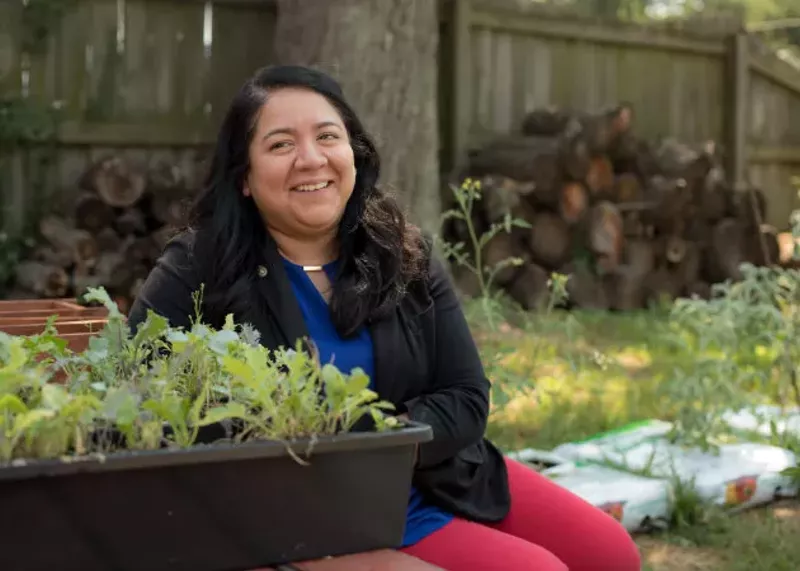 MONICA MILEUR
Carmen Estrada found her calling in the wine business.
Carmen Estrada can pinpoint the exact moment she decided to pursue a career in wine.
"I was working in administration, in the financial aid department of a college running compliance, and I just came home one day and said to my husband, 'I can't do this anymore. I can't sit at a desk all day, every day, for 50-plus hours a [week] and just type.' He told me to figure out what I wanted to do, but I knew. I told him I was going to go into the wine industry."
For Estrada, whose current gig is manager and wine director for the acclaimed Farmhaus (3257 Ivanhoe Avenue, 314-647-3800), the change was not as abrupt as it appeared. Ever since moving to Austin, Texas, in 2006, she had been developing an interest in wine. At that time, it was a new beverage to her, having grown up two hours outside of Austin in a family whose beverage of choice was Bud Light.
"It wasn't until I moved to Austin that I even had a glass of wine," Estrada explains. "I definitely got into it late in the game. I started out drinking Yellow Tail moscato and thinking, 'Man, this is delicious!' I definitely got into it late in the game."
Estrada met her husband in 2009, and as their relationship progressed, she decided to move with him to his hometown of St. Louis. Because he loved cooking, the pair found themselves throwing impromptu dinner parties — casual affairs filled with cheap wine. Estrada's burgeoning passion was less about what she was drinking and more about the fact that wine had the power to bring people together around the table.
Eventually, that passion would lead to curiosity, which reached a tipping point when Estrada and her husband went on a trip to Paris in 2010. There, they went on a wine tour hosted by a man studying for his sommelier certification. Hearing him speak lit a spark in Estrada.
"Listening to him talk about wine and flavor profiles and how infatuated he was with grapes was amazing," Estrada recalls. "In my family, alcohol was just to drink, but hearing him go on and on about tasting notes was different. It's when I completely fell in love with it."
Not long after returning from that trip, Estrada had her moment of clarity about her admin job. She began researching wine programs and found the International Culinary Center in New York, which is run by twelve master sommeliers. Though it was a big gamble, she and her husband sold most of their things, packed their bags, rented out their house and moved to New York City.
After graduating from the program, Estrada got a job working for a small Italian wine distributor in Brooklyn. Though it was a solid job, it involved a lot of paper-pushing and made her feel like she was back working in administration. She left for a position at a boutique wine shop in the financial district where her days were spent chatting with customers about pairings and tasting notes and relishing the opportunity to connect with people over wine. Everything was finally coming together.
When Estrada and her husband decided to move back to St. Louis, she began looking for jobs and came across an opportunity for a manager and wine director at Farmhaus. There was just one problem: She wasn't qualified.
"I clicked on it to apply but told my husband there is no way I am going to get this because I literally have no restaurant experience," Estrada recalls. "I said, 'There is no way in hell I am qualified for this,' but I sent my resume anyway."
Estrada's application caught the eye of the Farmhaus owners, and before she knew it, she was offered a job. In the two years she's worked at the Clifton Heights restaurant, she's proven her worth, running a top-notch wine program at one of the city's premier restaurants.
Now, Estrada is ready to strike out on her own as she winds down her tenure at Farmhaus to explore her future in the city's wine scene. However, she is equally focused on another new challenge: reconnecting with her Hispanic heritage. Though she was raised in a Hispanic household and encouraged to learn Spanish, Estrada rejected her roots in a sort of adolescent rebellion. In Texas, it was easy to take her heritage for granted. It's different in St. Louis, where the absence of Latin culture feels palpable.
"It was a switch that flipped in me; I started to engage a part of me that I never really wanted to engage in the first place," says Estrada. "And it's really freaking cool. Though when I was [visiting] Mexico City, it was really awkward because everyone thought I could speak Spanish and I didn't know what they were saying. So now I am more appreciative — and desperately trying to learn Spanish!"
Estrada took a break from her wine duties and not-so foreign language studies to share her thoughts on the St. Louis restaurant scene, why she'll make time for a run no matter how tired she is and how she will always crave her grandma's tamales — even if witnessing the process from start to finish was the shock of her life.
What is one thing people don't know about you that you wish they did?
That although I grew up in a largely Hispanic family, I didn't really connect with my culture. It wasn't until the last couple of years that I decided to start embracing it, and I can't quite say why either. My husband and I recently took a trip to Mexico City and the food and the wine (yes, Mexican wine) was amazing and reminded me so much of what I grew up with. I studied for about six months and tried to polish up on my Spanish, but I was still a deer in the headlights when I was spoken to. It was hilarious for my husband to watch. Moving to other cities in the country, I had people assume that I spoke Spanish or knew much about Hispanic culture. It's not something I'm super proud of, but I'm trying to embrace and connect with it now.
What daily ritual is non-negotiable for you?
Getting in my run. I wake up early in the morning or go late after work. It helps me clear my mind of all the daily stress of the job. Over the years I've wondered how so many people in the industry manage to run half-marathons and marathons, and I've learned that it's just putting your mind to it and forcing yourself out the door when all you want to do is sleep.
If you could have any superpower, what would it be?
Teleportation. I could travel the world without ever getting on plane, which for me is the worst part of traveling. My husband and I love to travel, but with our schedules, we usually end up on the first flight out, which can be really early.
What is the most positive thing in food, wine or cocktails that you've noticed in St. Louis over the past year?
An introduction to more "natural" wine and the acceptance of it. I've seen a few articles over the last year that have focused on it specifically, and I am a huge fan. Yes, sometimes the wine is funky and weird, but that's what I love about it. It's not something you would normally pick, but they pair so well with food. We carry a decent amount on my current list, and I hope to carry more in the future.
What is something missing in the local food, wine or cocktail scene that you'd like to see?
Late-night noodle eats. I love noodles, and after a long Saturday night, the first thing I want is just a delicious bowl of pho – which is probably why my husband and I have pho every Sunday morning. It's a ritual we started about a year and a half ago. It's great. If there was a late-night noodle shop here, I'd be a regular!
Who is your St. Louis food crush?
There are so many talented people doing great things that it's hard to narrow it down. Loryn Nalic of Balkan Treat Box comes to the forefront of my mind. She has done some amazing things … and that pide. Jesse Mendica at Olive and Oak is another. They are two very talented women. Also, Morgaine and Charlie at Olive and Oak are doing great things, and that cocktail program is on point! Then you have the kitchen staff at Farmhaus. Dillon Witte has been there for a few years and might be the most talented twenty-year-old I have ever personally met. Mike Frank, our chef de cuisine, has shown me how to marry random flavors and make them complement each other. Plus all the other great talent in the St. Louis region — I'm looking forward to developing more food crushes in the next year.
Who's the one person to watch right now in the St. Louis food scene?
Jake Sciales, our former head chef. We worked closely together over the last two years, and he recently left to run the kitchen at Spencer's Grill in Kirkwood. He did such an amazing job at Farmhaus, and I have no doubt that he will do great things at Spencer's as well. I am looking forward to the changes that are coming!
Which ingredient is most representative of your personality?
Gamay. It's light, fun and approachable.
If you weren't working in the restaurant business, what would you be doing?
I'd probably be working in administration for a school. Before I decided to make the jump into the wine industry, I was running a financial-aid department for a school in Glendale. It was stressful but rewarding at the same time, and I'm really good with spreadsheets. Boring, I know, but I was really good at it.
Name an ingredient never allowed in your restaurant.
There aren't many things not allowed in the restaurant. I think the only thing I've ever actually said "no" to was sake, but if we did a lot of things that paired well with it, I'd probably bring it in.
What is your after-work hangout?
Typically my couch. However, if I do go out, it's usually to 33 Wine Bar for a bottle of wine after Saturday service. The staff there is so knowledgeable and engaging. It's my favorite place to unwind.
What's your food or beverage guilty pleasure?
Cheeseburgers. Seriously, if I could eat a cheeseburger every day I would. Just a simple Smashburger with mustard and pickles and I'm in heaven. Also Laffy Taffy. Not the banana, though; they suck.
What would be your last meal on earth?
Two dozen (why does that seem like a lot?) of my grandmother's tamales. Everything from trapping the hog (I still have PTSD from watching my grandfather break this down) to making the masa was from scratch. I've had tamales over the years, and I don't know if it's because it's what I grew up with, but man, I've had nothing like them since. Throw in a big glass of her way-too-sweet iced tea and I could die a happy person.
We are always hungry for tips and feedback. Email the author at [email protected]