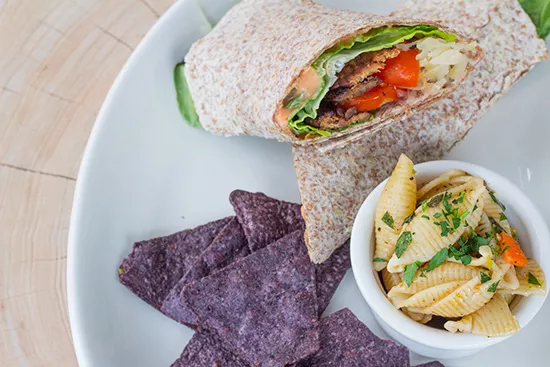 MABEL SUEN
"Tempeh Reuben" from Seedz Cafe, one of the vendors that will be at VegFest 2018.
St. Louis is having its first vegan festival, St. Louis VegFest, on August 4 from 11 a.m. to 8 p.m. at the World's Fair Pavilion in Forest Park.
The festival is being held by the St. Louis Animal Rights Team. Sasha Monik, one of the lead organizers, says she's very excited to finally host a vegan festival in the Midwest. After living in Los Angeles for six years, Monik wanted to bring the unforgettable experiences she's had at vegan festivals elsewhere back to her hometown.
"It is a one-day, family-friendly event that will show all the aspects of a vegan lifestyle," she says. "A carnival, but veganized."
Originally the planners only expected a few hundred visitors, but based on their
Facebook page
and shares, they are now expecting 3,000 to 5,000 people from all over the country, Monik says.
The festival has no entry fee. Some of the main events will include speakers every hour from 11 a.m. to 5 p.m., including chefs, a cookbook author, a physician and more. There will also be a side stage with cooking demos.
MABEL SUEN
Celery pancakes from Confluence Kombucha, one of the vendors at Vegfest 2018.
Currently more than 60 vendors have registered to host tables in and around the pavilion. They will be selling clothing, art, food, cosmetics and anything vegan. Also many volunteer and activism groups will have tables so visitors can learn more about their causes.
There will be a kids corner with face painting and a ventriloquist, as well as a yoga and massage area for visitors to enjoy. Families are encouraged to come with their children and pets, Monik says.
"St. Louis VegFest underlines the many benefits and flavors of plant-based eating and shows how easy and delicious it is to choose healthier, more sustainable, and compassionate foods," the St. Louis Animal Rights Team says in a prepared release.
Many of the food vendors are local vegan and vegetarian businesses, including
Confluence Kombucha
,
Seedz Cafe
,
Frida's
and many more.
If you are looking for goods from the vendors or food, they will only be available until 5 p.m. From 5 p.m. until the festival ends, DJs from Utopia Studios will be hosting a dance party.
This event is for all ages and stresses inclusivity. It is not just an event for vegans or vegetarians, Monik says.
"Vegans can have a potluck in the park whenever we want," she says. "This is for everyone."
<!———————EndFragment———————>
FLICKR/ READING TOM
The World's Fair Pavilion in Forest Park is located at 1904 Concourse Dr.
Sponsors of the event include local restaurant and food truck Bombay Food Junkies, Carol House Furniture, Lush Cosmetics and natural juice business St. Louis Juice Press.
"With an estimated 140,000 vegetarians and vegans living in the greater St. Louis area, we expect this event to be a rousing success," the St. Louis Animal Rights Team said in its release.<!———————EndFragment———————>