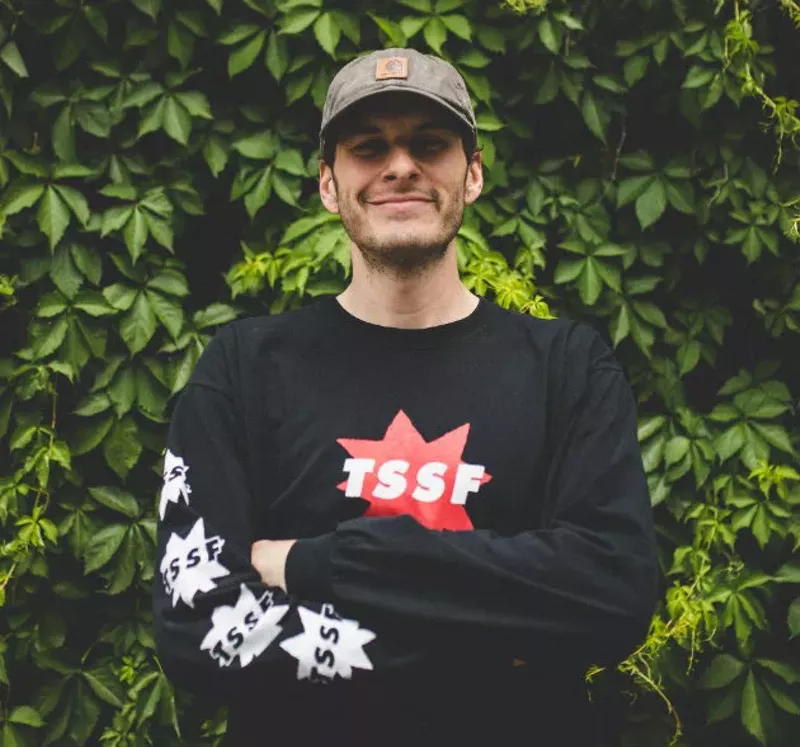 CORY MILLER
Corey Smale has a new perspective when it comes to life, work and restaurants.
On the surface, Corey Smale seemed to have it all. Armed only with a marketing background and no restaurant experience, he helped to create a food phenomenon, propelling the business he founded, Strange Donuts, into one of the city's most recognizable brands. The gig would thrust him into the ranks of the city's entrepreneurial elite and give him a platform to go in whatever direction his heart desired. However, deep down, something was off.
"The success of Strange Donuts early on was my anxiety going crazy," Smale explains. "I was pushing it and directing it into cool marketing, but really, it was me going crazy running it. I think about that a lot."
That thought didn't register with Smale, however, until last April, six days into the opening of his new concept, the "new American Chinese" eatery
Good Fortune
(1641 D Tower Grove Avenue, 314-726-4666)
. Thinking he was having a heart attack, he went to the hospital and was instead diagnosed with a panic attack.
It wasn't that the stress of the opening had gotten to him; anyone who has ever visited Strange Donuts when the doors open at 9 p.m. on a Friday night knows Smale has been in some high-pressure situations. Rather, it was the realization that he was out of his depth in the restaurant he'd just opened and that he could not get to where he needed to be without making some serious life changes — an existential crisis, smack-dab in the middle of a grand opening.
"What I'm doing now is way more focused and refined and serious — fun, but I had to be in the right mental state to handle it," Smale explains. "Six days in, I realized that I couldn't keep doing what I was doing. It was either change the concept or change me, so I had to change me. I have too many people counting on me to mess this up."
Smale is open about what those changes entail, mainly that he gave up smoking marijuana. For the past ten years, he says, his habit was all-consuming; he would "get fucked up all day, every day." Now that he has a clear head, he's been able to be more focused, disciplined and reflective — and that has allowed him to understand his motivation for getting into the business and what that means for his future.
That motivation, first and foremost, is the marketing side of the industry. Smale does not beat around the bush; he admits that Strange Donuts was, first and foremost, about the hype, not doughnuts. But he's come to terms with the fact that he likes being the hype man and sees a place for that role in the restaurant business.
"I know I am in the restaurant business, but sometimes I feel like I don't belong there," Smale muses. "I have an obsession with culture and media that stems from watching so much television at a young age. Watching
The Real World
seasons one, two and three, listening to Andrew Dice Clay when I was six years old — I took a deep dive at a young age and was shaped by that."
In fact, that passion is what's pushing Smale to look into launching a hospitality-consultancy firm, one where he'd use his skills at marketing to help others. Part of what is allowing Smale to consider this new project and rethink his role in the restaurant business is that he has a team he trusts. With chef Ryan McDonald competently running Good Fortune's kitchen, Smale can be out front, working the room and generating enthusiasm.
It's a hustle he knows he is good at, even though he now realizes it doesn't define him. "Society tells us that we have to always hustle and grind to be successful, but you don't," Smale insists. "I have been chasing what is next for so long that when I get to the 'what's next,' I expect it and am over it. It's tiring. What's it going to take for us to realize that now is enough?"
Smale took a minute to share his perspective on the St. Louis food-and-beverage scene and how his daily rituals have changed over the last few months — even if his love of pizza, brownies and Lion's Choice remains steadfast.
What is one thing people don't know about you that you wish they did?
I stopped smoking weed for good.

What daily ritual is non-negotiable for you?
My days have become increasingly more regimented. I wake up, walk my dogs, make sure we have money, drink some OJ, sauna/swim/steam, then I take on the day at 11 a.m. I've stopped taking meetings after 6 p.m., too.
If you could have any superpower, what would it be?
Unlimited empathy.
What is the most positive thing in food, wine or cocktails that you've noticed in St. Louis over the past year?
Younger heads getting involved, earlier than ever. We just launched a dinner series called Young Blood where Ryan works with line cooks around the city to showcase the talent coming up in St. Louis. Social media has changed every game, especially the restaurant world, and the next generation totally sees and feels that. There's more room for everyone to shine.
What is something missing in the local food, wine or cocktail scene that you'd like to see?
More eaters! For its size, St. Louis has a ton of incredible cooks and concepts, but often we're all competing for the same number of customers every night. I love seeing the number of diners, especially in St. Louis city, on the rise to catch up with all the good food that's available.
Who is your St. Louis food crush?
Zoe Robinson.
Who's the one person to watch right now in the St. Louis food scene?
Luke Cockson [the general manager at Good Fortune] is the most gracious, down to earth dude I've met in this industry. And he's totally ours so don't even think about it.
Which ingredient is most representative of your personality?
Five-spice.
If you weren't working in the restaurant business, what would you be doing?
Starting a hospitality-consulting agency with a couple of my closest mentors and friends. Wait, I am. More on that soon…
Name an ingredient never allowed in your restaurant.
I don't make that call; ask Ryan.
What is your after-work hangout?
My wife, my bathtub, WWE Network.
What's your food or beverage guilty pleasure?
Frozen pizza, soda, brownies, cookies .... this is starting to sound like my grocery list.
What would be your last meal on earth?
Lion's Choice.
We are always hungry for tips and feedback. Email the author at cheryl.baehr@riverfronttimes.com.