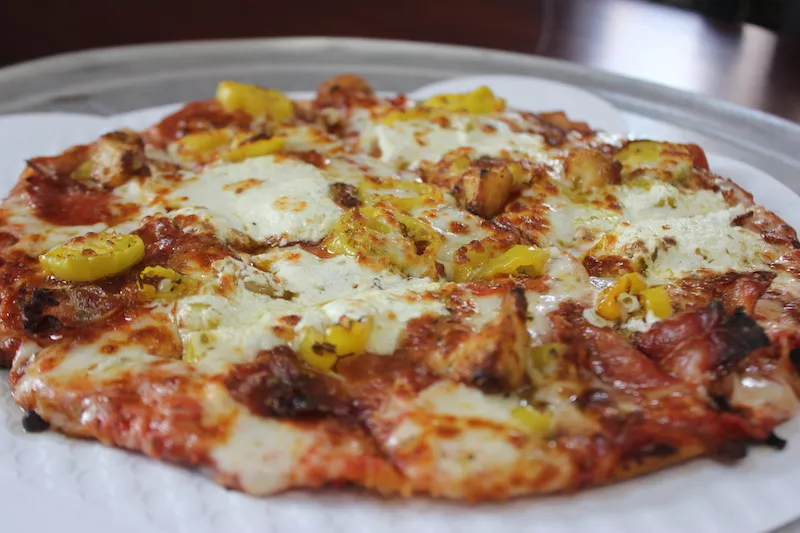 SARAH FENSKE
Flament Co's thin-and-crispy "Scarface."
You won't find Provel anywhere at
Flament Co's the Place American Eatery
(418 S. Tucker Boulevard, 314-931-2275)
, the casual pizzeria that opened Wednesday on the western edge of Downtown. "We've got a mozzarella and provolone blend," says co-owner Cory Flament. "That's as close as we'll get."
The location, which sits inside the U-Haul building at Tucker and Spruce, is the second outpost for Flament and his wife Brittany. Their first pizzeria, in O'Fallon, Illinois, has drawn a large, enthusiastic following. They're confident that they can earn a similar devotion here — even, yes, without Provel.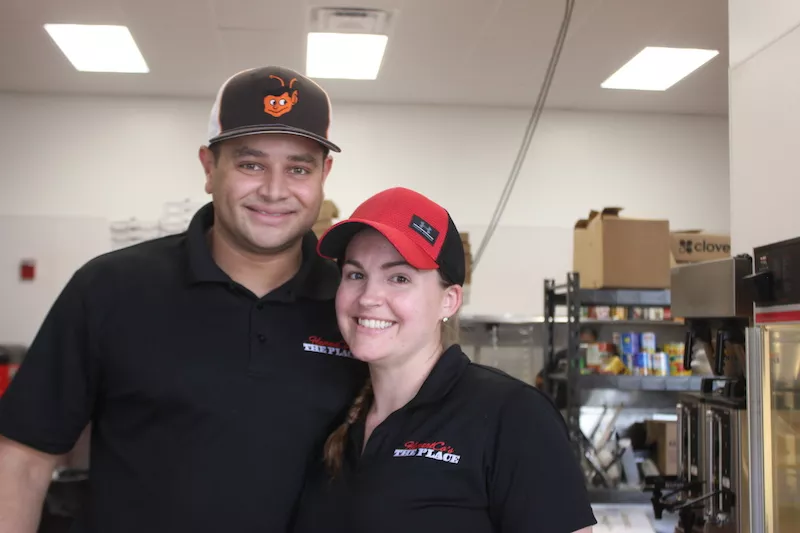 SARAH FENSKE
Co-owners Cory and Brittany Flament.
To that end, they're offering seven subs, a half-dozen salads, wings and a host of specialty pizzas — New York-style or thin-and-crispy. And they'll also be the one place in St. Louis where you can get
T.C. Treats
, an O'Fallon-based purveyor of Italian ice (or, as they call it in true East Coast-style, "Philly water ice").
And if all that's not enough to lure you to their corner, they also plan to start selling
Pharaoh's Donuts
on site. Score!
But while you'll definitely want to save room for a donut (or an Italian ice), it's the pizza that's the true draw here. For example, Cory Flament's personal favorite, "the Scarface," tops red sauce with that mozzarella/provolone blend, dabs of soft ricotta, pepperoni, banana peppers, bacon and roasted garlic. It's insanely addictive.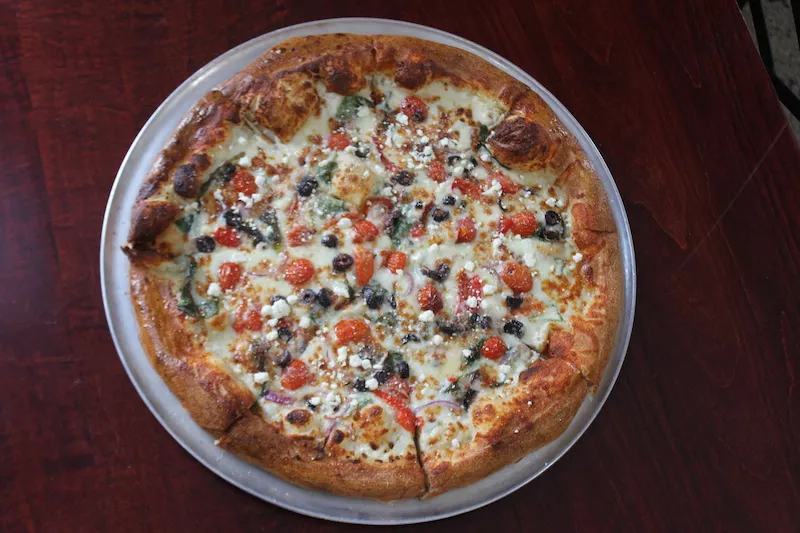 SARAH FENSKE
"The Mona Lisa" — a vegetarian's dream come true.
Or check out "the Mona Lisa," which offers garlic-infused sauce topped with vegetables including spinach, cherry tomatoes, red onion, roasted red pepper, Kalamata olives and feta, among other cheeses. It's almost too pretty too eat.
The subs, too, are creative and well-priced (a half for $7, a whole for $9). Try the Caribbean jerk, an oven-toasted sub that's a tribute to Flament's heritage (his father is from Trinidad). The spicy chicken is topped with curry mayo, provolone, lettuce, onion and tomato. Or try "the Spruce," which places bacon, lettuce and tomato atop grilled chicken, with roasted red peppers and cherry pepper relish for a subtle kick.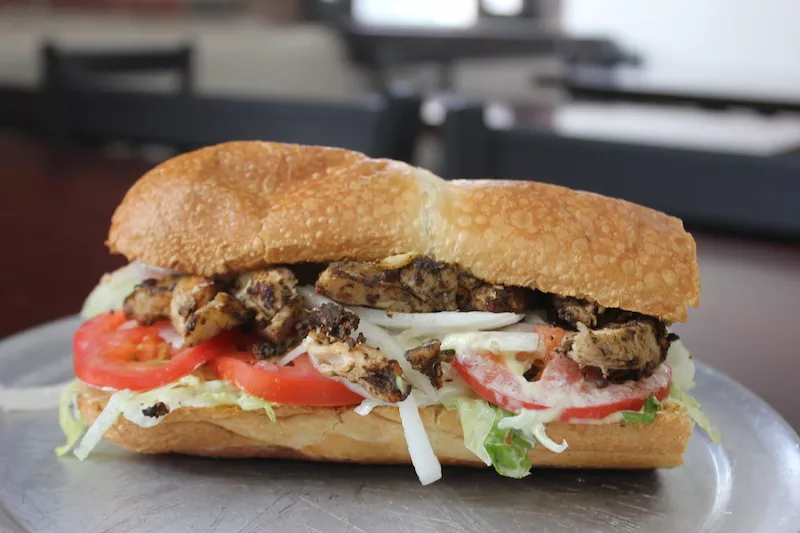 SARAH FENSKE
The Caribbean jerk is laden with spice-rubbed chicken.
The eatery is no-frills, with a counter where you order and plenty of tables and chairs if you want to eat in. A super-sized garage-style door separates it from the U-Haul outlet next door, but it's kept open so you can stop over and pick up some boxes or tape while you wait for your pizza.
A New York native and U.S. Naval officer, Cory Flament got interested in the space while working next door at the federal building. "I saw a 'for lease' sign and thought, 'I should check that out,'" he recalls. Once he realized the street address, 418, matched his birthday of April 18, he felt a sense of destiny. "It was meant to be," he says.
The shop is open from 10:30 a.m. to 5 p.m. Monday through Friday, as well as on game days — any time the Cardinals are in town, they'll be open for two hours before the game and stay open until two hours after. The Flaments say they may do the same for the Blues. "We'll see how things play out," Cory Flament says.
To-go orders are also encouraged; curbside pickup is available. Scroll down for more photos of Flament Co's the Place American Eatery.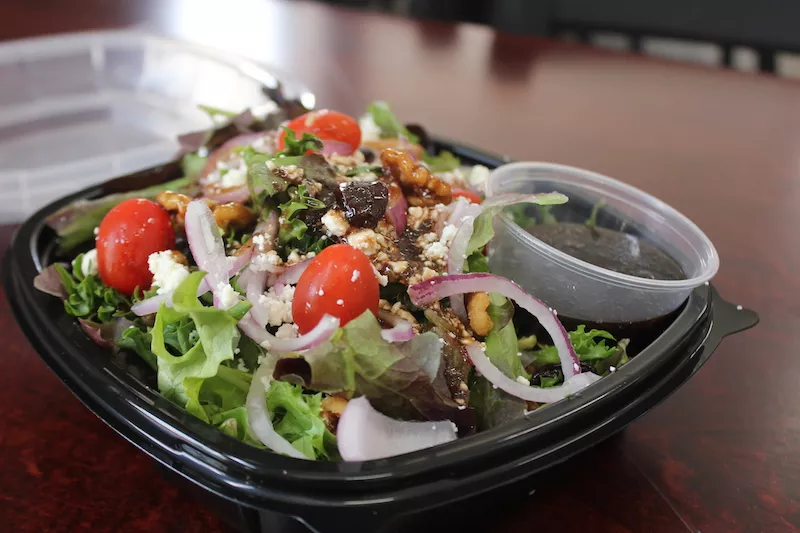 SARAH FENSKE
"The Cherry Bomb" salad is topped with an addictively tart cherry balsamic dressing. (Shown is a half-size portion.)
SARAH FENSKE
"The Spruce" is one of the shop's oven-toasted sandwiches. The Flaments use Fazio's bread.
SARAH FENSKE
Customers order at the counter.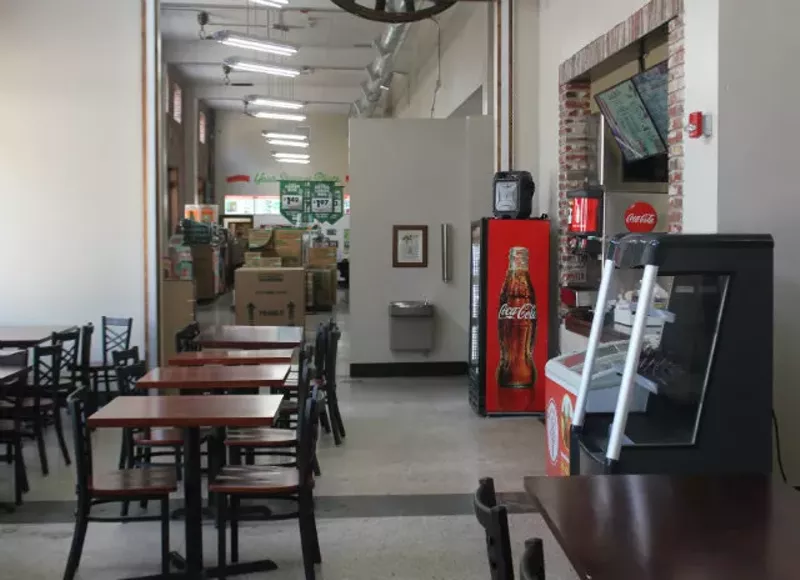 SARAH FENSKE
After eating, you can head directly to U-Haul.
SARAH FENSKE
Metered street parking is available on Spruce.
We welcome tips and feedback. Email the author at [email protected]