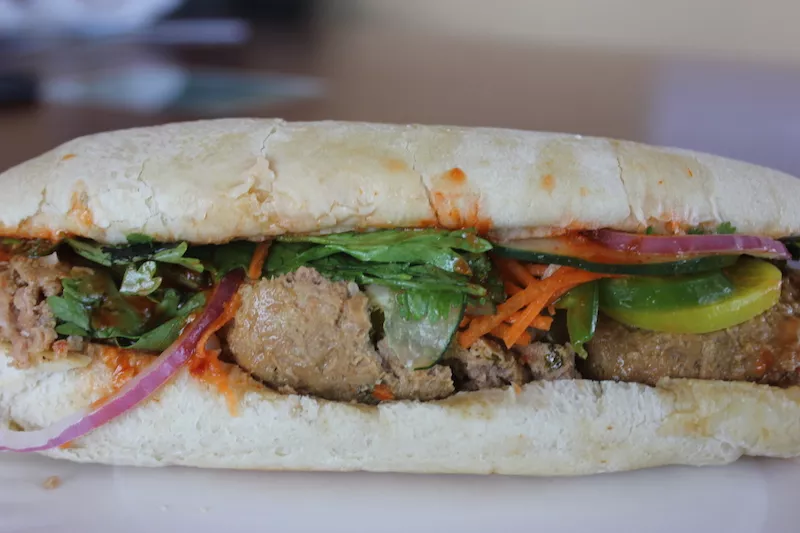 SARAH FENSKE
Good Buddy's Bahn Mi So Tasty.
If you come to the new lunch spot on the edge of Downtown expecting Subway-style standards, you might be confused. The PB&J at Good Buddy's Tasty Soups & Sandwiches (1115 Pine Street, 314-300-8666) has bacon in it ... and jalapeno, and chile garlic peanut butter. The chicken salad sandwich features smoked and roasted hunks of chicken — not bland white meat in mayo. And the meatball sub? That even includes a portion of lightly toasted spaghetti.
Indeed, much as the PB&J promises it's "not your momma's" version, Good Buddy's is something unexpected and much more delicious than you might assume on first glance — a casual lunch spot in an otherwise forgettable block that could become a true destination.
The three men behind it, Justin Gibson and brothers Luke and Nathan Ragain, already have a successful catering company,
Devil's Delights
, and bring with them years of experience in the local restaurant scene. Gibson says he and Luke Ragain first met at St. Louis Pizza & Wings, and the two ended up opening DB's Sports Bar as its managers. Through that friendship, he got to know the second Ragain brother — and the three began to talk about their restaurant dreams.
"We knew we wanted to do a restaurant, and we just really love sandwiches," Gibson says. "And sandwiches are a safe start."
Well, maybe not too safe. The partners have exacting standards. "Every week, we tried a new sandwich spot, and we realized we only really liked two of them," Gibson admits — Blues City Deli and Gioia's. They wanted to do better than the rest.
SARAH FENSKE
A beef salad ($8.50).
With Good Buddy's, which opened its doors two weeks ago, they seem poised to do just that. With hours from 11 a.m. to 3 p.m. Monday through Friday, the owners do everything in-house they can, smoking and roasting meats and frying their own chips. (The only exception? The bread comes from Companion.) They're currently offering two soups and fifteen sandwiches, many of them creative. "We wanted to take a lot of old classics and put our spin of them," Gibson says.
And while the sandwiches and soups were meant to be the focus, the partners also offer a quartet of salads, which also show their penchant for fresh ingredients and roasted meats. The beef salad, for example, contains soft folds of rare beef, bleu cheese crumbles, pickled onion and croutons, all topped with a zesty house vinaigrette. The salads may be an afterthought, as the partners says, but they don't taste like them.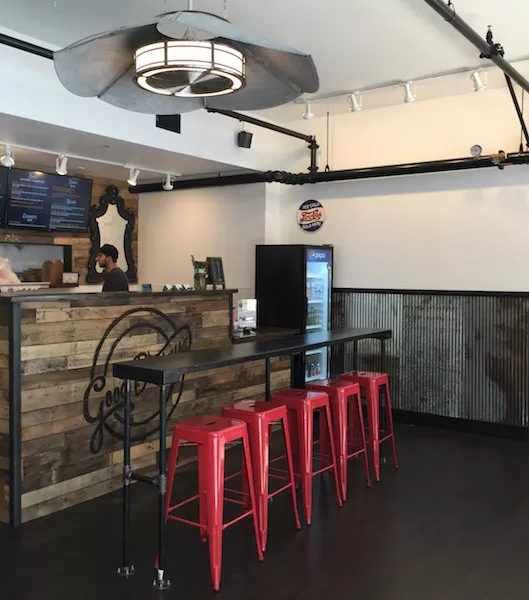 SARAH FENSKE
The place has a rustic chic vibe.
The space is designed for quick service, with a counter up front and a host of communal-style seating options, including stools along counters lining the walls. Drinks are bottled Pepsi products; sandwiches are served no-frills, wrapped in paper with a pickle. (Salads come in cardboard to-go boxes.)
But though the operation keeps it simple, the sandwiches don't — remember what we said about spaghetti serving as a topper for the meatball sandwich? This is a place that's willing to take some risks.
"We wanted to make a meatball sandwich that was different than the rest — and hopefully the best," explains Nathan Ragain. You might want to stop by and see if they've succeeded.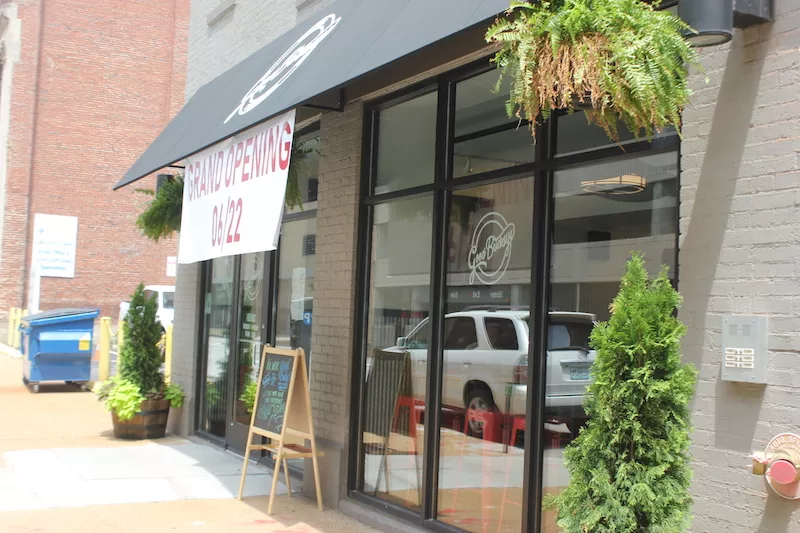 We welcome tips and feedback. Email the author at sarah.fenske@riverfronttimes.com