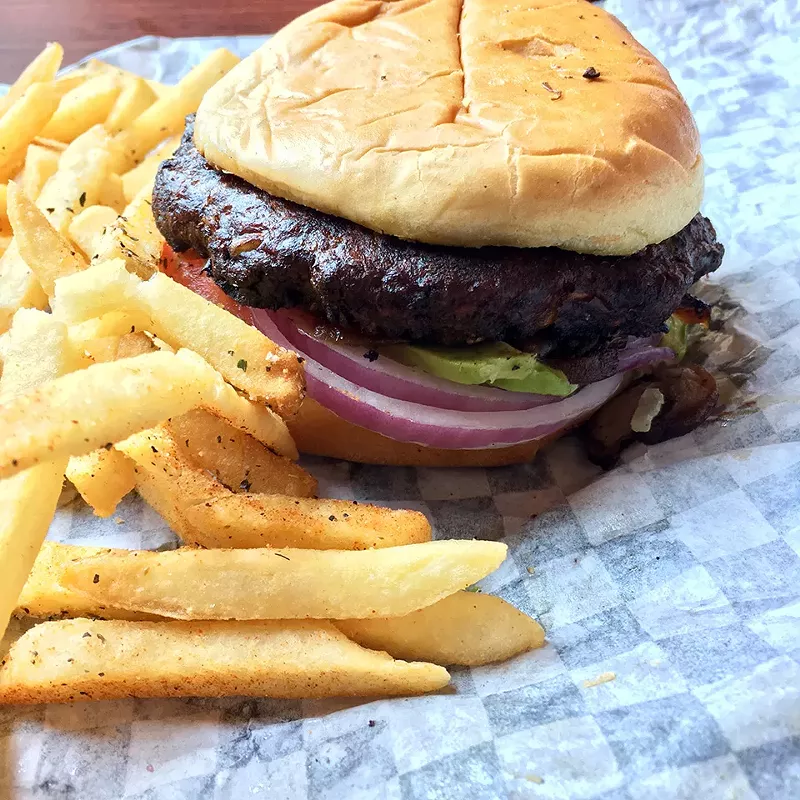 PAIGE BRUBECK
The Corner offers burgers, both beef and veggie (pictured).
It was a very busy — and, best we can tell, positive month for the St. Louis restaurant scene. There were very few closures and quite a few openings — among them the Hill's first steakhouse, a Syrian-inspired spot in the Central West End, and a Vietnamese restaurant in Florissant that also serves American bar classics. Ninth Street Deli up and moved to a new spot, with greatly expanded offerings, and Maypop brought coffee (and food) to the garden in Webster Groves.
As for the always changing Loop, it saw a veritable flurry of openings, with a new fast-casual pizza spot, a hot dog franchise and a new Indian restaurant with a well-priced lunch buffet all opening their doors.
Did we miss anything? As always, please let us know in the comments. And here's to an equally fruitful July.
See also: Taste of India Offers a $9.99 Buffet — and More — in the Loop
Closings
Sushi Bistro
,
343 S. Kirkwood Road, Kirkwood
The Block
,
33 N. Sarah Street, Central West End
See also: Levant Brings Middle Eastern Comfort Food to the CWE

See also: The Corner Is Now Open in Midtown
Openings
Carnivore
,
5257 Shaw Avenue, the Hill
Blue Box Pizza
,
6394 Delmar Boulevard, the Loop
Good Buddy's Tasty Soups & Sandwiches
,
1115 W. Pine Street
Goodcents Deli Fresh Subs
,
5837 Lindbergh Boulevard, South County
Levant
,
386 N. Euclid Avenue, Central West End
Maypop Coffee & Garden Shop
,
803 Marshall Avenue, Webster Groves
My Thai
,
4495 Forest Park Avenue, Central West End
Ninth Street Deli at Howards
,
2732 S. 13th Street, Soulard
Pinky's Ice Cream
,
362 N. Boyle, Central West End
The Red Sun
,
323 N. Main Street, St. Charles
Taste of India
,
608 Eastgate Avenue, Delmar Loop
The Corner
,
2605 Washington Boulevard, Midtown
The Spot House
,
6 Mullanphy Court, Florissant
Wacked Out Weiner
,
6301 Delmar Boulevard, Delmar Loop

'ZZA
,
54 N. Euclid Avenue, Central West End
See also: Wacked Out Weiner Is Coming to the Loop

See also: Ninth Street Deli at Howards to Open This Month in Soulard

See also: My Thai to Bring Basil Spice's Charm to the Central West End

We welcome tips and feedback. Email the author at sarah.fenske@riverfronttimes.com