LEXIE MILLER
The chicken tikka masala, a popular dish in many Indian restaurants.

Taste of India
(608 Eastgate Ave., 314-833-4055)
opened last month in the Delmar Loop, a new addition to the Indian eateries in town.
Owner and chef Abdul Matin has more than fifteen years of kitchen experience, so he approached opening his own restaurant with a "why not" attitude. He moved to U.S. from Bangladesh in 1991. Taste of India is a family business with Matin in the kitchen and his son manning the front counter.
"I pride myself on my cooking," Matin says.
Abdul says that while most Indian restaurants are pretty similar in their dishes, he thinks Taste of India does offer some unique plates. "The curry is not too spicy for people," he says.
LEXIE MILLER
The buffet is kept fresh and has many different options for guests to sample.
Their garlic cheese naan is a popular dish among patrons. So is the mango lassi, a mango yogurt drink. It is a perfect refreshing summer drink and costs $3.25. The lamb curry ($11.95) is one of their more popular dinner dishes, he says.
Matin's personal favorite dish is anything with their curry, while his son enjoys the chicken tikka masala.
Another unique offering is their $9.99 lunch buffet every day from 11:30 to 2:30. The buffet consists of salad, naan, rices and six meat options. Matin wanted to include the lunch buffet because it gives people many chances to try new things for a good price, he said. Lunch guests can also order a la carte.
The restaurant serves all-natural Halal meats, allowing Muslim guests to enjoy the food offerings as well.
LEXIE MILLER
The dining room is one of the owners favorite parts because it is different and sets them apart from other Indian restaurants in town.
The decor of the restaurant also sets the place apart. The space, which is next to Mission Taco Joint just one block off the Delmar street parade, used to hold Thai Pizza Company. It's been given a fresh new look, with colorful couch-like seats at some tables and Bollywood movies playing on the TV. You can smell the Indian spices throughout the dining room. (They also have carry-out and delivery by Doordash.)
The lunch buffet is open Tuesday through Thursday and Sunday, with dinner served on those days from 5 to 9 p.m. Friday and Saturday dinner is extended to 9:30. They are closed Mondays.

Scroll down for more photos.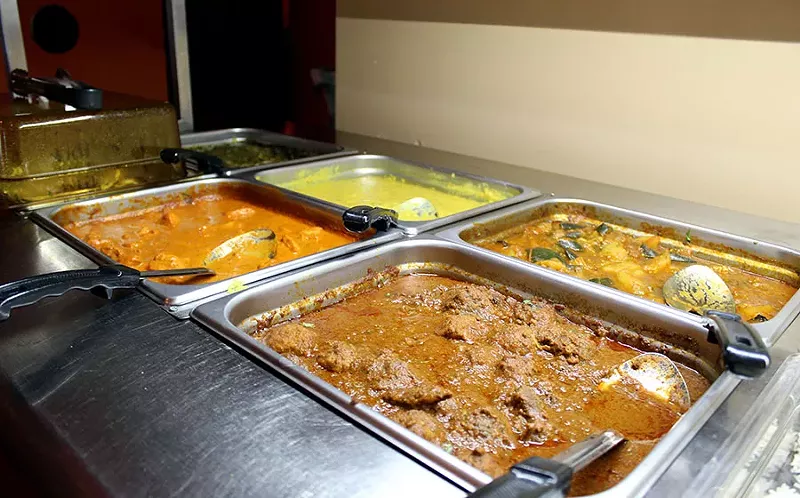 LEXIE MILLER
There are several meat options for lunch including chicken tikka masala, tandoori chicken and yellow dal.
LEXIE MILLER
Many of their customers are Indian and Pakistani, but there was a mix of young and old people at the lunch buffet.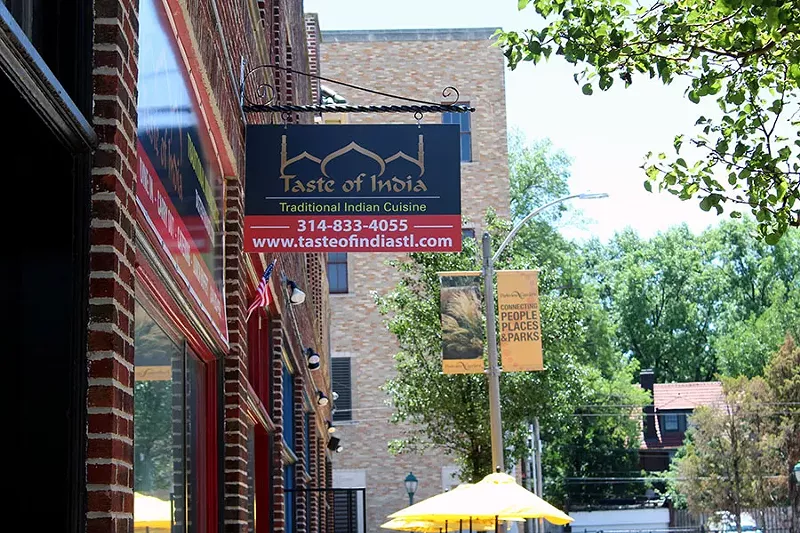 LEXIE MILLER
Taste of India is located next to Mission Taco on Eastgate Ave. in the Loop.