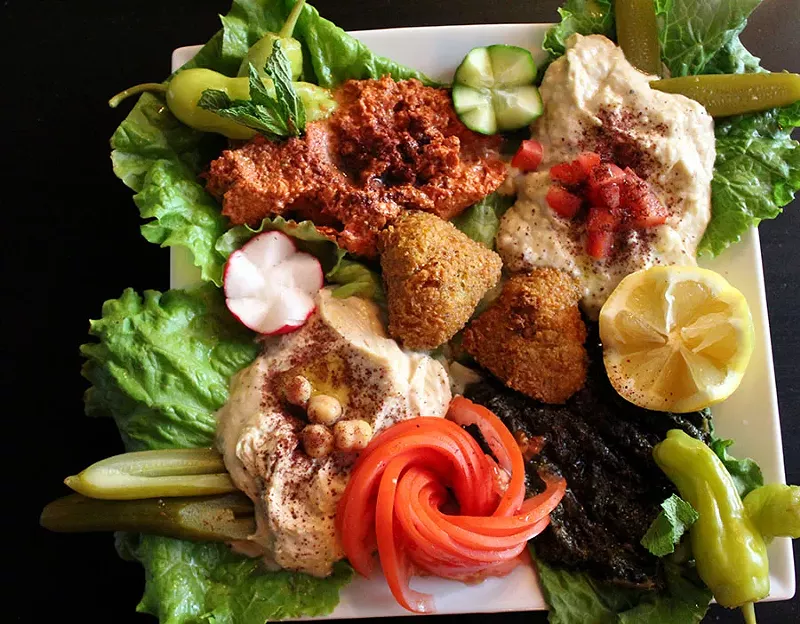 LEXIE MILLER
The vegetarian platter has hummus, batata harra, which is a potato dish, mohamara, a hot pepper dip, and baba ganoush along with fresh vegetables, pickles and falafel. It costs $15.25.
When Ahmed Hameed opened Levant (386 N. Euclid Avenue, 314-833-4400) June 1, he wanted to give St. Louis something he believed was lacking in the area — a Middle Eastern restaurant like the ones at home in Damascus, Syria. So, Levant now serves the Central West End what he describes as Middle Eastern comfort food.
"We serve healthy comfort food," Hameed says.
Not only is the food at Levant authentic to the eastern Mediterranean region of the Middle East, it is also healthy and something you can eat every day, Hameed says. There are also many vegetarian and some vegan options on the menu.
Hameed, who co-owns the restaurant with his brother Aboud Alhamid, began his passion for food at fourteen when he began cooking school in Syria. He later went on to get his bachelor's degree in business. He has not only lived in Syria, but moved to Thailand before coming to Missouri in early 2015.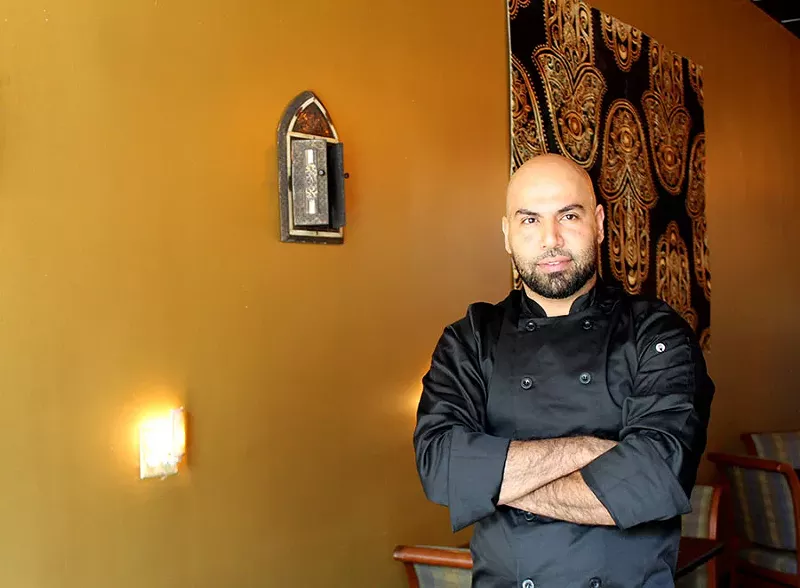 LEXIE MILLER
Owner Ahmed Hameed.
After working as a chef at Ranoush in the Delmar Loop with his brother, he decided to branch out and start something new that is not like the other Middle Eastern eateries in town. While Ranoush is similar to other places in the St. Louis area, he believes Levant is something new for people to try and fall in love with.
"It's a new taste for people," he says.
Levant still serves staples like falafel and hummus, but Hameed puts his own twist on things, serving many dishes that cannot be found anywhere else. That includes Hameed's personal favorite on the menu, the kibbeh labaneh, which is meatballs in a yogurt sour cream sauce. Other popular dishes include the mixed grill, which includes several meats and veggies, and the dawood basha, or Lebanese meatballs braised in tomato sauce.
LEXIE MILLER
The dawood basha served with rice costs $16.50.
Levant is located in the Euclid Avenue storefront that previously held Kopperman's. It has a large outdoor patio, and inside is a full bar, an area with couches for late-night lounging and a casual dining room, its walls hung with tapestries. It is a sit-down restaurant, but one where families with small children would feel welcome.
Along with dinner, Levant also offers a full bar menu and hookah on the patio at night. There is also a DJ on Friday and Saturday nights and Sunday nights are dedicated to salsa dancing.
"We have the best falafel," Hameed says.
"And hookah," chimes in his girlfriend.
While some of the dishes are on the pricey side, between $15 to $20, they are large portions which generally include sides, like rice and pita, along with the main course. A few traditional Middle Eastern desserts are also on the menu.
Levant is open Monday through Thursday from 4:30 p.m. to 1:30 a.m. and Friday through Sunday from 11:30 a.m. to 1:30 a.m. Scroll down for more photos.
LEXIE MILLER
The carrots and peas with beef is served with rice and costs $15.50.
LEXIE MILLER
The mixed grill comes with a chicken kabob, a beef kabob and lamb chops for $19. Rice and vegetables are also included.
LEXIE MILLER
Bright yellow walls provide a pop of color.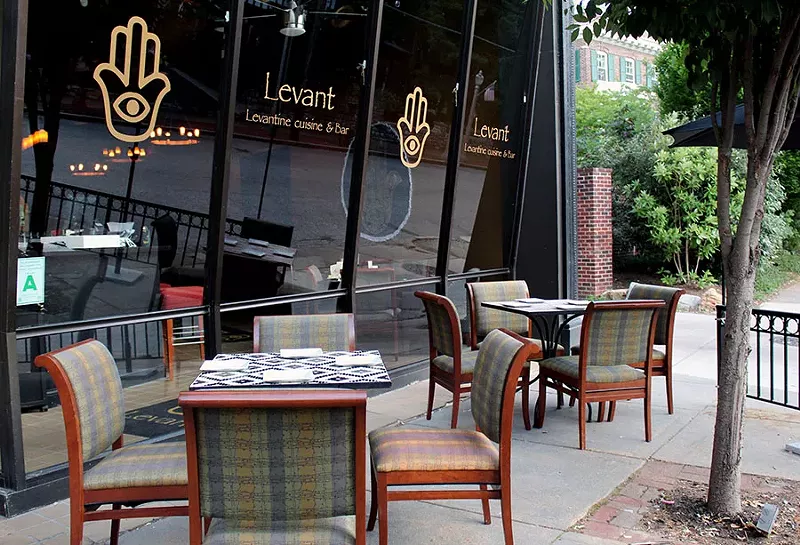 LEXIE MILLER
The outdoor patio where guests can enjoy dinner or do hookah in the evenings.
LEXIE MILLER
Levant's Hamsa logo is a popular symbol in Middle Eastern culture. The symbol can be found all over the restaurant.