SPENCER PERNIKOFF
At Copia, wine isn't just on the list. It's a decorative feature.
After fourteen years downtown,
Copia
(7822 Bonhomme Avenue, Clayton; 314-241-9463)
has expanded westward, opening its second location in the old Morton's location in Clayton. The downtown flagship, which offers a high-end dining option for Wash Ave. residents, has long been known for its huge, stylish patio. That concept has easily translated to Clayton, with a front patio beckoning the happy-hour crowd.
And it's not just the patio that owner Amer Hawatmeh hopes will draw in Clayton diners. Copia famously offers an expansive and affordable wine list, a welcome addition to the higher price points in the neighborhood. "As we get our feet wet, our intention is to do late-night happy hours and live music on the weekend," Hawatmeh says. "It's a big deal and a hopefully a game-changer for the Clayton nightlife scene."
The inspiration for the Clayton location was to create a new, more updated space than the original restaurant. "The whole idea is a more modern and tasteful setting," Hawatmeh says. "To bring it up to speed, update and move forward." This aesthetic is still largely modern steakhouse, but with a bolder color palette of red and stacked stone details.
SPENCER PERNIKOFF
The wine bar takes over a space that was previously home to Morton's Steakhouse.
The much-lauded wine list does not disappoint. Interested in New Zealand sauvignon blanc? The list has more than ten (!) options for your drinking pleasure. From Italian barolos to Oregon pinots, you will find varietals from all over the world and price points to match anyone's budget. Every bottle is also available retail; it's 20 percent less than the listed price if you're taking it to go.
It's not just wine lovers who should be excited about Copia's westward expansion; the cocktail menu features the barrel-aged drinks and more than 40 bourbons and 35 scotches, with an impressive array of both. Another carryover from the flagship location are monthly VIP tastings, including scotch, bourbon and wine. "We love providing our regulars with the opportunity to experience all the different bottles and the education," Hawatmeh says. The best part? They're free.
Copia is the roman goddess of plenty, which explains the varied menu offerings including seafood, steak, Southern classics and BBQ. "We give everyone something they want, with many options of yes," Hawatmeh says.
SPENCER PERNIKOFF
Arancini.
The doors opened quietly the first week of May, and Copia has since been stocking up its famous wine list and hosting a variety of live music events, plus a Kentucky Derby party. Later this year, a third Copia will open its doors in the old Elephant bar location at West County Mall, but the plans don't stop there. Hawatmeh has a larger expansion planned for Copia, with locations in Kentucky, Tennessee, and Iowa all in the works.
Copia's Clayton location is open Monday through Thursday 11 a.m. to 9 p.m., Friday 11 a.m. to 10 p.m., Saturday 3:30 to 11 p.m., and Sunday 3 to 9 p.m.
Scroll down for more photos.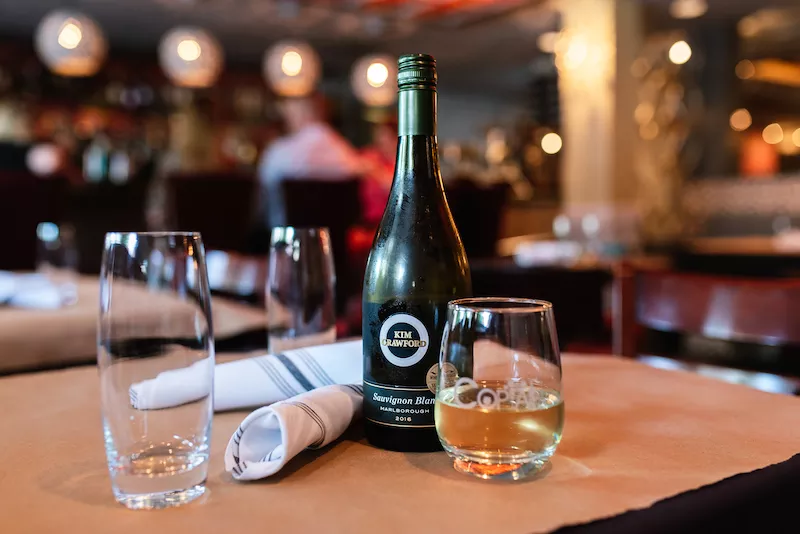 SPENCER PERNIKOFF
The extensive wine list aims for an affordable price point.
SPENCER PERNIKOFF
You can get something to nosh or a full dinner.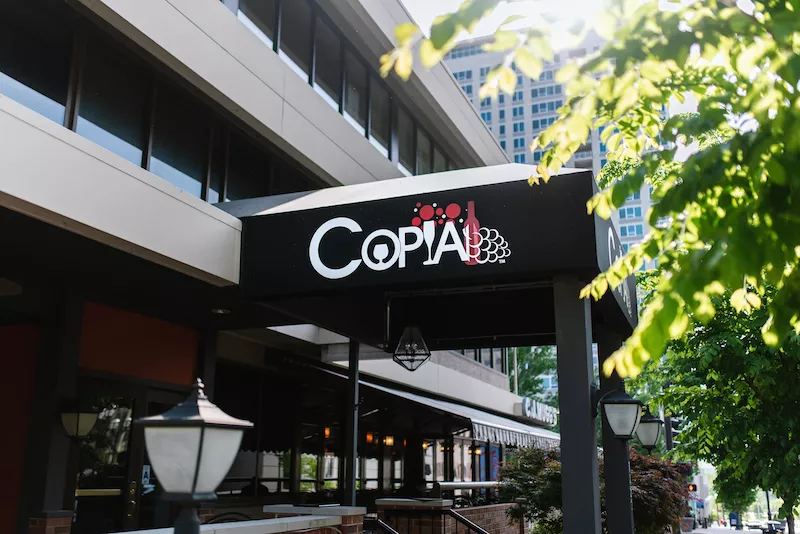 Ellen Prinzi is our bar and nightlife writer; she likes strong drinks and has strong opinions. You can catch more of her writing via Olio City, a city guide app she started last year.