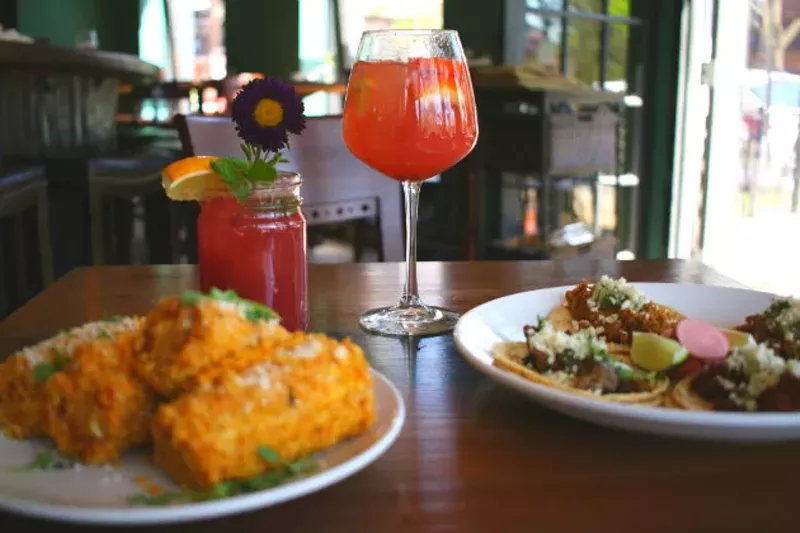 CHERYL BAEHR
Shared plates and cocktails make for a relaxed, convivial atmosphere.
Mike Warhover, the manager at brand-new
Barrio
(740 De Mun Avenue, Clayton; 314-725-0332)
, laughs when he talks about how folks in the De Mun neighborhood have responded to the De Mun Oyster Bar being retooled into a Mexican restaurant.
"People are happy, and they are loving it," Warhover says. "But we've had several people ask if we are going to be serving oyster tacos. The answer is no."
Ceviche is about as close as you'll get to the raw seafood served at Barrio's predecessor — in fact, the high cost of flying in fresh seafood had a lot to do with why owners Alan Richman and Rachel Jones decided to rebrand the restaurant in the first place. They refused to sacrifice the quality that diners had come to expect, but the business model became increasingly difficult as prices went up.
Mexican cuisine seemed like a natural fit. Not only do the pair regularly travel to Mexico and have an affinity for the cuisine, but they have also experienced success serving Mexican food, even in an unofficial capacity. Before De Mun Oyster Bar closed, chef Dan Sammons would serve "backdoor burritos" to hungry guests at the restaurant's Saturday morning farmers markets. The burritos became so popular, they were an even bigger attraction than the vendors.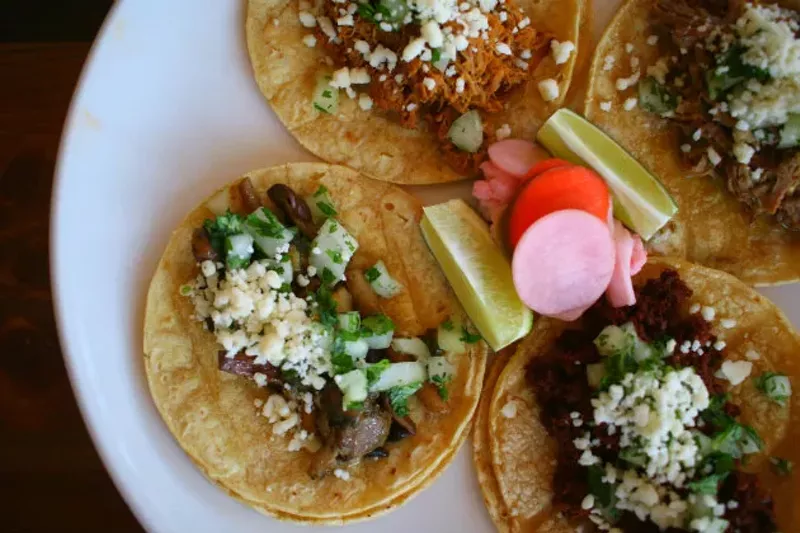 CHERYL BAEHR
Barrio is now open in De Mun.
Another reason for the Mexican-inflected rebrand has to do with the convivial nature of the cuisine. As Sammons explains, the word "barrio" means "neighborhood" in Spanish, and that is exactly what the new concept is trying to convey with its sharable menu and lively atmosphere.
"We want to have that feel of commingling where the food and drinks are free-flowing," Sammons explains. "We're changing from being the kind of place where you sit down and have a four-course meal to somewhere that the food comes out as soon as it is ready, maybe not all at once. The dishes are built like that — to share. Even our larger plates are meant for sharing."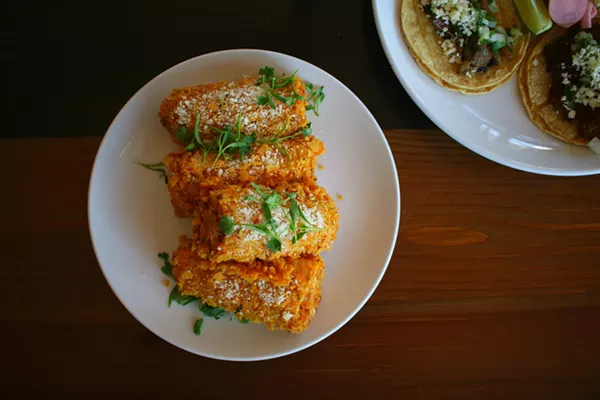 CHERYL BAEHR
Barrio's Mexican street corn is a secret recipe.
Sammons, who spent time in northern California, is drawn to the combination of Mexican and California styles of cooking that results in dishes that are fresh and not heavy. In that spirit, look for jicama and cucumber salad, ceviche and
escabeche de verduras
, or pickled vegetables.
However, Barrio's menu also contains dishes that are much heartier, including street corn covered in fresh corn chips, cilantro-lime pork wings, chile rellenos and enchiladas.
Barrio also serves a variety of traditional-style tacos, filled with such ingredients as housemade chorizo or carne asada. All are served with minimal garnishes to let the flavor of the meat shine through.
For guests who might miss a more formal style of dining, Barrio also serves a few larger, composed plates like a bone-in ribeye with roasted sweet potatoes; lamb chops with a cilantro, mint and pine nut crust; or a split roast chicken.
CHERYL BAEHR
Inside Barrio in Demun.
Despite some cosmetic changes, Barrio's layout remains exactly the same as its predecessor, with a central, semicircular bar area and a small dining room that flows out of French doors into patio seating. With a gentle breeze blowing through the space, the scent of flowering trees filling the air, and margaritas flowing, it's just what the neighborhood ordered.
Barrio is open for breakfast, lunch and dinner seven days a week. Click through for more photos.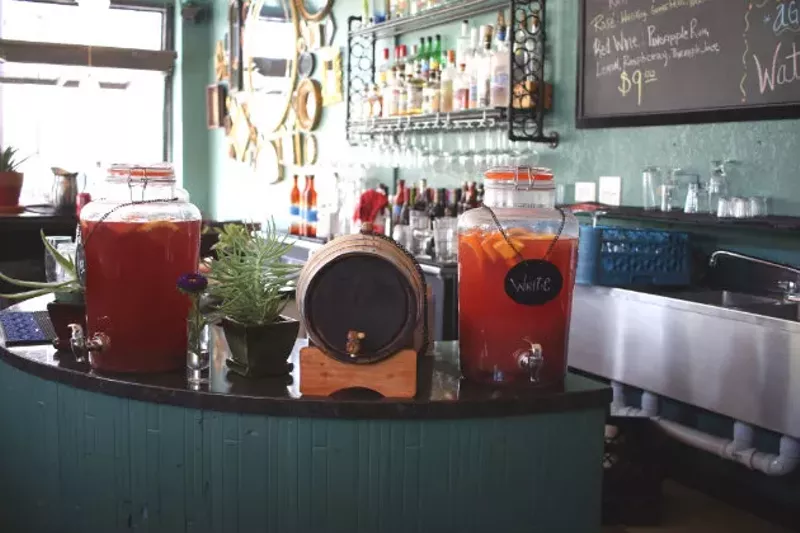 CHERYL BAEHR
Sangria and aqua fresca are on tap and ready to serve.
CHERYL BAEHR
A selection of tequilas and mezcal.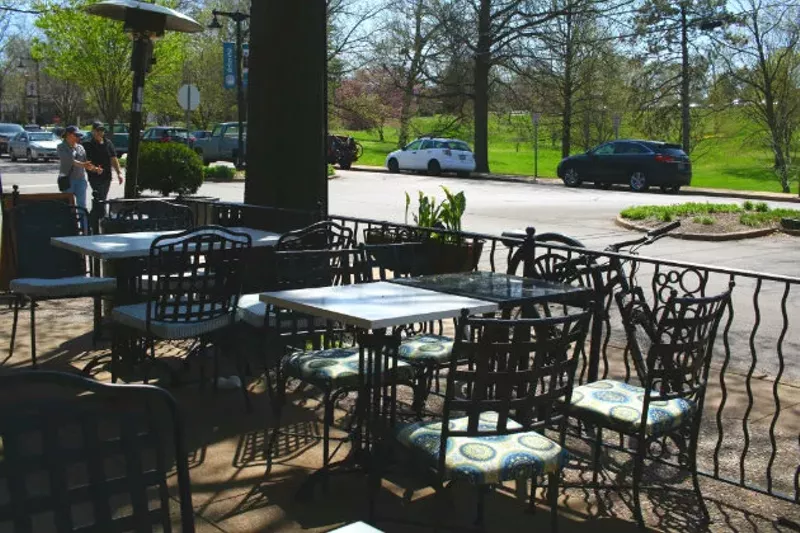 CHERYL BAEHR
Patio seating is available along both sides of the restaurant.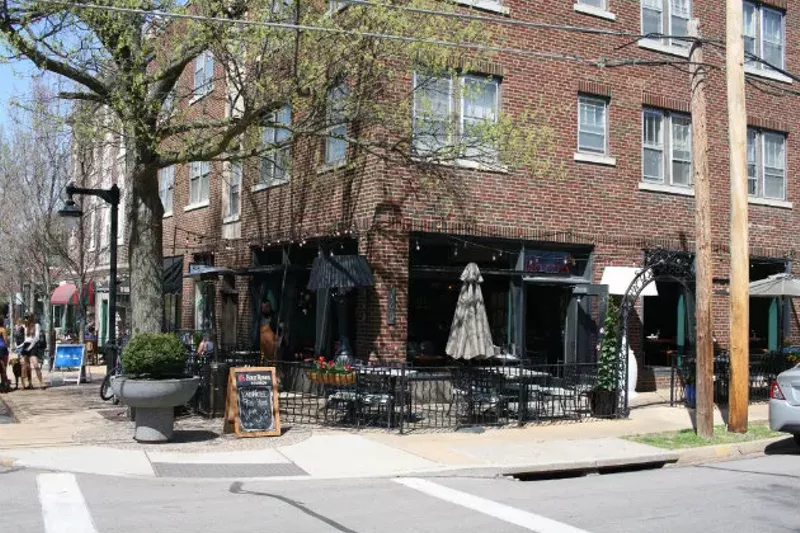 CHERYL BAEHR
Barrio is open in the Demun neighborhood.
We are always hungry for tips and feedback. Email the author at cheryl.baehr@riverfronttimes.com.