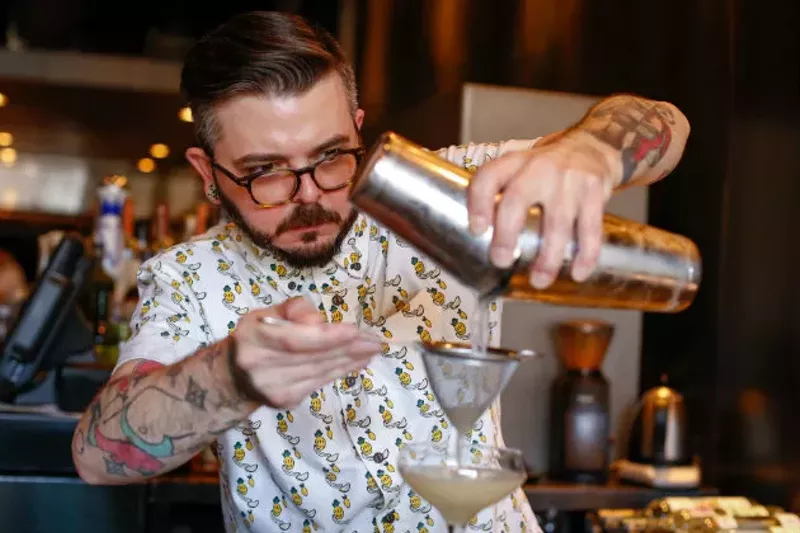 MONICA MILEUR
Nick Digiovanni keeps things fashionable at Pùblico.
Nick Digiovanni was well on his way in his chosen career of fashion design and merchandising, working as a menswear buyer. His job allowed him to follow his passion and travel all over the country too. Then 2008 happened.
"The economy tanked, and I got laid off, like many people in the fashion industry," Digiovanni explains. "I started managing mall stores because that was all there was, but they weren't great jobs and it wasn't fulfilling. I went from a career that I absolutely loved to doing something completely lackluster and no fun. I was like, 'Whoa, now what do I do? Is this what my life is going to be like?'"
Looking back with the benefit of hindsight — and his successful career as bar manager and beverage director at the acclaimed
Pùblico
(6679 Delmar Boulevard, University City; 314-833-5780) —
Digiovanni now recognizes that he is exactly where he is meant to be, even if he took a circuitous path to get there. In fact, his foray into the food and beverage industry came by chance: He needed extra money, and a friend who worked at Eclipse hooked him up with a bar-back gig at the popular restaurant and bar.
At first, Digiovanni only worked at Eclipse a few shifts a week, but when he was there, he worked hard. His ethic impressed the head bartender, who approached him about learning the trade.
He was immediately drawn to the job, but he admits that learning everything he needed to know about making drinks and developing his palate took a long time. Still, he stuck with it, mentored by a team of bar professionals who instilled in him the importance of doing things the right way.
One of them was bartender Tony Saputo. "I will never forget this one time I was working the day shift on the rooftop bar with Tony. It was before they had it climate-controlled so it was hot up there, which meant your spirits were also tempered," Digiovanni recalls. "He poured me a shot of Pimm's and told me to drink it. I thought he was trying to kill me, but he said, 'No, you have to know the flavor profiles of everything behind the bar.' It really stuck with me."
Digiovanni worked at Eclipse for two years before leaving for a few other gigs around town — Layla in the Grove, Mission Taco Joint as a server — but he was desperate to get back behind the bar and into what he now realized was his new career path. That opportunity came his way when he learned that Mike Randolph was getting ready to launch Pùblico. He was shocked when Randolph asked him to be the restaurant's beverage director, but he accepted, and got to work creating a cocktail menu to match the style and ambition of the restaurant's food.
"He didn't really like it," Digiovanni laughs about Randolph's response to his first cocktail menu. "I played it really safe, and he wanted more. He has really pushed me to do more and has given me the confidence to help me come into my own."
Digiovanni admits that, even in such a high profile bar position, he is still plagued by self-doubt. However, his confidence is on display in Pùblico's latest menu — his most ambitious yet. At nearly double the size of his previous menus, he sees it as an opportunity not only to introduce people to different base spirits, but to also bolster the profile of the bar itself.
"We're a killer restaurant and we have a good bar, but we are also a killer bar that has great food," he says.
Though on the surface his new path may look like a big change, Digiovanni still sees elements of his fashion career in bartending: trend analysis, looking at sales and figuring out where to edit things. It's enough to satisfy that side of him so he doesn't miss his former industry that much — in fact, he wouldn't change where he landed at all.
"I have a second lease on life doing a career that I really enjoy and have fun doing it," Digiovanni explains. "People seem to enjoy the product we are putting out, and it's nice to make their nights a little more fun. Now that I've ended up here, I wouldn't change it. I feel like this is my path."
Digiovanni took a break from the bar to share his thoughts on the St. Louis restaurant and bar scene, his passion for rum and why deep-fried cheddar with a side of salsa will get him every time.
What is one thing people don't know about you that you wish they did?
Contrary to popular belief, I do in fact make cocktails other than margaritas! I was also a backup dancer for Janet Jackson on the "Rhythm Nation" tour, but that was a long time ago.
What daily ritual is non-negotiable for you?
My morning coffee. The day just feels off if I leave the house without a couple of cups in me.
If you could have any superpower, what would it be?
I think that if I had any super powers, I'd probably end up on the "Most Wanted" list (LOL). But teleportation would be cool.
What is the most positive trend in food, beer, wine or cocktails that you've noticed in St. Louis over the past year?
I'm really happy to see rum gaining traction in St. Louis. Other major cities have been up to speed with rum for years and it's great to see it finally catching on here.

What is one thing missing or that you'd like to see in the local food and beverage scene?
I'm not sure, really. It's been so great watching the growth of our scene over the past few years that it's tough to think about.
Who is your St. Louis food or drink crush?
Even though we're stylistically completely different, I really admire Jeffrey Moll. He's a walking encyclopedia so if I have a questions, he's usually my go-to guy.
Who's the one person to watch right now in the St. Louis food and beverage scene?
Naomi Roquet at Reeds American Table. She's definitely given the cocktail program there a strong presence, which sounds tricky in a place recognized for its focus on wine, but she's killing it over there.
Which ingredient is most representative of your personality?
I'm going to say rum, and not just because it's my favorite. I like how rum has so many expressions based on region. It can be sweet, funky, abrasive or earthy.
If someone asked you to describe the current state of St. Louis' food and beverage climate, what would you say?
I'd say that we are catching up with other major cities in leaps and bounds. I love this city, and I'm happy to see the quality and diversity of places popping up.
If you were not tending bar, what would you be doing?
Hopefully using my degree in fashion to some extent. I'd love to work for Adidas or Nike, mostly to fuel my sneaker habit.
Name an ingredient never allowed behind your bar.
Anything artificial or flavored vodkas and rums ... never.
What is your after work hangout?
The Crow's Nest. Kenny Snarzyk is one of my favorite bartenders, and the atmosphere is exactly what I want after service.
What's your edible or quaffable guilty pleasure?
Fried cheese cubes at Blueberry Hill. Cheddar cheese that's fried and you dip in cheap salsa?! Yes, please.

What would be your last meal on earth — including drinks of course.
Ideally, it would be Randolfi's pizza made by Taylor Hamilton and a bottle of Foursquare Criterion Rum. Perfection!
We are always hungry for tips and feedback. Email the author at cheryl.baehr@riverfronttimes.com.
Sign up for our weekly newsletters to get the lastest on the news, things to do and places to eat delivered right to your inbox.