Hayley Abshear
Vietnamese Spring Roll potstickers
David Dresner started craving potstickers all the time. He figured that opening a restaurant that served the stuffed dumplings would allow him to have them any time he wanted — and so he went for it.
The result? Crispy Edge (4168 Juniata Street, 314-310-3343), Dresner's new restaurant, which opened last Friday in Tower Grove South and offers a potsticker-focused menu.
"It's my DNA," Dresner says. "If I say I'm going to do it, I'm going to do it."
Dresner had already started
Sleeve a Message
, which makes custom coffee sleeves, so he knew how to open a business. He applied his talents to conceptualizing a restaurant that would make his beloved foodstuff in unique versions — salty or sweet, for any meal of the day or even just dessert.
Crispy Edge has a stylish vibe, with brick walls painted black and accents from plants. It offers not only vegan, vegetarian and globally-styled potstickers, but also some side dishes and a drink menu including coffee, tea, wine and beer.
The coffee options come from local Blueprint Coffee. The owner of Blueprint was Dresner's camp counselor growing up, so their relationship resulted in an unlikely collaboration — coffee and potstickers.
"That was our vision, to match things," says Jesse Stuart, who handles operations management for the restaurant. "Everything we are excited about like the beers, wine and cocktails we created is drawn from inspiration from the food."
Hayley Abshear
From top: Mediterranean lamb potstickers, Vegan chorizo date potstickers and cherry blossom potstickers.
Stuart traveled all around the world on his honeymoon and came back with all kinds of inspiration for the restaurant. He bounces ideas off executive chef Tori Foster, who has a master's degree in nutrition and dietetics from Saint Louis University.
"David has so many potstickers that he's already been working on that we kind of worked together to revamp some of them," Foster says. "We took some of those concepts and just worked on them to create more elaborate dishes. But a lot of them are my babies."
Unlike normal potstickers, which can be soggy and are often filled with meat, Crispy Edge potstickers are different. The restaurant offers breakfast potstickers to go along with its coffee menu, as well as an all-day menu, which includes potstickers like the vegan chorizo date: turmeric dough, spicy chorizo and date filling, lemon pepper cream and pea shoots.
Crispy Edge's grand opening Friday was a hit. More than 500 people came in throughout the day, and the restaurant even ended up running out of the day's most popular side dish — roasted cauliflower with coconut curry with cilantro and lime.
"It was stressful and busy and crazy, but that's the only way I would have it," Foster says. "It was so exciting to just come out here after a crazy and stressful service and see people out there smiling and happy. That's everything."
Crispy Edge will be open Fridays from 4 to 10 p.m., Saturday 7 a.m. to 10 p.m. and Sunday from 8 a.m. to 2 p.m. The restaurant will also be hosting a wine pairing on April 19, where attendees can try new things on the menu as well. Tickets for the pairing can be bought
online
.
Scroll down for more photos of Crispy Edge.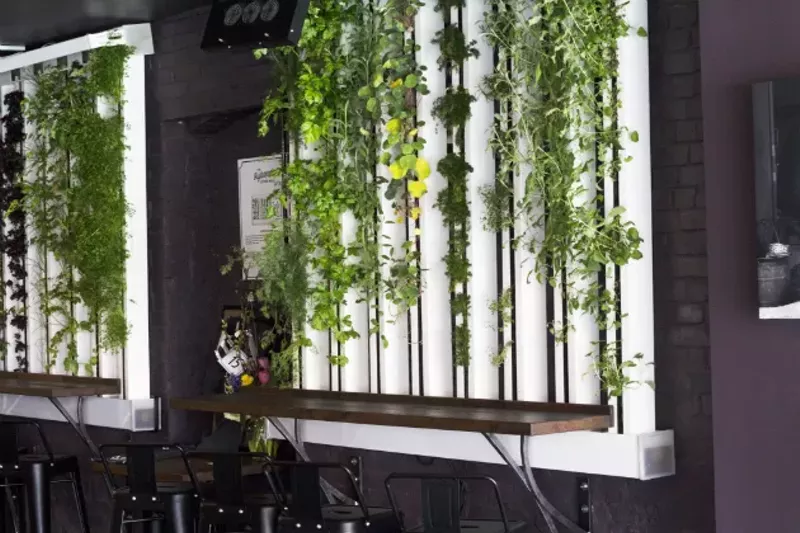 Hayley Abshear
Live greens of the wall of the restaurant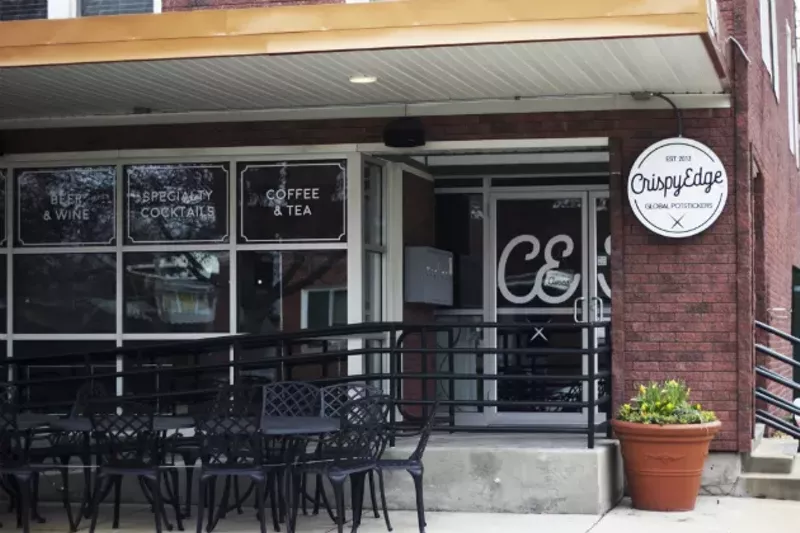 Sign up for our weekly newsletters to get the latest on the news, things to do and places to eat delivered right to your inbox.