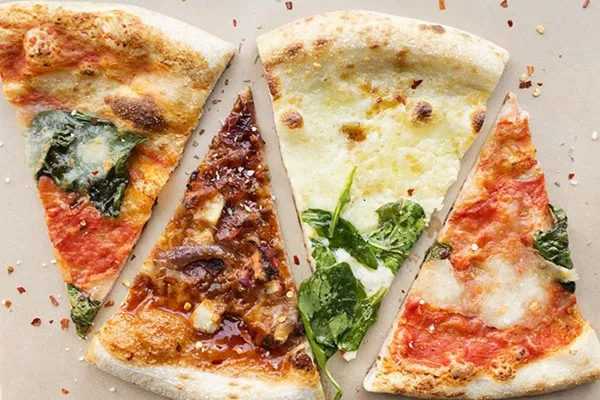 MABEL SUEN
Doughocracy has closed in the Loop, but no less than five new pizza joints have opened in the metro area.
March was an incredibly busy month in the St. Louis restaurant scene — with several much-discussed closures and a veritable flood of openings.
On the closure side,
Milagro Modern Mexican closed its doors in Webster Groves
, even while continuing to search for a new home;
Dorsett Inn is becoming Johnny's West
and
two more spots said goodbye to the Loop
. Oh, and the Purple Martin's reboot failed to take off; it
said goodbye (again) to Fox Park
.
And on the opening side, a host of new pizza places are now serving the city, from the long-awaited
Firecracker Pizza & Beer in the Grov
e to
a promising newcomer in the Central West End
to a cozy family spot, Anthony's, in Clayton. Other highlights include Asian fusion (from the Cafe Mochi family) on South Grand and a few new breweries.
See our complete list below. Did we miss anything? Let us know in the comments.
See also: River's Edge Social Is Now Open in Lindenwood Park
Closings
Cam's Cafe,
3750 Washington Boulevard, Midtown
Dorsett Inn
,
12068 Dorsett Road, Maryland Heights
Doughocracy
,
6394 Delmar Boulevard, University City
Milagro Modern Mexican
,
20 Allen, Webster Groves
The Purple Martin
,
2800 Shenandoah, Fox Park
Snarf's
,
6301 Delmar Boulevard, University City
See also: VP Square Brings Asian Fusion to South Grand

See also: Guerilla Street Food Is Now Open on Delmar

See also: Alpha Brewing Co. Is Open in Tower Grove South
Openings
Alpha Brewing Co.
,
4310 Fyler Avenue, Tower Grove South
Anthony's Italian Eats
,
7641 Wydown Boulevard, Clayton
Aromas Restaurant
,
2617 Washington Avenue, Midtown
Baked Wood-Fired Pizza
,
235 S. Florissant Road, Florissant
Blaze Fast Fir'd Pizza
,
1050 S. Kirkwood Road, Kirkwood
Bloom Cafe
,
5200 Oakland Avenue, Cheltenham
Cork n' Slice Woodfire Bistro
,
4501 Maryland Avenue, Central West End
Firecracker Pizza & Beer
,
4130 Manchester Avenue, the Grove

Gioia's Deli West
,
623 N. New Ballas, Creve Coeur
Guerrilla Street Food
,
6120 Delmar Boulevard, West End
Hofbrauhaus
, 1
23 St. Eugene Drive, Belleville, Illinois
I Love Juice
,
10283 Clayton Road, Ladue
River's Edge Social
,
6997 Chippewa, Lindenwood Park
Rush Bowls
,
227 N. Euclid Avenue, Central West End
Snarf's
,
11512 Page Service, Maryland Heights
Texas de Brazil Churrascaria
,
1137 St. Louis Galleria, Richmond Heights
VP Square
,
3611 Juniata, Tower Grove South
Wellspent Brewing Co.
,
2917 Olive Street, Midtown
See also: Wellspent Brewing Co. Is Now Open in Midtown
See also: Cork n' Slice Is Now Open in the Central West End

See also: Aromas Brings Soul Food — and Much More — to Midtown