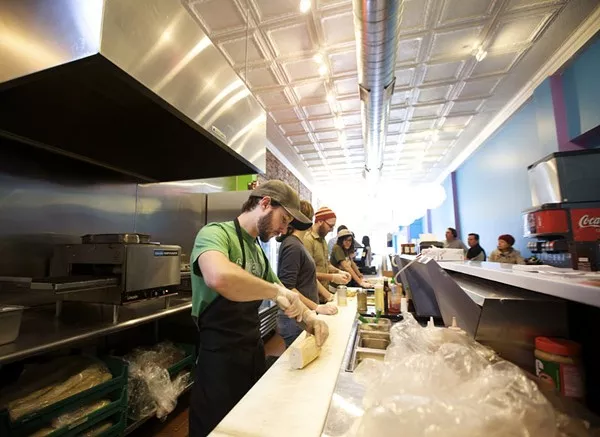 JENNIFER SILVERBERG
Staffers make sandwiches at Snarf's original St. Louis location on Delmar.
Snarf's has left the Loop.
The sandwich chain says on its website that it has closed its location at 6301 Delmar Boulevard — its oldest in St. Louis and a lunch mainstay on the Loop for eight years.
"It is with sadness that we are closing this Snarf's location after the close of business on Sunday March 11," the website says. "We have loved being a part of the Delmar Loop for the past seven years, and sincerely hope you will please visit us at our newest location at 360 N. Skinker Blvd. just north of Forest Park Avenue."
Started by Jimmy Seidel, a St. Louis native who moved to Colorado, Snarf's found success in that state and before opening on the Loop in University City in 2010. Today the company has grown to twenty locations. The Missouri ones — which include stores downtown and Midtown, as well one coming soon in Maryland Heights — are all owned Matty Aronson, who is Seidel's brother-in-law and lives in St. Louis.
Aronson opened Snarf's Skinker location two years ago —
leading to questions about the fate of the Loop location half a mile away
. In an interview at the time, Aronson assured the
RFT
that he didn't open the Skinker location just to close the Delmar one.
"The Skinker location is close to Wash U. and there's good foot traffic," he said. "We're hoping the Delmar store will keep the Delmar pedestrians, and hopefully the trolley will bring more people, too."
Trolley construction wrapped up more than two years ago, but the line has yet to open to the public. In the mean time, the Loop has suffered a number of closures, including more than a few restaurants and HSB Tobacconist,
which closed earlier this month after 46 years on the street
.
Trolley operators are currently doing the necessary training runs to become certified to take on passengers. In a recent release, the nonprofit running the line vowed that the end was in sight.
"The Loop Trolley project is currently finalizing many of the construction, safety and procedural documents necessary to enter pre-revenue operations. The Loop Trolley Transportation Development District and Loop Trolley Company will soon be ready to announce its opening timeline and plans for passenger service."
Editor's note:
A previous version of this story reported incorrectly on Snarf's history in St. Louis. The Loop location was not the first in the area; one was open in downtown Clayton in the early aughts. After that closed, that Loop one opened. We regret the error and appreciate the reader who reached out with a more full history.
We welcome tips and feedback. Email the author at sarah.fenske@riverfronttimes.com

Sign up for our weekly newsletters to get the lastest on the news, things to do and places to eat delivered right to your inbox.