Nick Hester has been brewing beer for eighteen years. When he and his wife Jody were looking for something new, they started thinking about ways to make a passion into a reality.
The newest outpost of
Growler USA
(
3833 Elm Street, St. Charles
) is the outcome. With a philosophy of being "true to the brew," the Colorado-based concept has grown to more than twenty franchises all over the nation, with more opening practically every month. The Hesters wanted to be a part of it, and on February 19 they opened their doors in St. Charles, offering 102 taps of local craft beer along with an extensive menu.
The notable brews include offerings from Four Hands, Urban Chestnut and Civil Life. They also offer wine and cold-brewed nitro coffee from Kaldi's and will soon have hard cider. Nick Hester says he hand-picked every single beer on tap, each one local and poured out for you.
"I've been brewing beer myself for a long time; I really love beer," Hester, 40, says. "But I don't make it as well as these guys."
Before the Hesters got this idea, Nick Hester was working in finance at Edward Jones. Although he has gone down a different path now, he still has his own financial firm in the works. But his passion for beer was brewing inside him, and he wanted to bring something to the table for beer lovers like himself.
"Maybe [customers] don't wanna go downtown, maybe they do. But they want the beer to taste like it is downtown," Hester says.
Growler USA incorporates beer into everything, including the food on the menu. This includes a short rib queso with beer cheese sauce and the "Pilsener Chicken Cobb Salad." Other highlights include chicken and waffles and a "Sunrise Burger," which is topped with thick-cut bacon and a sunny side-up egg.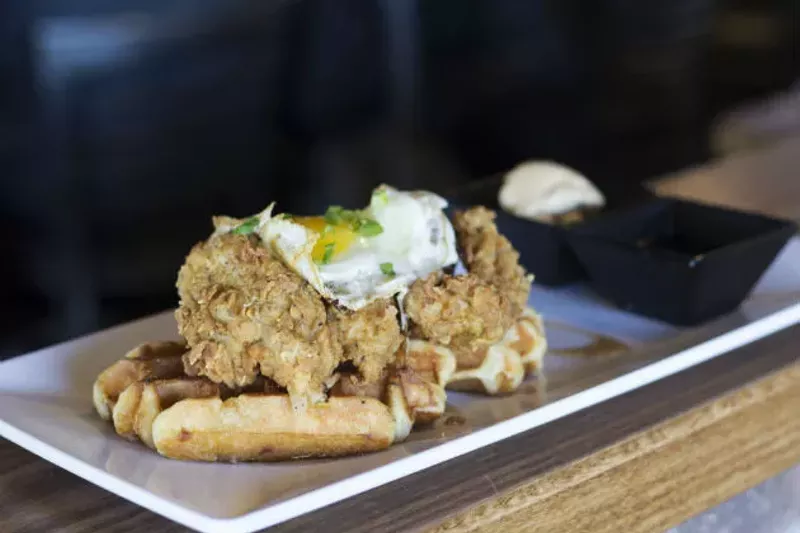 Hayley Abshear
Growler USA Chicken and Waffles
While he's proud of the menu, Nick Hester says he's aiming for more of a bar vibe than a restaurant one.
"I just wanted a pub where you can just chill," Hester says. "Not be pushed around."
To that end, the bar stretches from the front door to the back wall. There is seating from end to end, with a classic royal blue Growler on each table and at each booth. Hester is also excited to unveil the patio this spring. "St. Louis people love their patios," he says.
<!———————StartFragment———————>Growler USA will have its grand opening celebration on March 9. They are open Mon-Wed from 11 a.m. to 11 p.m., Fri. and Sat. from 11 a.m. to 12 a.m., and on Sun. from 10 a.m. to 9 p.m.
Scroll down for additional photos of Growler USA.
Hayley Abshear
Growler Short Rib Queso with beer cheese sauce
Hayley Abshear
The "Sunrise Burger"