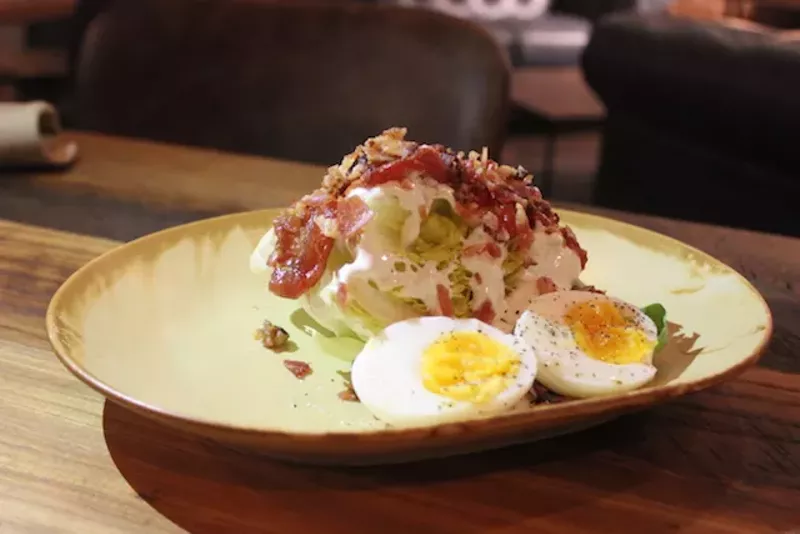 SARAH FENSKE
The Wedge salad includes a soft-boiled egg and oven-roasted tomatoes.
Brew Hub Tap Room (5656 Oakland Avenue, 314-833-5453), which opened Friday in the Cheltenham neighborhood just across from Forest Park, has 25 taps full of beer you can't get anywhere else in St. Louis. That's not just a selling point — it's the concept's entire raison d'etre.
Founded by former Anheuser-Busch executive Tim Schoen, St. Louis-based Brew Hub serves as a partner for craft breweries, doing the brewing, packaging, distribution and selling for brands that want to expand their footprint and need a partner to do it. The first Brew Hub opened in Florida in 2014; the St. Louis one is No. 2 in what is planned to become a network that stretches across the U.S.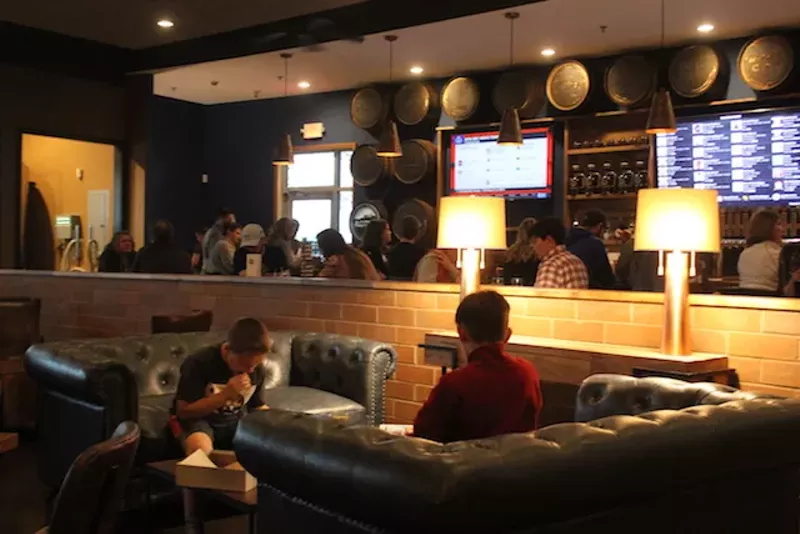 SARAH FENSKE
Play a board game — or check out the long list of taps on a TV screen behind the bar.
But you needn't be interested in any of that — or even a craft beer enthusiast — to enjoy a meal at Brew Hub Tap Room. Located adjacent to the Hampton Inn in the space that previously held Highland Pub and St. Louis Ribhouse, it's a spiffed-up hangout with a little something for everyone: a solid menu from veteran chef Andy White, a bustling bar and even a small lounge area with the opportunity to sit back with a board game.
And the games here aren't just for sitting back. On one wall next to the bar is affixed the biggest Scrabble board you've ever seen, with giant letters in a big pouch ready for competitors. If you're a Scrabble show-off (and are there any good Scrabble players who aren't?), this might be your dream come true.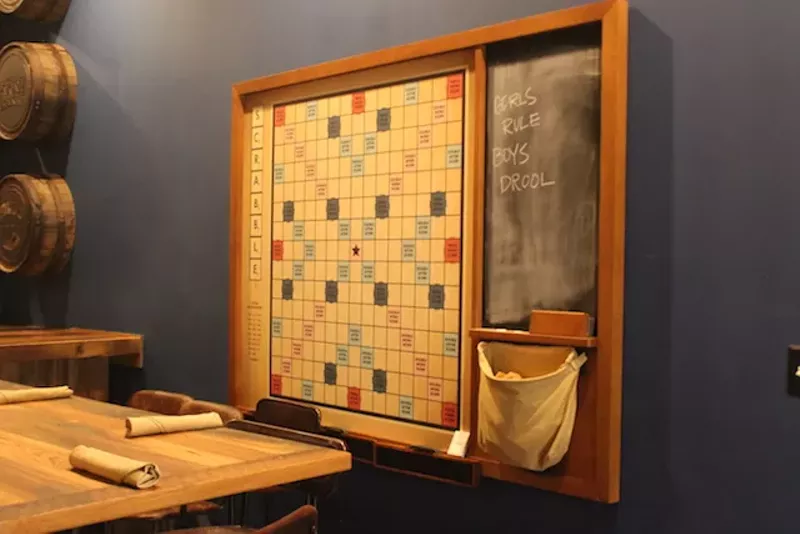 SARAH FENSKE
Think of the glory!
Befitting a spot that will serve both families staying in the adjacent hotel and beer lovers, the menu is approachable, but also shows a chef's sure hand. For $2.75 each, you can mix and match your choice of crunchy tacos, slider-style sandwiches, kebabs and mini sausages in soft toast. The sliders also work great as kids' food — the two-year-old in our party was thrilled with her fried chicken sandwich on soft brioche.
Bigger appetites can choose from a roster of sandwiches, salads and snacks. The snacks, priced at $7.75 each, are more creative than you might expect from what's essentially a brewpub. Crispy spare ribs are lightly breaded and come with tangy sauce on the side, a generously meaty portion. Or try the "Keybilly Wings," which take their name from Keybilly Island Ale, a Brew Hub partner based in Florida.
Street corn fritters and spicy cauliflower bites will keep vegetarians happy, although we opted for the dill-flecked "picnic-style" deviled eggs.
SARAH FENSKE
Deviled eggs are dusted with paprika.
Salads, all priced at $9.75, include a classic Caesar or a classic wedge or two more unusual offerings: The beet salad includes red onion, oranges, green olives and goat cheese, tossed in a house vinaigrette, while the grain salad incorporates farro and wheatberry along with feta, red onion, cucumber and balsamic.
You can't get fries with your sandwiches, unfortunately, but the house-made chips are served up in a plentiful portion and are expertly fried. Try them alongside four burger options (lamb, turkey, a bacon double beef or black bean) or one of a half-dozen sandwich offerings, including a Cuban, a grilled pimento cheese or a duck confit Reuben.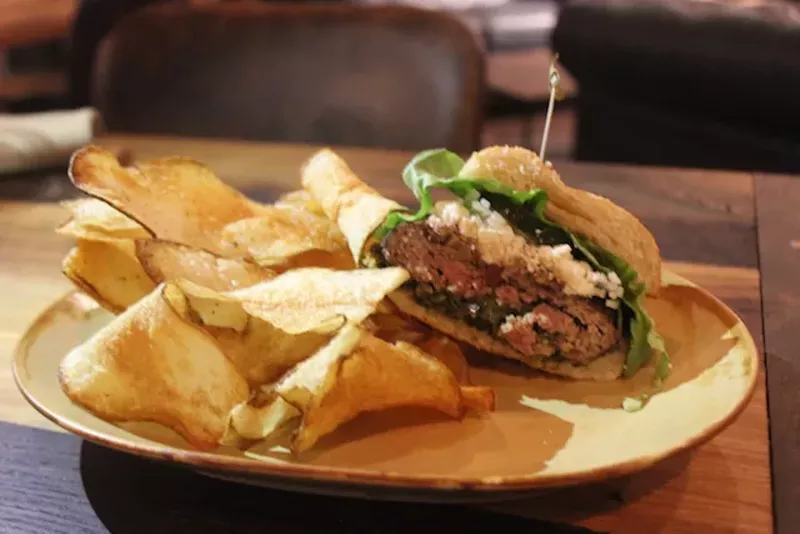 SARAH FENSKE
The lamb burger comes on a creamy spinach base and is topped with feta.
If you'd rather stick to wine than explore the taps, you can do that at Brew Hub — but why would you? Among the always-rotating taps, they're currently featuring choices from Florida-based Crooked Can, Louisiana's Parish Brewing and even beer from South Korea's Booth Brewing; yes, craft beer is big in South Korea these days. (Check out Brew Hub's
website for an up-to-date list
before you head in.) This is also your chance to try out Brew Hub's own beers — including Rome City IPA, which won the gold for IPAs at the 2017 Great American Beer festival.
Come summer, you can do the tasting from Brew Hub's 30-seat patio, which promises to be dog-friendly. The only catch is that being outside will entail you missing the Scrabble game.
Brew Hub is open from 11 a.m. to 10 p.m. Tuesday through Thursday, 11 a.m. to midnight Friday and Saturday and Sunday from 11 a.m. to 9 p.m. They're closed Monday.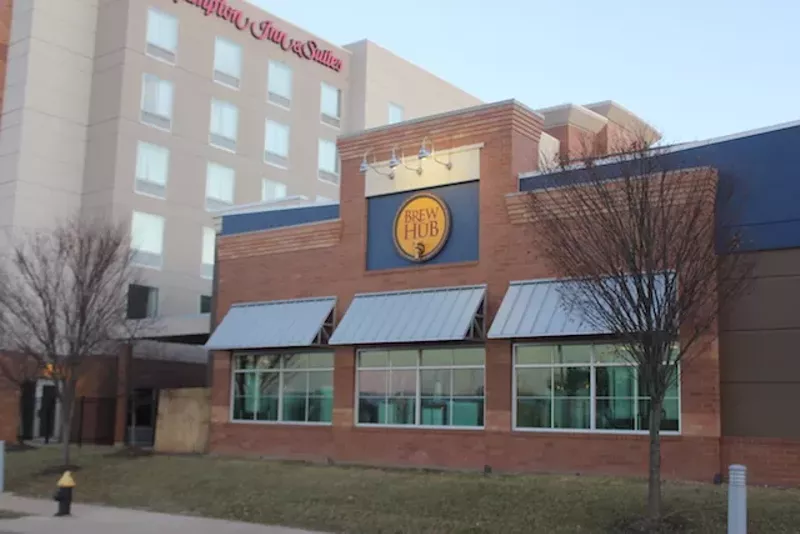 We welcome tips and feedback. Email the author at sarah.fenske@riverfronttimes.com