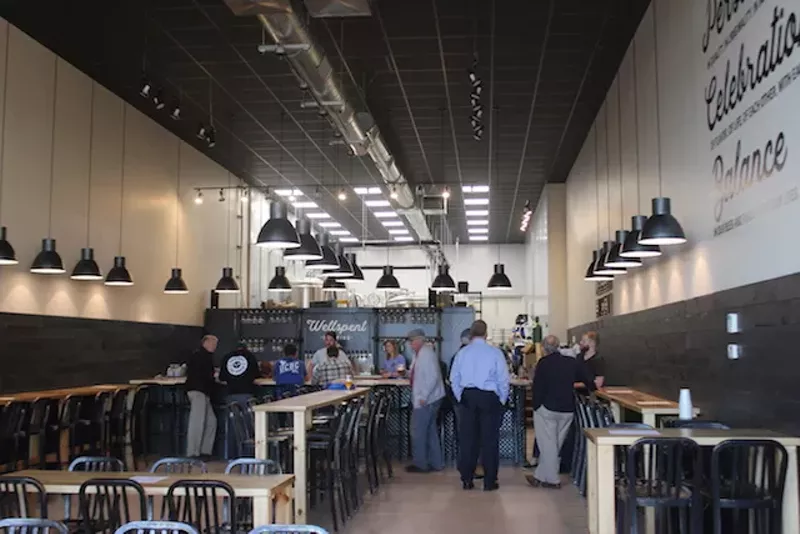 Wellspent Brewing Co.
(2917 Olive Street)
, the new brewery and tap room that opens today in Midtown, isn't trying to offer something for everyone. There is no liquor here and no wine. There is not, at this point, even food. But what there is will delight beer drinkers — a light-filled space, a big patio, and several taps of Wellspent's "yeast-driven beer."
The beers break down into three types, says co-founder Kyle Kohlmorgen: Belgian styles inspired by his trips to Brussels, barrel-aged sour beers and lagers. All three, along with a few guest taps, will be served up in a smartly remodeled space that encourages people to linger.
And that may, in fact, include the kids. Kohlmorgen and his wife Angela have two boys under the age of three; they include a pair of mini picnic tables on the expansive patio because they don't find "beer" and "family time" to be mutually exclusive. There are also a host of board games on offer for game players of all ages.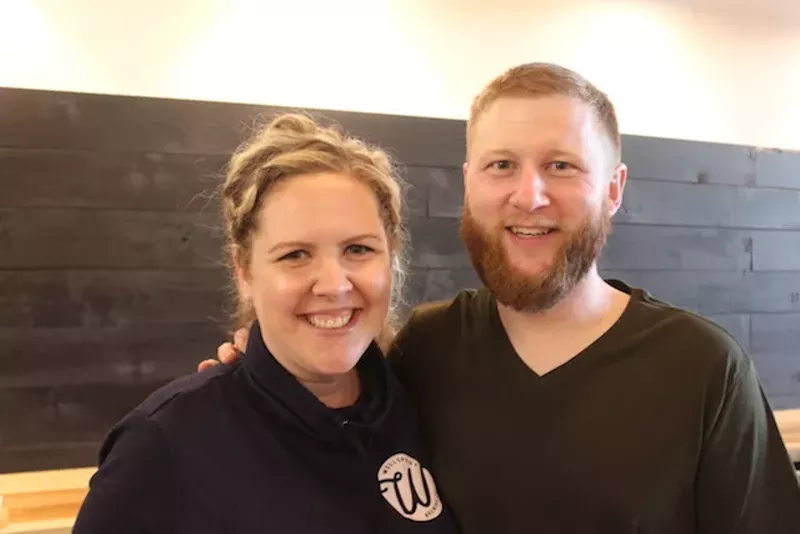 SARAH FENSKE
Co-founders Kyle and Angela Kohlmorgen.
An Indiana native, Kyle Kohlmorgen got into home brewing during college. As he toiled for a decade in process engineering, found himself increasingly captivated by the idea of both starting his own business and pursuing his hop dreams. "I realized I wanted to do my own thing," he says. "I knew that about myself all along, but I thought it would take longer to get bored." Instead, he and Angela decided to move back to her hometown and go all-in.
They spent some time looking for Wellspent's home before their real estate agent showed them a long-vacant building on Olive just across the street from the Saint Louis University campus. "The minute we saw the patio, we were done," Kohlmorgen recalls. "It had everything we wanted."
Nearly a century ago, the brick building was a movie theater — and Kohlmorgen says it doesn't seem to have been used for much since. The old balcony was even still in place in the rear of the long main room.
After some serious renovations, they've built a sharp-looking space that pays tribute to the building's past; theater-style lights mounted to the ceiling suggest its history without being kitschy.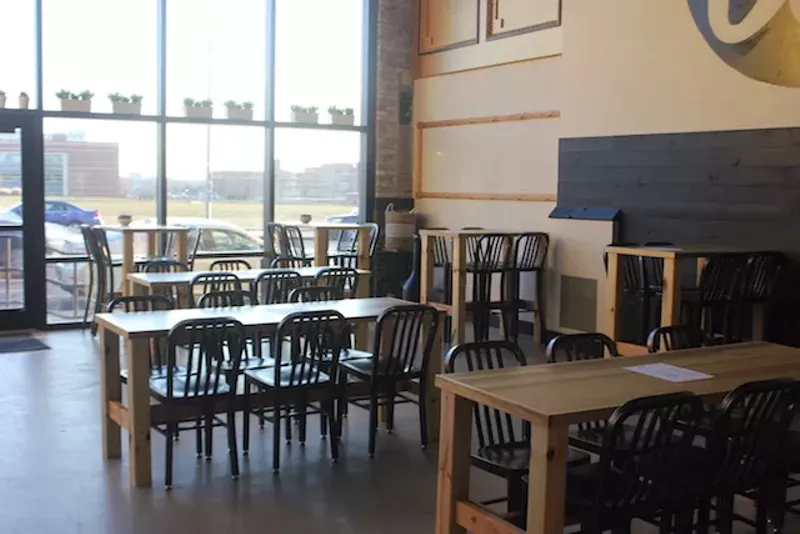 In the coming months, the Kohlmorgens hope to find a chef who wants to take over the kitchen space. "We're looking for a partner," he says. "We just want to find somebody who is a good fit for us."
But in the mean time, there is beer. Wellspent has a five-barrel system ("bigger than Earthbound, smaller than 2nd Shift," Kohlmorgen quantifies) and plans to focus on serving its own customers, not a broader distribution.
Right now, just two Wellspent beers are tap, with eight guest taps including Logboat Brewing Co. and Civil Life. But Kohlmorgen says customers can expect to see much, much more soon. "We've got nine different fermentation tanks so we can supply the tap room and take on special projects," he says. "As we ramp up, we're going to get more beer out there."
The tap room will be open Tuesday through Thursday from 4 to 9 p.m., Friday from 4 to 10 p.m. and Saturday from noon to 10 p.m. Scroll down for more photos.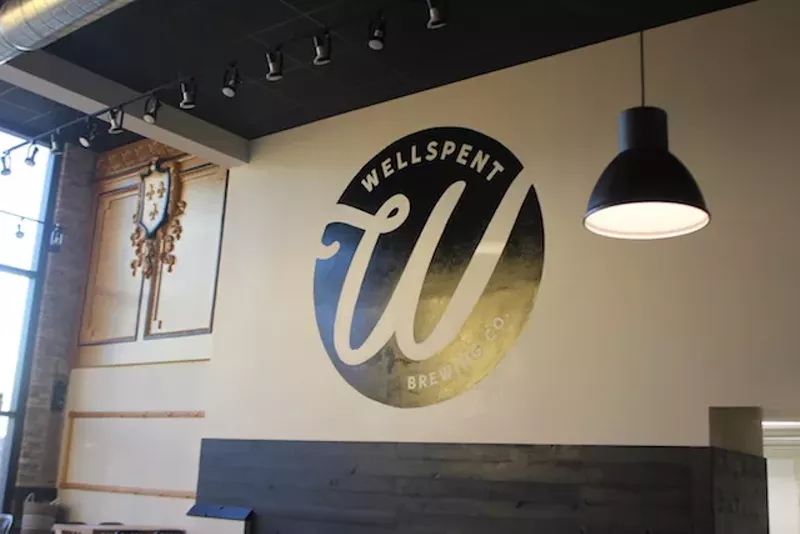 SARAH FENSKE
The building's history is nodded to in its details.
SARAH FENSKE
Board games for there for lazy Saturday afternoons.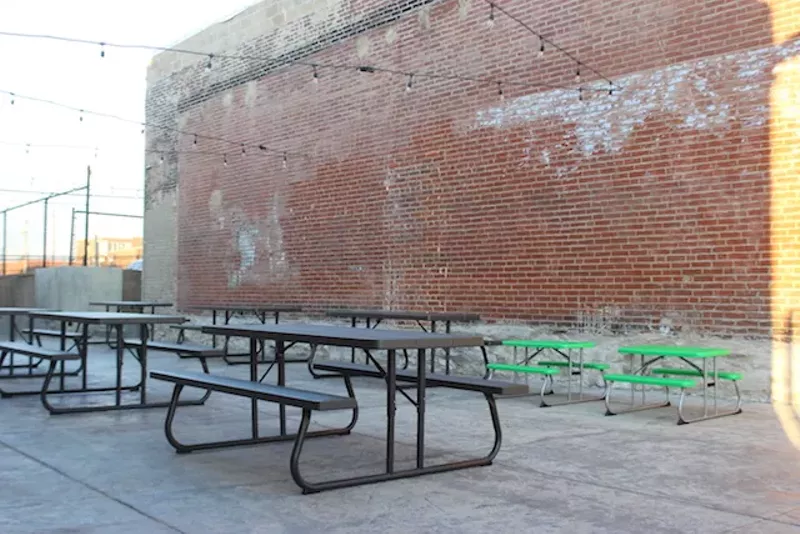 SARAH FENSKE
The patio is big and, with brick walls on two sides, has a private, cozy feel.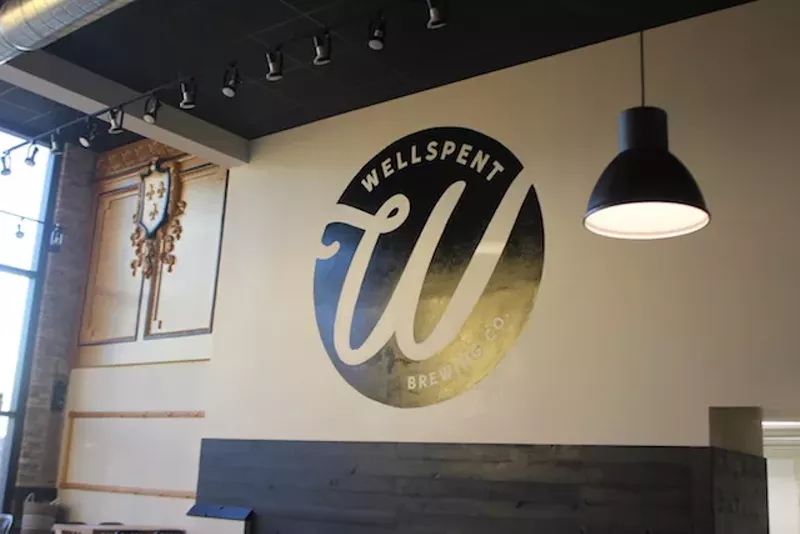 SARAH FENSKE
The building's history is nodded to in its details.