SARAH FENSKE
A flight of all four of Brick River's current line of cider.
At
Brick River Cider Co.
(2000 Washington Boulevard)
, the new ciderworks that opens today in Downtown West, you can get a beer and a burger, a glass of wine and a New York strip. You can even get a Jack and Coke, if you're so inclined.
But if you're going to come here — and you really
should
come here — you ought to try the cider. This is the first ciderworks in St. Louis, and it's doubling down on the hard cider that's captivated the coasts. The staff at Brick River isn't just making enough of the fermented beverage for the four taps on site. It's also filling kegs, cans and bottles, with an aim of supplying retailers and bars across the region.
Brick River is the brainchild of Russ John, who moved here from Boston five years ago when his wife, Sharon Price John, was hired as CEO of Build-a-Bear. John's family has long owned a farm in Elmwood, Nebraska, which is closer to St. Louis than it sounds (it's a 90-minute drive north of Kansas City). They have a long history of dabbling in cider.
"There's some cider my grandfather made during Prohibition that we've still got," he says. Not that he's planning to open the bottle any time soon, he adds. "It's a better story than it would be to drink. It's probably a bottle of vinegar by now. But it was originally a bottle of cider."
SARAH FENSKE
CEO Russ John has cider in his blood.
When John sold his business — a children's retailer in Boston — he found himself with the free time and funds to pursue cider dreams of his own. The vast majority of the apples used at Brick River don't come from his family's farm, as he hastens to explain. But he's able to use that acreage to grow the apples that are otherwise hard to source locally. Brick River acquires the rest from other Midwestern orchards.
As John explains it, cider has a glorious history in the U.S. — before Prohibition, it was more popular than beer, in part because it was easier to store. But when temperance advocates burned down cider orchards, the industry never recovered. With refrigeration making beer an increasingly easy proposition, America moved on.
That is, until recently. Some analyses have the hard cider industry even outpacing craft beer, and that's something John hopes to take advantage of locally. He and his crew are currently offering four ciders: Homestead, an unfiltered, easily accessible style; Cornerstone, a crystal clear, effervescent style that may remind you of ciders you've quaffed in New England; Firehouse Rose, an off-dry cider infused with sour cherry and hibiscus that will be pleasing to wine drinkers; and Brewer's Choice, a cider that's made with hops for a lightly hoppy taste. There's also a non-alcoholic apple soda for kids.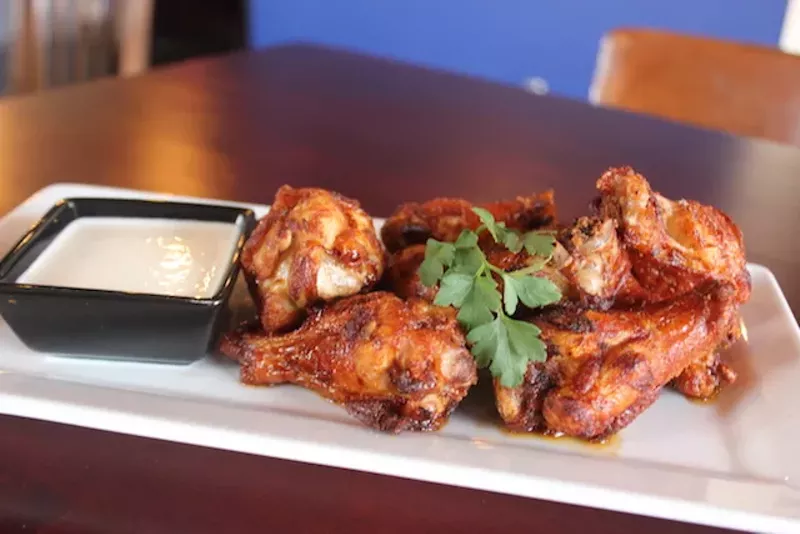 SARAH FENSKE
Cider-glazed wings — what could be more apropos?
Just like a brewpub, Brick River makes its product in the same building where it's running a full-service restaurant. After pondering any number of impractical locations, John ended up choosing an old city fire station at Washington Avenue and 20th Street as the ciderworks' home. It was a mess when he got it — the windows had been bricked over, and the place largely used for storage. But after extensive renovations, it's looking terrific. The bones of the fire station are more visible than they've been in years — look at the ceiling near the bar and you can see where the poles were. And now the place is filled with light, with huge windows overlooking Washington. Black and white photos from the Missouri Historical Society provide the main decoration.
The first floor serves as something of a tasting room, with long communal tables and high-tops along with a bar overlooking the ciderworks. Upstairs is the dining room — a large, high-ceilinged space with a terrific view of the cityscape. There's room to seat 120.
SARAH FENSKE
The building's roots are evident in the arched window facing Washington Avenue.
And for those diners, there's a full menu. You can order shareables and flatbreads, salads and soups, or choose from a half-dozen sandwiches (cider-braised pork makes an appearance, as does a grilled cheese and apple sandwich). If you're ready to really dig in, the trout is a house specialty. Or try the pork Normandy, with pork shoulder and apples braised in, yes, cider and served with Swiss chard.
The ciderworks has been making its product since October, but it's more recently that the kitchen staff has been in place and readying for customers. After a few days of hush-hush soft openings, John was feeling optimistic looking ahead to the real deal — with his eye on the most important thing.
"The cider's good, the cider's ready," he says. "The kitchen would like to have another month to get ready. But I could feed half of the St. Louis with the food they'd be practicing on in that time." Why not open instead?
For now, Brick River will be open from 5 to 11 p.m. Tuesday through Thursday, 11 a.m. to 1 a.m. Friday and Saturday and 11 a.m. to 5 p.m. Sunday.
Scroll down for more photos of Brick River Cider Company.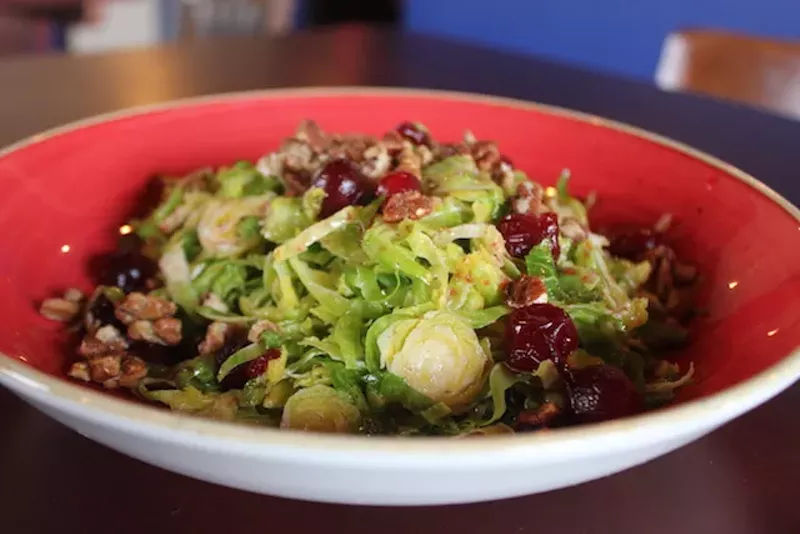 SARAH FENSKE
Brick River's Brussels salad.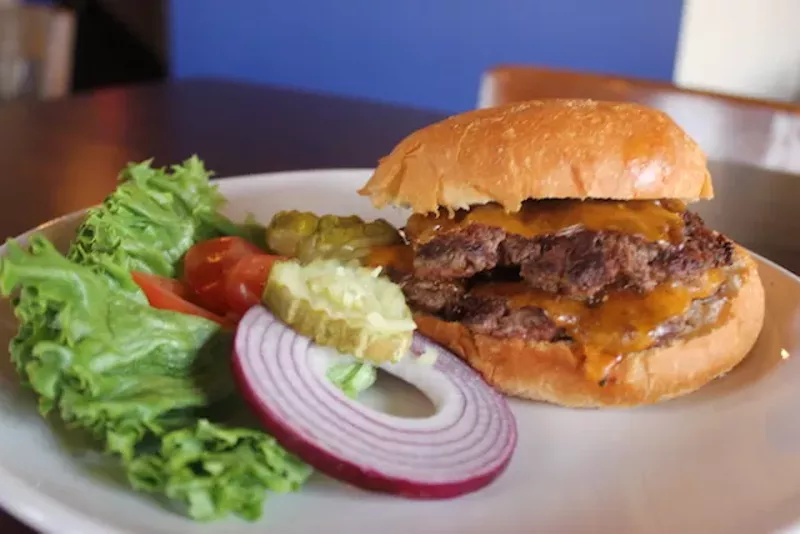 SARAH FENSKE
The burger includes two smashed patties.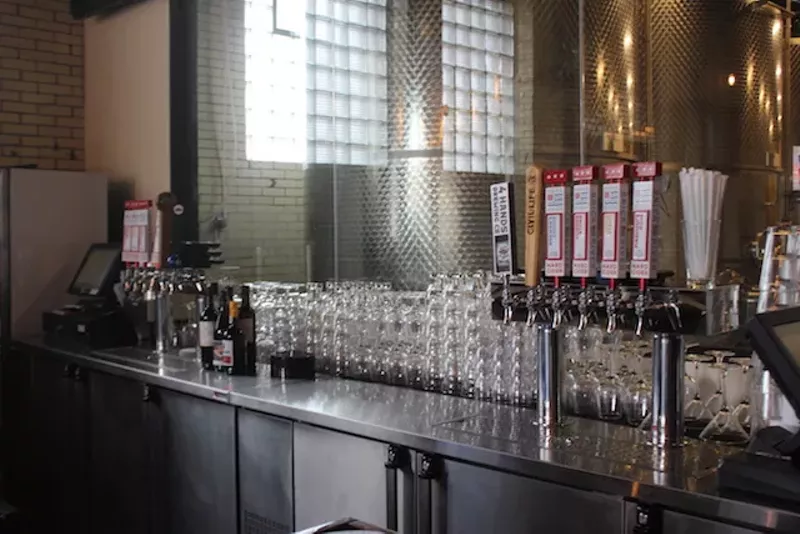 SARAH FENSKE
Four taps are devoted to cider and four to beer from area brewers.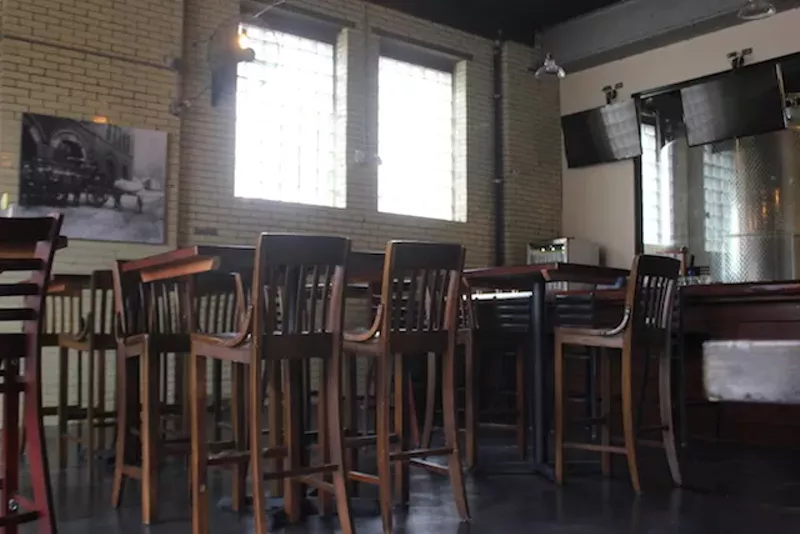 SARAH FENSKE
The first-floor area offers communal tables or high tops.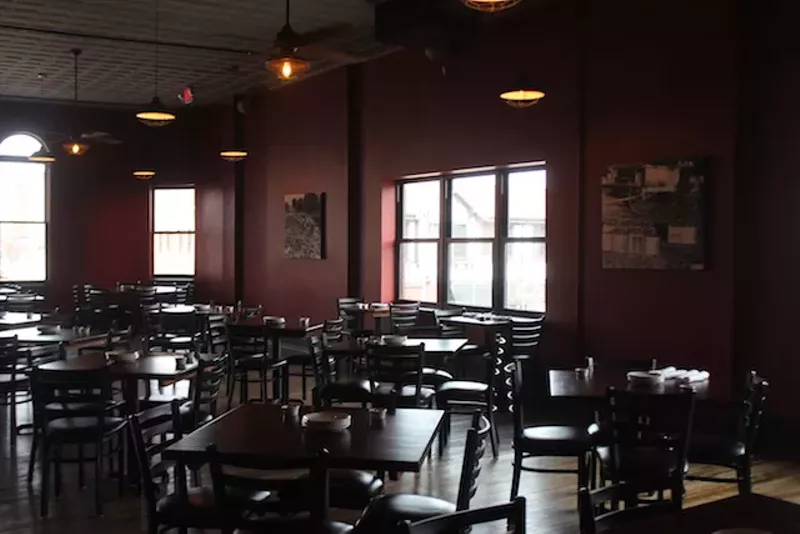 SARAH FENSKE
The second floor has a high ceiling and large windows overlooking the street — the antithesis of the upstairs room at many restaurants.
SARAH FENSKE
Brick River's tanks each hold 8,000 liters.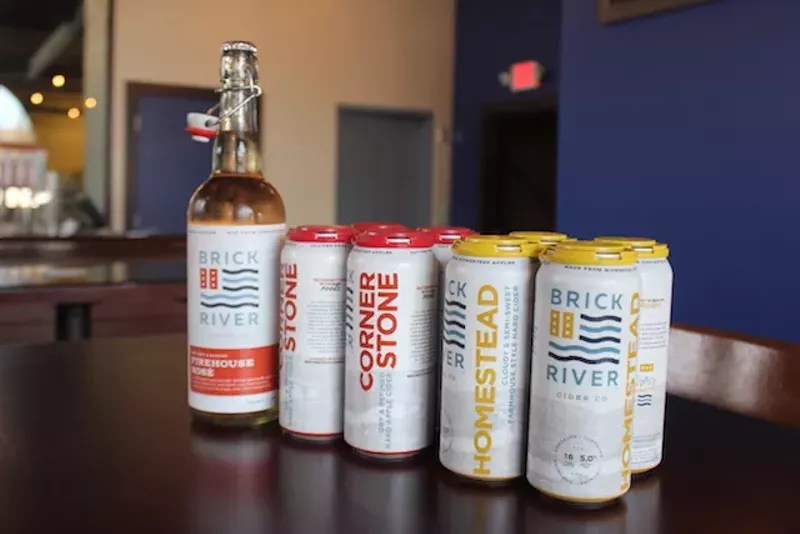 SARAH FENSKE
You can also find Brick River's products at a beverage store near you.