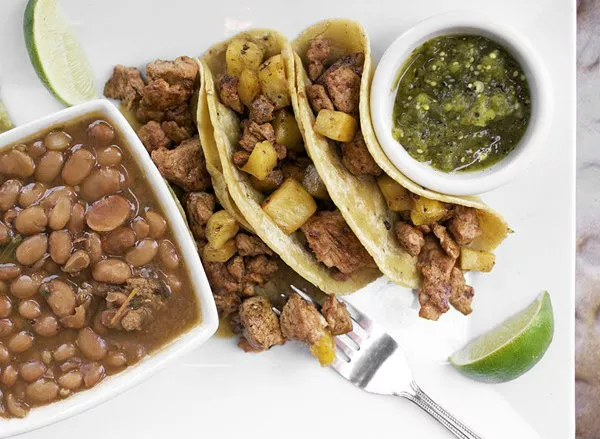 Milagro Modern Mexican
(20 Allen Ave. Ste 130, Webster Groves)
is on the hunt for a new home.
The
acclaimed eatery
announced today it would not be renewing its lease after eight years in Old Webster Groves — and will be closing its doors to the public after dinner service on March 24.
Owners Jason and Adam Tilford, who also own the wildly successful Mission Taco Joint chain, say they are looking for a new space — either in Webster Groves or in the surrounding area.
"Milagro is an amazing restaurant in a terrible location, and eight years later people still have a hard time finding us. We'd love to grow the Milagro concept alongside Mission Taco Joint, but to do so we need to be more accessible to the casual diner," co-owner Adam Tilford said in a press release statement.
"It's sad to have to end this run at Milagro in Webster Groves, but I'm excited to find a new location and revitalize this concept we started eight years ago," Jason Tilford, the co-owner/executive chef, added.
The statement casts blame on the restaurant's landlord, Novus Development, which also owns the Market at McKnight, "a newer, highly visible development on Manchester Road, not far from Milagro's current location," as the release notes.
"We thought we had a space lined up to move Milagro to the Market at McKnight and have a seamless transition," Adam Tilford explained in the release. "Unfortunately, things didn't work out as we anticipated, leaving us to make this very difficult decision to close without a new space lined up."
In addition to Milagro, the Tilford Restaurant Group owns five Mission Taco Joint restaurants in St. Louis and Kansas City, the Mission Taco Truck, and the Cater al Fresco catering company. They say they hope to place Milagro employees at their other restaurants until they find a new location.
Oh, and the brothers says they are working with Mark Brennan of the Cozad Commercial Group — so, hey, you know what to do if you've got a space you're seeking to fill.
We welcome tips and feedback. Email the author at sarah.fenske@riverfronttimes.com