CHERYL BAEHR
Yellowbelly is reinventing the tiki bar.
If sugary cocktails, volcano-shaped barware and cheap grass skirts are what comes to mind when you hear the words "tiki bar," Travis Howard and Tim Wiggins want to change that.
The pair, who own and run the bar program at Retreat Gastropub, respectively, are bringing a new kind of tiki concept to the Central West End late this year. Their "sea and spirits" concept, Yellowbelly, will play with the nostalgic, rum-centric drinks that comprise the tiki genre, though they plan to do so in a way that is very much of the moment.
Howard and Wiggins explain that they have been seeing this sort of concept pop up in other markets, but it has yet to hit St. Louis. "Modern cocktails bars are starting to get away from that really dark sort of thing," Howard explains. He adds that, while classic cocktails will always have their place, cocktail menus are lightening up, with modern versions of drinks like classic daiquiris.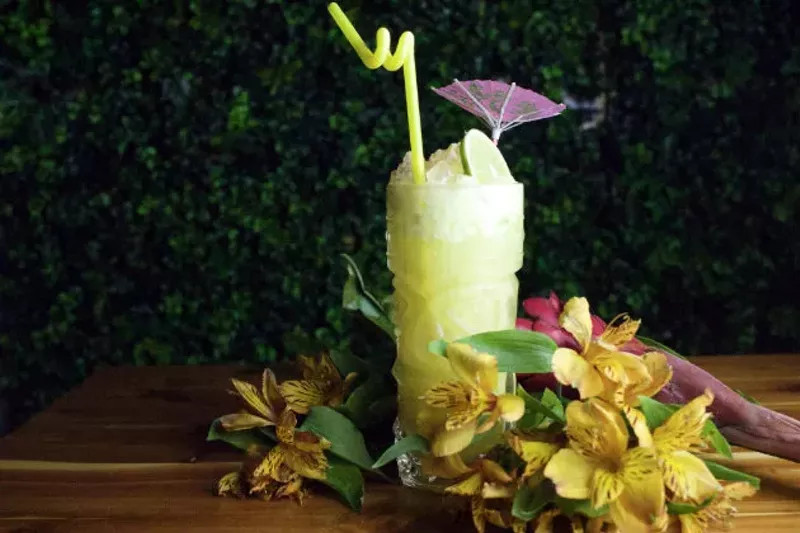 CHERYL BAEHR
Yellowbelly will feature an innovative, rum-centric cocktail menu.
In that spirit, Yellowbelly's cocktails will be bright and quaffable — not syrupy and overly-sweet. Look for drinks like a carrot daiquiri (white rum blend, carrot juice, almond and lime) or the "Missionary's Shrub" (pineapple, peach, mint, and Topo Chico).
Wiggins' menu will showcase the versatility of rum, a spirit that is typically thought of as only being applicable to sweet or tropical drinks, like a rum negroni. However, he and Howard emphasizes that Yellowbelly will be the sort of place that will cater to all sorts of tastes.
"We want to be the place where a couple drinking a bottle of chardonnay and eating salmon can sit next to the group having tiki," says Howard. "And we want those people to be just as comfortable as the person having a can of Busch and a burger."
CHERYL BAEHR
The floor plan teases a sleek, modern space that is filled with light.
Of the food menu, Howard says to expect a variety of cold fish dishes like ceviche and crudo. In keeping with the island vibe, the use of beef will be limited; expect burgers to be made from pork instead, with sides like plantains.
Yellowbelly will be located on the corner of Euclid and Lindell, set far enough back from the street for a comfortable outdoor seating area. Inside, expect seating for approximately 90 guests in a sleek, light-filled space.
And definitely do not expect to see any grass skirts and hula trinkets, unless you bring your own.
Click through for more images of Yellowbelly.
CHERYL BAEHR
Yellowbelly will open late this year.
We are always hungry for tips and feedback. Email the author at cheryl.baehr@riverfronttimes.com.