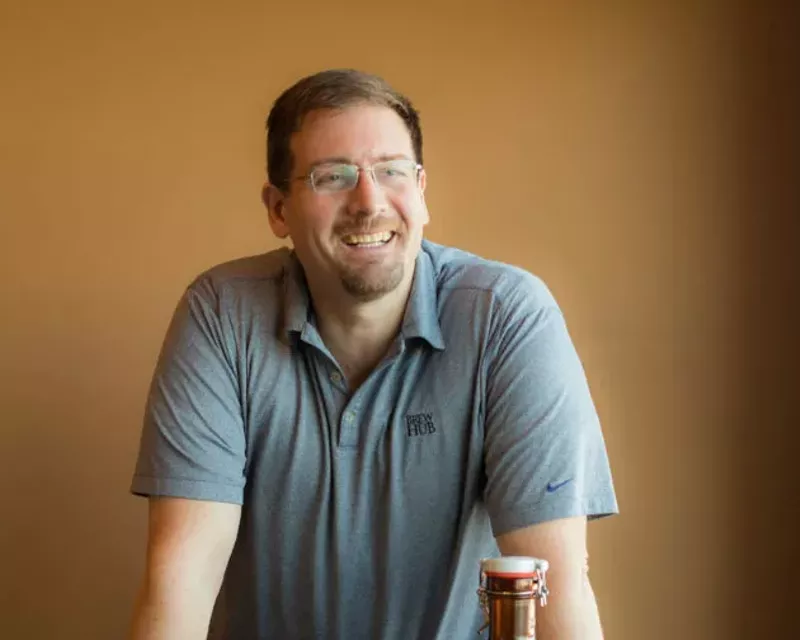 MONICA MILEUR
Jim "Otto" Ottolini is bringing his vast brewing knowledge to Brew Hub.
Jim "Otto" Ottolini balks at the concept of inspiration, at least in the traditional way of understanding it as a spark that ignites an action. He sees it as the opposite: That you begin with a first step, then see if it catches you in a way that makes you want to go further.
That's how he describes his entry into the world of beer — a career in which he has risen from bussing tables at the Schlafly Tap Room to become one of the most respected brewers in the industry. With the benefit of hindsight, Ottolini can sketch out the circumstances that led him to where he is today — a key figure in Schlafly's rise, a brewing veteran with more knowledge about craft beer than just about anyone in town and head brewer of the forthcoming Brew Hub (5656 Oakland Avenue) — but he's careful to note that he didn't get there according to some master plan. In fact, he doubts that if he had tried to enter the industry today he would have gotten so far.
"I was in the right place at the right time," Ottolini explains. "If you asked Dave Miller, who was [Schlafly's] brewmaster, he'd tell you I was a pesky little guy constantly asking him about stuff. But I'm handy and I'm scrappy and I proved myself to be valuable in a couple of areas. Today, I don't think I'd have a spitting chance at working in a brewery with all the people coming out of programs, but back then, it was different."
Though Schlafly was Ottolini's first foray into professional brewing, it wasn't his first experience making beer. His Italian grandfather made his own wine and had some fermenting equipment that Ottolini used for experimentation. When a friend asked if he'd be interested in helping him make beer, he agreed, and the two began brewing as a hobby.
Ottolini may have gotten the equipment from his grandfather, but he traces his interest to his parents' love of cooking. He describes his mother as the consummate technician, the sort of cook who would follow recipes to the letter and treated cooking as a science. His father, on the other hand, is the sort of cook Ottolini views as an artist — one who could open the pantry and throw something together with great results.
It's no surprise, then, that Ottolini likens brewing to cooking. "I look at brewers as specialized chefs, like pastry chefs," he explains. "We can get really technical about one particular thing, but don't ever put us on the grill or sauté station. We're one-trick ponies."
Ottolini's initial plan didn't involve food or beer. He studied French literature and moved to France to study law, lured by the appeal of being an international businessman, only to become disillusioned by the reality of contracts, mediation and other mundane work.
He returned to the U.S., where he began working at the Tap Room. He considered getting into the jewelry business (his designs caught the attention of a local jeweler who wanted to bring him on board) but Ottolini began to think beer could be more than a temporary occupation.
Ottolini had joined Schlafly at a pivotal time in the brewery's history. At the time, its beer was only available at two places in St. Louis outside the Tap Room — and naysayers said Anheuser-Busch's dominance would leave the upstart brewery unable to get into local taps. Schlafly proved them wrong, upped its production, began bottling and revolutionized the city's beer scene. At every step of the way, for 22 years, Ottolini was there.
These days, Ottolini is bringing the knowledge he gained to Brew Hub, a new-to-St. Louis concept that will be something of a beer incubator for those just getting started. Led by Anheuser-Busch alumnus Tim Schoen, Brew Hub hopes to nurture and partner with aspiring brewers, giving them the luxury of making beer without the expense of building a brewery or becoming a marketing expert.
The mentorship role appeals to Ottolini. He's been in younger brewers' shoes and knows the challenges associated with taking that leap — one he took two decades ago with the words of his father ringing in his mind.
"I remember asking my dad, who was a successful physician, how he knew what he wanted to do, and he said, 'What makes you think I am doing what I want to do?'" Ottolini recalls. "That made me want to pursue my interests and do what you love. I've been doing this a quarter of a century, which makes me feel old, but what can I say? It's fun. You have to find something you love and do that."
Ottolini took a break from his duties at Brew Hub — the brewery and tap room will open this spring — to share his thoughts on the St. Louis food and beverage scene, his desire to transform matter and why you'll never see duct tape in his brewery.
What is one thing people don't know about you that you wish they did?
That's a trick question, right? If people don't know something about me, I probably want to keep it that way, right? Did I do it? Did I avoid getting tricked? Are all the questions going to be this complicated?
What daily ritual is non-negotiable for you?
Managing time to reflect and ponder. Definitely a must.
If you could have any superpower, what would it be?
I would want to transform matter. I could manage and affect quite a lot with that ability.
What is the most positive trend in food or drink that you've noticed in St. Louis over the past year?
I love the independent and creative small enterprises. That is always refreshing and I see it more and more in St. Louis.
What is one thing missing or that you'd like to see in the St. Louis food and beverage scene?
I would like to see more bridges between manufacturing and consumption. "Farm-to-table" is manufacturing to consumption. People have an innate curiosity about how things are made, and they want to connect the dots.
Who is your St. Louis food or drink crush?
I used to work with Ted Charak who now has Planter's House, and I love what he's doing. Kelly Spencer is in a whole different ballpark when it comes to catering with her company the Social Affair. I don't care how you do it, but get yourself invited to an event which she is catering so you can say you knew her when.
Who's the one person to watch right now in the St. Louis food and beverage scene?
Watch out for that guy in the trench coat. Something's going down with him… One person, huh? How about Steve Ewing with Steve's Hot Dogs? Couldn't you just crush a hot dog right now?
Which ingredient is most representative of your personality?
Malt.
If someone asked you to describe the current state of St. Louis' food and beverage climate, what would you say?
If Missouri is the "Show Me State," St. Louis is the "Oh Yeah, Well Prove It City." Can we fit that on the license plates? I'd say the current state is a long slow renewal, but it's also an eclectic amalgam of many cultures and influences. All of that is built upon a pretty traditional base, so it's interesting to see things play out.
Name an ingredient never allowed in your brewery.
Duct tape. That stuff isn't even good for repairing duct work. It embodies the spirit of things poorly done without care. It has its place, I suppose, but not in a brewery. Let the hate comments commence.
What is your after-work hangout?
Home or Tower Grove Park. On the way home are Union Loafers and Olio, so there's that. I love both places.
What's your edible or quaffable guilty pleasure?
Pernod, bourbon, Cheez-Its. Never together, though.
What would be your last meal on earth?
If I am leaving earth in a spaceship, my last meal will be whatever the dieticians at NASA have dreamed up. If the earth is coming to end a la Armageddon, then I suppose carnal desires will dominate the menu. If I'm simply dying and everything else continues onward, then it depends on what happens next. If I am cremated, then my last meal should be something flammable. I want the furnace operator to say, "Whoa! That's never happened before…" If I am interred, I would like my last meal to include something which will be fascinating for a future archeologist to find in my remains. If I am thrown from a plane dressed up as Superman over a large metropolis to fall to my death, then my last meal should be something light.
We are always hungry for tips and feedback. Email the author at cheryl.baehr@riverfronttimes.com.