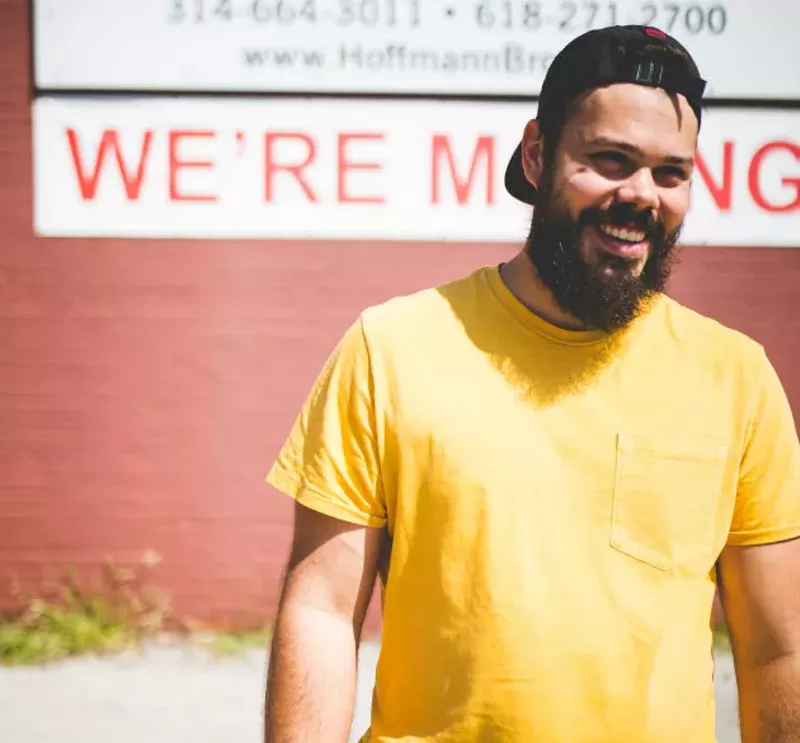 CORY MILLER
Ryan McDonald has gotten a crash course in Chinese cooking.
Ryan McDonald, chef of the forthcoming Good Fortune (1641 Tower Grove Avenue), always knew he wanted to spend his life taking care of people. He just didn't know it would be in a restaurant.
"Right out of high school, I was planning on going to nursing school," McDonald explains. "Then I worked in a nursing home and realized it wasn't for me. I had been cooking all through high school and college, so I decided to do that instead. But I think everyone has something in them. For me it's wanting to take care of people."
McDonald started in the restaurant business at fourteen, working his way up from dishwasher to prep cook to line cook in a matter of months. His love of the industry was instant; McDonald found himself drawn to the energy of the kitchen, the lifestyle and the camaraderie that came from working a tough shift with the same crew day in and day out.
However, when he ended up working for Cary McDowell at the Wolfgang Puck restaurant inside the Saint Louis Art Museum, McDonald realized that his interest in the kitchen went beyond the lifestyle. "Cary McDowell was the first chef who opened my eyes to what cooking could be," recalls McDonald. "Working for him I got to understand the professionalism, high standards and all of the small details that went into it. I figured out I was passionate — and that I wasn't all that terrible a cook."
McDonald left Puck's restaurant for the now-shuttered Sleek steakhouse inside Lumiere Place before being recruited to work at the esteemed Monarch by Josh Galliano. When Monarch closed, McDonald left town briefly to live in Costa Rica. Upon returning to St. Louis, he worked with John Perkins on his Entree underground dinners and then Juniper.
Eventually, McDonald hooked up with Bob Brazell for his fried chicken restaurant, Byrd & Barrell. From there, Corey Smale, the co-founder of Strange Donuts, tapped McDonald to help realize his vision for a Chinese/American restaurant called Good Fortune (Brazell is a consultant). McDonald admits that being tapped to lead the kitchen at the Chinese-inspired kitchen has been a steep learning curve, but he has embraced it, with nearly two years of research.
"I've read a ton of books, tried a ton of recipes, did a ton of research and cooked a ton of food," McDonald laughs about his near-obsessive studies. "I've spent so many years cooking French and Italian and Southern food where people rely on fat for flavor. Here, we are doing healthy food, but it's tasty. It's a win-win."
In that spirit, McDonald says to expect to see fermented items and spices used to imbue Good Fortune's food with flavor. There will be a Midwestern twist on classic dishes, but McDonald says that does not extend to the mammoth portion sizes we often see in the heartland. "We're going to focus on proper protein sizes. You're not going to get a twelve-ounce piece of meat. Your body isn't supposed to eat that way," McDonald says. "Eating for wellness may be a new thing here, but that is what Chinese food is. It's about investing in and eating good food and finding interesting ways to do that."
McDonald recognizes that focusing on the health benefits of his cooking might turn off some diners — especially those that are used to the hearty Southern fare they've come to expect from him at Juniper or Byrd & Barrel. Still, he insists that, fundamentally, his focus is on making delicious, real food, and finding creative ways to do so that will nourish both the body and spirit.
"My favorite thing about cooking is watching people eat and seeing the looks on their faces and the excitement when they try something new," McDonald says. "It's an instant reward."
McDonald took a break from his Good Fortune R&D to share his thoughts on the St. Louis food scene, the one type of food he'd like to see more of in town and why it doesn't matter what's on the table — it's who's around it that counts.
What is one thing people don't know about you that you wish they did?
I have a love affair with music. Right now I'm into blues, bluegrass, jazz and everything Jerry Garcia. I like to play as well.
What daily ritual is non-negotiable for you?
Spending time with my fiancee Ashley and two-year-old son Charlie.
If you could have any superpower, what would it be?
The ability to be multiple places at once would be pretty great. If I could be at home, work and camping in the mountains at the same time, I wouldn't be mad about it.
What is the most positive thing in food, wine or cocktails that you've noticed in St. Louis over the past year?
I've really enjoyed watching the food scene grow over the years, but the most positive thing for me has never changed. For me, it's always been the camaraderie, love and support that is shared in our industry. It's amazing to work in a world filled with so many awesome, talented people.
What is something missing in the local food, wine or cocktail scene that you'd like to see?
I would like to see more high-quality, late-night street food.
Who is your St. Louis food crush?
I have a lot of food crushes, but recently I've had the pleasure of hanging around chef Cary McDowell of Pi Pizzeria and Matt McGuire of Louie. These two guys have more wisdom and experience than most ever will. It's unbelievable what you can learn from just having a conversation with them.
Who's the one person to watch right now in the St. Louis dining scene?
I haven't had the chance to experience Square 1 Project yet, but it looks like Logan Ely is up to some pretty cool stuff. Can't wait to eat his food.
Which ingredient is most representative of your personality?
Probably an onion. I can fit into just about any situation.
If you weren't working in the restaurant business, what would you be doing?
I would probably be a conservation agent or historic renovation contractor.
Name an ingredient never allowed in your restaurant.
Margarine.
What is your after-work hangout?
These days, I like to go home most nights and spend time with family.
What's your food or beverage guilty pleasure?
Fried chicken, mashed potatoes with gravy, and Old Grand-Dad Bonded bourbon.
What would be your last meal on earth?
My last meal on earth would have to be a buffet, because there are too many delicious things, but as long as I'm surrounded by the people I love, I could eat grilled cheese and be happy.
We are always hungry for tips and feedback. Email the author at cheryl.baehr@riverfronttimes.com.