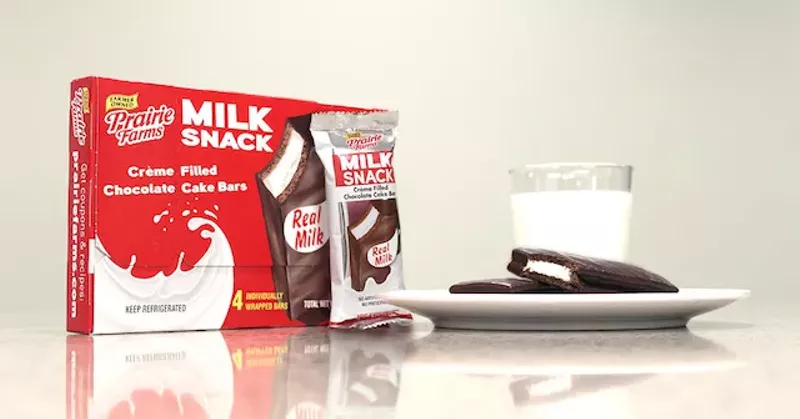 COURTESY OF PRAIRIE FARMS
The nation's best new dairy product of the year was invented right here in metro St. Louis.
Prairie Farms' Milk Snack bars are being pitched as a new take on chocolate cake — "America's first refrigerated snack cake bar to combine chocolate cake with a real whole milk crème filling." You've probably seen them being promoted on billboards around town; they look kind of like a Little Debbie and kind of like an ice cream bar.
There's a reason they're getting such a big push; editors and readers of
Dairy Foods Magazine
say they're exceptionally tasty. The editors reviewed all the new products featured in the magazine or on its website in 2017, a list of hundreds. When they culled it to ten favorites and opened things up for online voting, Milk Snack bars not only made the cut, but
also scored the No. 1 spot
.
The competition was fierce. Milk Snack bars not only beat mochi-flavored treats made in LA but also Vermont-based Cabot Creamery's pre-cut, cracker-size cheese squares in a resealable container. The dairy crowd apparently takes its new products seriously; the website garnered more than 3,000 votes.
Prairie Farms, which is based in Edwardsville, Illinois, introduced the snack bars in October. The company boasts that the bars "have a short, simple ingredient list and do not contain artificial colors or preservatives." Oh, and they're also reportedly delish.
"We are honored to have our new Milk Snack bars chosen as the Best New Dairy Product in 2017," Rebecca Leinenbach, Prairie Farms' vice president of marketing and communications, said in a press release. "We have led the industry with innovative products for 80 years, and we are raising the bar once again. Prairie Farms Milk Snack bars take snacking to a new level and give consumers permission to indulge in chocolate cake – anytime, anywhere. Not only are Milk Snacks America's first, they're America's best!"

We welcome tips and feedback. Email the author at sarah.fenske@riverfronttimes.com