Dining in Dogtown is a laidback affair, dominated by cozy pubs and dive bars. The Irish roots of the community are strongly represented by many casual establishments serving your fill of Guinness and fish and chips. One thing the neighborhood
isn't known for is anything resembling fine dining or offering a more sophisticated, upscale menu. That opening was just what co-owner Nick Funke saw when developing his New American concept,
Stone Turtle
(6335 Clayton Avenue, 314-349-1933)
.
Funke returned to St. Louis in 2017 after eight years in New York City, dreaming of opening his own place. When he saw the storefront vacated by Felix Pizza Pub, which moved to a bigger location one door down in December 2014 after a successful ten-year run, he know he had a chance to give Dogtown something new.
"I wanted to create a warm place for whiskey and cocktails, and bring a sexier vibe to the neighborhood," Funke says. The name is an ode to the famous stone turtles of turtle park that grace the side of Highway 64/40 near the restaurant.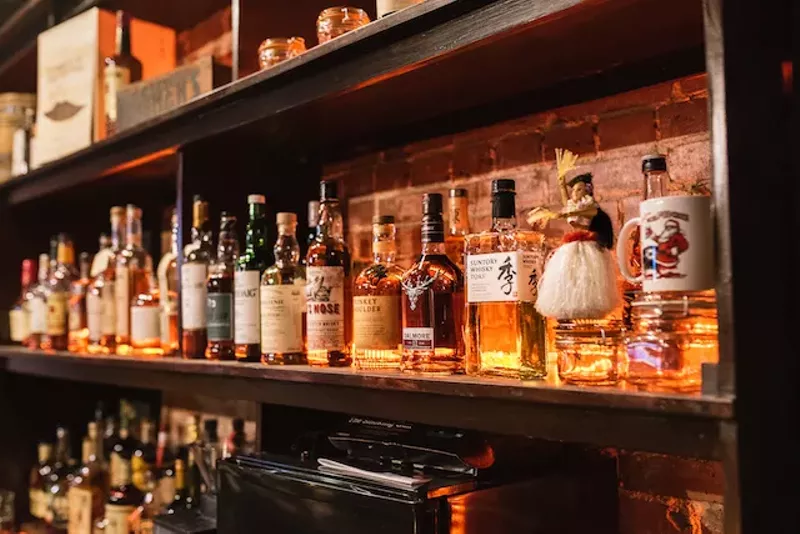 SPENCER PERNIKOFF
The bar offers more than 80 kinds of whiskey.
The Friday before Christmas, his vision came to life, when Stone Turtle opened its doors. Situated on the corner of Tamm and Clayton, the interior is cozy, with wooden tables, warm, dim lighting and a large mahogany bar. True to the neighborhood, Stone Turtle leads with an impressive whiskey selection, currently serving more than 80 whiskey varieties, ranging from scotch from the Highlands to ryes from the Bourbon Trail. The collection will ultimately offer more than 150 bottles as the restaurant grows.
Funke's New York experience pays off in some killer cocktails. The signature drink, the "Smoked Old Fashion," is already on our (imaginary) "best Old Fashioned in St. Louis" list. After mixing the rye, simple, syrup and bitters, Funke seals the liquid in a jar with applewood smoke, then shakes it up and pours it over ice. Another standout was "The Fencer," made with gin, Bruto Americano, dry vermouth, grapefruit shrub and lemon.
Dogtown is definitely a beer and a shot kind of place, so this excellently curated list of cocktails is a welcome addition. The beer list is primarily local and craft, with sixteen drafts, ranging from Busch to Urban Chestnut.
For the food program, Funke turned to chef and partner Todd Bale. Like Funke, Bale also spent eight years working in kitchens on the East Coast before moving back to St. Louis and spending time at Annie Gunn's. The menu they set out to create offers "modernized American staples at an affordable price point," such as the generously portioned pork chop with creamy grits and a seasonal vegetable, as well as a perfect-for-winter mushroom gnocchi. And in a neighborhood known for burgers, Stone Turtle has another contender in its house burger, served with beer cheese and bacon onion jam.
SPENCER PERNIKOFF
The kitchen offers "modernized American staples" — including a burger, but also higher-end fare.
If you're just looking for something lighter to help soak up the cocktails, there are bar snacks like spicy roasted chickpeas and apps that include mango habanero chicken wings, t-ravs and fried burrata. Served with a romesco sauce, the burrata is the grown-up answer to mozzarella sticks you have been searching for.
Currently the restaurant is open for dinner every day except Tuesday, and plans to roll out lunch in the near future. Brunch is served on Sundays, and offers both bottle mimosa service and a build-your-own bloody mary. For those with little ones, the restaurant is indeed family-friendly, and offers a children's menu with childhood delicacies like chicken nuggets and mac and cheese.
Resident of Dogtown generally had to go to either the Central West End or Clayton to find the kind of food being served at Stone Turtle. Now it's just a stroll down the block.
Scroll down for more photos.
SPENCER PERNIKOFF
Exposed brick keeps things cozy.
SPENCER PERNIKOFF
A stone turtle appears in the dining room — but the theme isn't laid on too thickly.
SPENCER PERNIKOFF
The "Smoked Old Fashion" is briefly sealed in a jar with applewood smoke.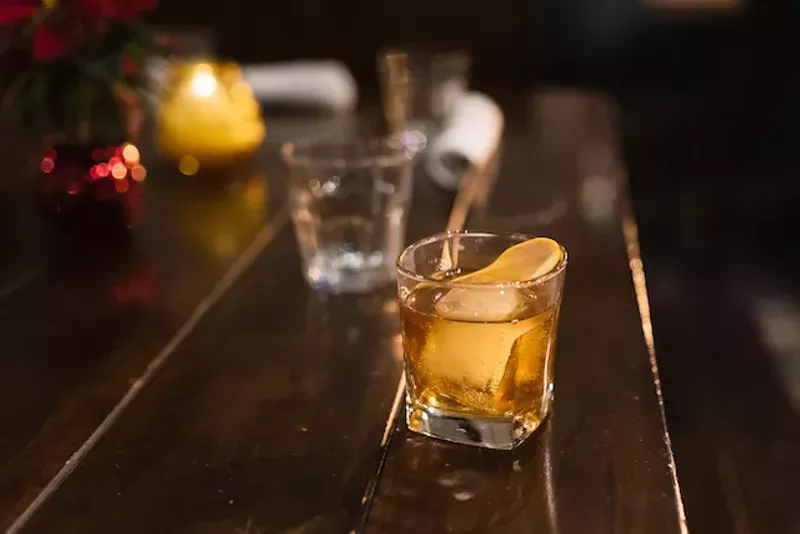 SPENCER PERNIKOFF
Et voila!
Ellen Prinzi is our bar and nightlife writer; she likes strong drinks and has strong opinions. You can catch more of her writing via Olio City, a city guide app she started last year.